Top 8 WordPress Security Hacks You Should Try On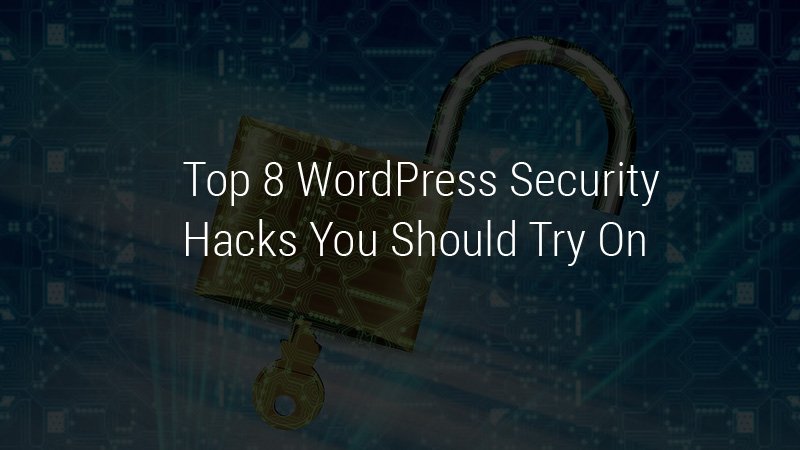 WordPress websites are in demand because it's easy to build and use for the online businesses. But, security is the main concern when running a website. As a business owner, it becomes your responsibility to secure your website cause if your site gets hacked then you might not blame your hosting providers.
It is very crucial to take proper security measures to protect it from various online threats to provide a secure environment for your visitors and increase the trust in your brand.
In this article, we are going to share some few hacks which you can apply for securing and maintaining your website to help minimize the chances of getting hacked.
Beware before Installing a plugin

As the largest WordPress CMS development is getting a lot of attention from third-party developers who are creating and distributing plugins for your WordPress websites.

Sometimes, these plugins can be problematic as it is possible to hack with its help. So it is advisable to create a list of plugins which suits your best requirements by doing a little research.

Always check for rating, reviews, update logs and features before choosing the best one. To check whether your chosen plugins are safe or not, you can test these on your staging environment or testing website.

Change the default 'admin' username

Many people make this common mistake of not renaming their username by keeping it the same as taken from WordPress. Just the easiest step to change your username can solve 50% of the hackers problems by making them harder to break into your website.

If you have uploaded pages by the admin user then don't need to worry as well because it gives you an option whether to delete all content or assign it to a new user created by you.

Swipe out all inactive members

With the other assigned members like admin by default, hackers can easily target your website. To avoid this, you can remove all the inactive users from your WordPress dashboard that might reduce the attack risk to some extent.

Furthermore, some WordPress members have the ability to modify content but are slight careless when it comes to having a strong password; such conditions can make any website vulnerable to attack. Or else you can change your inactive user to the subscriber so to limit any changes in the content.

Stay ahead with the latest versions

As being an open source, WordPress is developed and maintained by a worldwide community of WordPress developers and they come up with each new release to patch up any security vulnerabilities.

By default, WordPress installs its versions for minor and major updates as these core updates are critical for your website security and performance.

Make sure to apply the backup to your site and apply any core updates when they become available. It is also important to update any plugins and themes to ensure you are using the most up-to-date and secure versions of the software.

Make a habit of taking backups

Although by following this hacks, your website is secured it is always advisable to take a backup for any critical and sensitive business information.

The backup is defined as the first line of defense and you should set the backup at regular intervals on a daily, weekly or monthly basis.

You can also try BlogVault by WordPress backup service which offers more than just daily backups as it allows users to take on-demand or scheduled backups.

It takes incremental backups and makes sure that a large WordPress website is properly backed up of which the users can take access up to 365 days including migration, off-site off-server storage, free staging and merging facilities.

Opt for Two-Factor Authentication

In spite of using a random strong password or not using 'admin' as username, the risk of brute force still exists. To stay ahead from this, 2-factor authentication should be used to address this problem.

A plugin namely Google authenticator can be used to enable 2-factor authentication for your WordPress website which has become the standard today for enhanced security at your access points. By integrating this plugin, it adds an additional email or mobile verification step to login in your WordPress website.

Restrict Log in Attempts

This is an another easiest way to harden your website security by limiting the number of times a wrong password can be entered. If the user makes more attempts then it automatically blocks their access for a certain period.

To achieve this, plugins like Login Lockdown and WPS Hide Login to protect the login areas of your website from hackers.

The website lockdown feature can solve a huge problem of brute force attempts so if there is a hacking attempt with repetitive wrong passwords the site gets locked and you get notifies of this unauthorized activity.

Layer up with Security Keys

To protect passwords and other sensitive information, WordPress security keys and salts encrypt information are stored in browser cookies.

The basic four security keys AUTH_KEY, SECURE_AUTH_KEY, LOGGED_IN_KEY, and NONCE_KEY are a set of random variables which make it harder to crack your passwords. Adding salts and security keys is very manual as you can randomly generate them.
Wrap Up
One should always make sure to use the best security practice to prevent your site from hackers whether you are a WordPress beginner or webmaster.
Among the given hacks, most are tiny things which can be done easily to have a great impact on your website security. There is no accurate way to protect your website but you can always try your hands on best tricks.
Even, the WordPress development company is taking bold steps for advanced security worldwide. For the security concerns, it is always a little better to work by yourself and stay secure rather than relying only on the WordPress or your hosting provider for security.
In the end, it is always mandatory to maintain your website and keep it secure to prevent hackers from gaining access and ensure your visitors to have the best possible user experience.