Top 6 Security Plugins for Your WordPress Website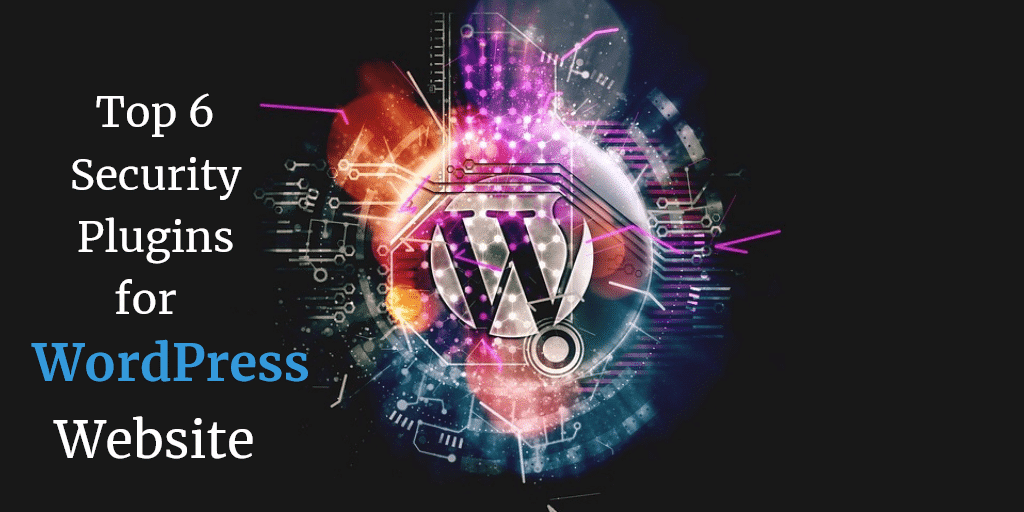 If you are using WordPress and having a laid back approach related to the security then you're walking on thin ice as there are possible chances of your website getting compromised.
There's no doubt that WordPress is most popular blogging platform with millions of websites that are used as a content publishing platform. That's the reason why hackers are more interested in hacking WordPress websites.
The hackers have gone down deep into WordPress websites by any means of unorthodox ways. To avoid website breaches, here we list some of the useful WordPress security plugins that will keep your website safe and secure from the hackers.
Wordfence Security

The plugin is one of the popular WordPress security plugins which continues checking your website for malware infection and scans all the files of website core, plugins and theme.

If it detects any kind of infection than it gets you notified instantly. The plugin makes use of Falcom caching engine to make your website faster and secure by 50x. It also scans your posts or comments for malicious code by supporting multi-check on your traffic.

Sucuri Security

This plugin is developed by Sucuri, the popular website auditing and security company. It offers variant security features such as security activity auditing, malware scanning, blacklist monitoring, file integration monitoring and website firewall by including multiple blacklist engines like Google Safe Browsing, McAfee Site Advisor and Sucuri Labs to check your website. The plugin helps you to receive notifications on email for any problem occurs.

The plugin guarantees to protect from Zero Day Disclosure patches, DOS attack, brute force attacks, and other attacks by keeping a log of all the activities in the Sucuri cloud.

iThemes Security

It is a WordPress security plugin from the popular folks behind the BackupBuddy plugin. Similar to all their products, this plugin offers a nice and clearUI with tons of options.

The plugin comes up wth security hardening, making login attempts, enforcing strong password, 404 detections, brute force security , file integrity checks, and much more.

Although this security plugin does not add a website firewall or own malware scanner and hence uses Sucuri's Sitecheck malware scanner.

All in One WP Security

The plugin is one of the powerful WordPress security which is used for auditing, monitoring, and firewall by enabling you to apply easily for best practices WordPress security on your website.

The plugin is loaded with features such as login lockdown to prevent multiple attempts and avoid brute force attacks, IP filtering, monitoring file integrity, and user account and also scanning for doubtful patterns of database injection.

It also comes up with a basic website level firewall to detect some gereic patterns and block them for you but still, it's not very efficient and also you are required to manually blacklist suspicious IPs.

BulletProof Security

The plugin cannot be considered as the prettiest among all but yet it can be utilized as it comes up with some great features.

The plugin is compacted with a setup wizard which helps you though plugin settings that add links to extensive documentation by helping you to understand how the security and scans settings work.

The plugin also comes with a malware scanner that permits you to check the integrity of WordPress files and folders. For hardening the security, it contains login protection, idle session logout, security logs and database backups.

It also permits you to set up email notification along with security logs to get alerts whenever a user gets locked out.

Google Authenticator – Two-Factor Authentication

If you used to be a Clef user then Google Authenticator is definitely for you as on the plugin page it displays a guide on how to migrate from Clef to Google Authenticator by claiming to give a Clef-like experience.

The plugin is very much secured and easy to utilize as along with the strong passcode, the 2-factor authentication adds a second layer of protection to your WordPress website which means you can log in using username, passcode plus the two-factor.

The plugin comes in a pro version as well to protect your enterprise accounts by providing features like in-line registration for all users, access user management dashboard, manage each and every device profiles, customizable templates option for email and SMS.
Protect Your Website Right Now
We can conclude that the website security should always be your first priority; but without any security plugins, it can be a real challenge. The data on your website is a result of your hard work and your employees.
It can be a bit sad to see that all of your efforts go down in minutes due to website security. Therefore, the plugins mentioned in this post are guaranteed to protect your website against any malware or attacks. Keep Learning!