Top 5 WordPress Alternatives And Why WordPress Is The King!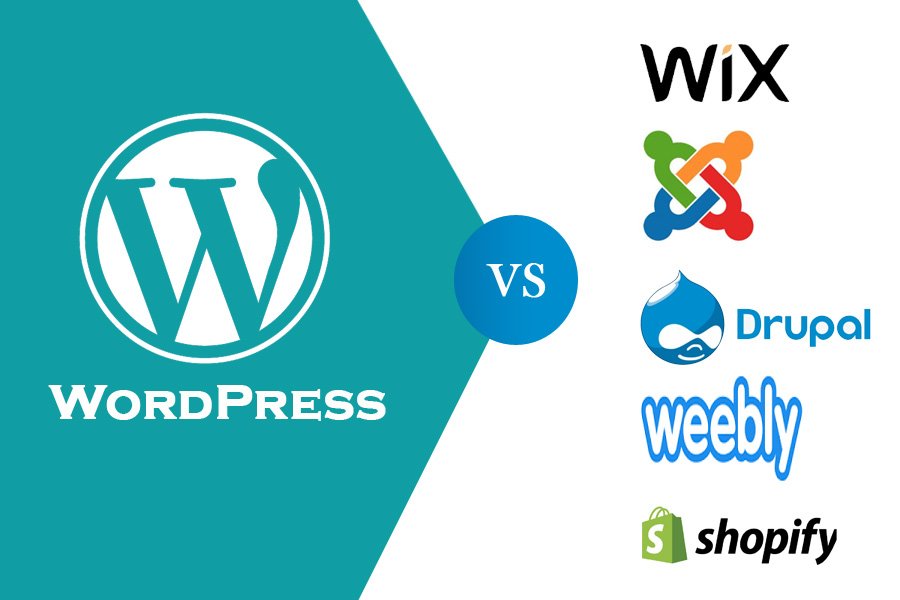 WordPress is, without a doubt, the most popular web content management system on the market, and so it's no wonder that it's often the go-to choice for web development projects.
But as much as it's a powerful platform, it's important to remember that it's not the only choice on the market.
And so, before you go ahead and pick WordPress just because you can, let's take a look at some of the alternatives. Here's what's out there on the market.
5 WordPress Alternatives
Wix
Wix stands out because it's specifically designed for absolute beginners, providing the closest thing to a drag-and-drop interface that you're likely to find.
Sure, you make some sacrifices when it comes to functionality and customization, but it'll do the job if you're trying to build a super basic website just to ensure that you have some sort of presence. Starting at about $10 a month, it also includes hosting and a domain name.
Comparisonix to WordPress
Wix is fine if you're starting out, but WordPress offers much greater flexibility when it comes to customization.
There are very few examples of Wix websites that couldn't be made better if they were switched to WordPress, and very few WordPress sites that would be better off in Wix.
Arguably the only example of when you might want to use Wix is if you've never created a website before and you want a simple one-pager.
WordPress is a better option for anything more than that, especially if you plan to keep on expanding the website over time.
Joomla
Joomla is like WordPress in that it's open-source software, which means that you don't need to worry about paying a license fee if you want to use it.
That's probably also why it's the web's second most popular CMS behind WordPress itself, although it's been losing market share and is starting to look increasingly like a relic compared to newer CMSs.
Comparison Joomla to WordPress
Joomla can be used to build a bunch of different website types, from discussion forums to user communities and content publication sites.
The problem is that WordPress can do it too, and it arguably has greater functionality than Joomla, thanks to the huge community of third-party developers.
One interesting function of Joomla is that you can use different templates on different pages. That's one of the few tasks that WordPress can't easily compete with, even if there are only a few situations in which you might want to use it.
Drupal
Drupal is another free, open-source CMS, and that automatically gives it a leg up on some of its competitors because there's no need for you to pay for a license, though you will, of course, still need to splash out on hosting and a domain name.
It's an attractive CMS because it's used for a disproportionate amount of the world's top websites, including everything from governmental sites to substantial corporate builds.
Comparison Drupal to WordPress
Drupal is one of the few CMSs that can go toe-to-toe with WordPress and come out looking respectable.
It has decent custom content types and granular user permissions, as well as default support for multilingual websites. The downside is that it's nowhere near as user-friendly and typically comes with a steeper learning curve.
Weebly
Weebly is a lot like Wix in that it's designed for total beginners and uses a drag and drop interface to make creating your web pages a breeze.
It's also free, at least to begin with, with the paid plans starting at $5 per month and increasing as you add more and more features to your wishlist.
Comparison Weebly to WordPress
Some people say that WordPress has a longer learning curve than Weebly, but that's only because it has more functionality. Individual tasks, such as designing and building posts and pages, are comparable between the two platforms.
It's just that there's so much more that you can do in WordPress that it takes a lot longer for you to wrap your head around every single feature.
We'd probably go for Weebly over Wix, but there's still really no competition for WordPress. Weebly is also a closed system, unlike WordPress, which means that while it may be more secure and less vulnerable to attack, it's also much less customizable.
Shopify
As you can probably tell from the name, Shopify is all about e-commerce. This means that it's not a natural equivalent to WordPress because that's designed more for content creators. That's why many merchants migrate their stores to Shopify to improve the content management process.
It has a free trial on offer to try before you buy, but if you do pick it as your CMS, you're going to need to commit to regular payments of at least $30 per month.
Comparison Shopify to WordPress
Shopify is great for dedicated ecommerce sites, but if you're looking to build either a content site or a site that mixes both commerce and content, WordPress is generally the better option.
You can implement much of Shopify's functionality using WordPress plugins, and Shopify doesn't have much to compete with WordPress's publishing tools.
Shopify is also a little more cumbersome, especially for first-time web admins, and you'll find it harder to find developers and admins who are equipped to work with it than you will if you go for WordPress.
Why WordPress Is The Best Choice!
As you can see from this article, while WordPress isn't the only content management system out there, it is the best in the majority of circumstances, and it's probably the best choice for you.
There are many reasons for this, from the strong WordPress community to the enormous number of third-party themes and plugins.
WordPress is also free and easy to use, as well as a tried and tested solution that's specifically designed to make content creation easier.
Remember that over a quarter of all websites use WordPress, with that number rising to over a third of the top ten million global websites. And there's a reason why it's so popular, so if you're looking for your next content management system, you can spare yourself extra searching. Good luck!