Top 10 WordPress Women Who Successfully Stands the Test of Time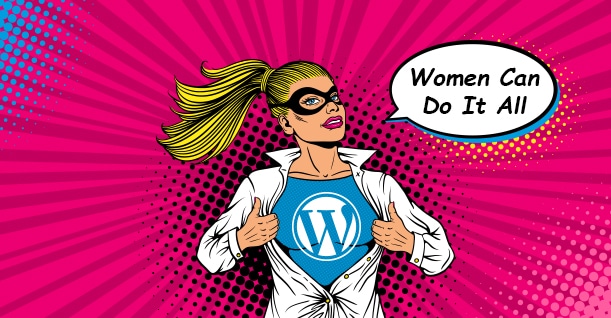 She's no one's puppet, women with real purpose are better than that. They make a name relying only on their talent, not sugar daddies or couch potatoes. All I can say that it's extremely frightening to handle a woman in tech who can also speak her mind.
Like it or not, the role of women in the digital industry is often underestimated. I mean can you even count all the women who have nailed in the tech sector on one hand? Probably not! But if we try analyzing the virtual arena, WordPress society, to be precise.
You will come across a number of women who have impacted us personally with their writing and contributions to a great extent.
What I mean is that just because the ladies aren't getting as much attention, that doesn't mean they aren't making huge waves in the WordPress community.
Down below I have come up with the post that emphasizes on best WordPress women you should follow. This is a partial list, I could go on on …. to get you more inspiration and get infected with feminine enthusiasm.
Sarah Gooding

A WordPress writer at WPTavern, Sarah has known and worked with the platform longer than anyone of us has known the CMS.

Earlier Sarah used to work as a WordPress content writing Evangelist, but at present, she is a partner at Untame and WP journalist at WPTavern. She is also very active on social media and loves to answer tweets and reply to her followers.

Lisa Sabin Wilson

She is my favorite! Lisa is the co-owner of WebDevStudios, a web design and development agency. It may quite interest you to know that she launched her own web design and development business before merging with WebDevSolutions.

She has written WordPress for Dummies, WordPress Web Design for Dummies, BuddyPress for Dummies, and WordPress All in One for Dummies, Quite inspirational, isn't it!

Siobhan Mckeown

Associated for quite long with WordPress, Siobhan works for Human Made as a Director of People Operation.

After trying her potential in writing, editing, event organizing, public speaking, and, naturally, free software contributing and advocating she ended up presenting the history of the WordPress free software project. She is a gem of a person!

Helen Hou Sandi

The list cannot be completed without including Helen Hou Sandi as she acts as a typical example of a multitasking woman successfully combining career with the important role of a wife.

The "Bad Asian mother", is successfully involved in the development cycle as a guest committer and has also developed many notable WordPress plugins.

Suzette Franck

"Suzette Franck is 20 years old experienced popular web hosting specialist who has learned herself PHP, MySQL, CSS and Sass on her way to becoming a WordPress expert."

In fact, she has also spoken in more than 30 WordCamps. Besides her vocational skills, she is a real muse with her useful advice and inspirations.

Mika Ariela Epstein

Known as Ipstenu among friends, Mika is an author of two ebooks, co-founder of LezWatch TV, pro quality coder and open source technology specialist, and a full stack WP developer.

She is currently working as a WordPress support specialist for Dreamhost. She loves spending time on WordPress.org and plugin development. On and all, she strives hard to make the digital realm a more convenient and pleasant place for everyone.

Kathy Drewien

Are you looking for someone who is roundup of the following list, Kathy is the name to take into account. Calling herself a WordPress addict, Kathy firmly believes that WordPress can be fun and aims to teach people how to enjoy working with WordPress. She also "rescues abandoned, ugly, orphaned, broken, and non-productive websites". If you wish to know how WordPress can be a real joy, Kathy Drewien is who you need to follow regularly.

Carrie Dils

Carrie is a WordPress consultant who loves to share her knowledge and help people especially the ones looking forward to make their websites better.

Apart from being highly active on WordPress community and on social media, she has established TheFearlessFreelancer.com, run her own blog giving advice on how to "freelance" successfully, WordPress and other relevant niches.

Kim Doyal

Kim Doyal, The WordPress Chick successfully runs a WordPress podcast by the name "thewpchick".

Call her a WordPress coach, WordPress wizard or a proud Genesis junkie, Kim excels in different fields ranging from business planning to coaching, web design and podcasting, etc. She is also the co-founder of the #FtheHustle movement.

Sara Rosso

Last but certainly not the least face among WordPress women on the list. She knows all the ins and outs of WordPress perfectly.

In addition to this, she is even well aware of current digital marketing tools and strategies, is engaged with writing on a variety of topics and photography.