Top 10 Website Design Best Practices to Maximize Lead Generation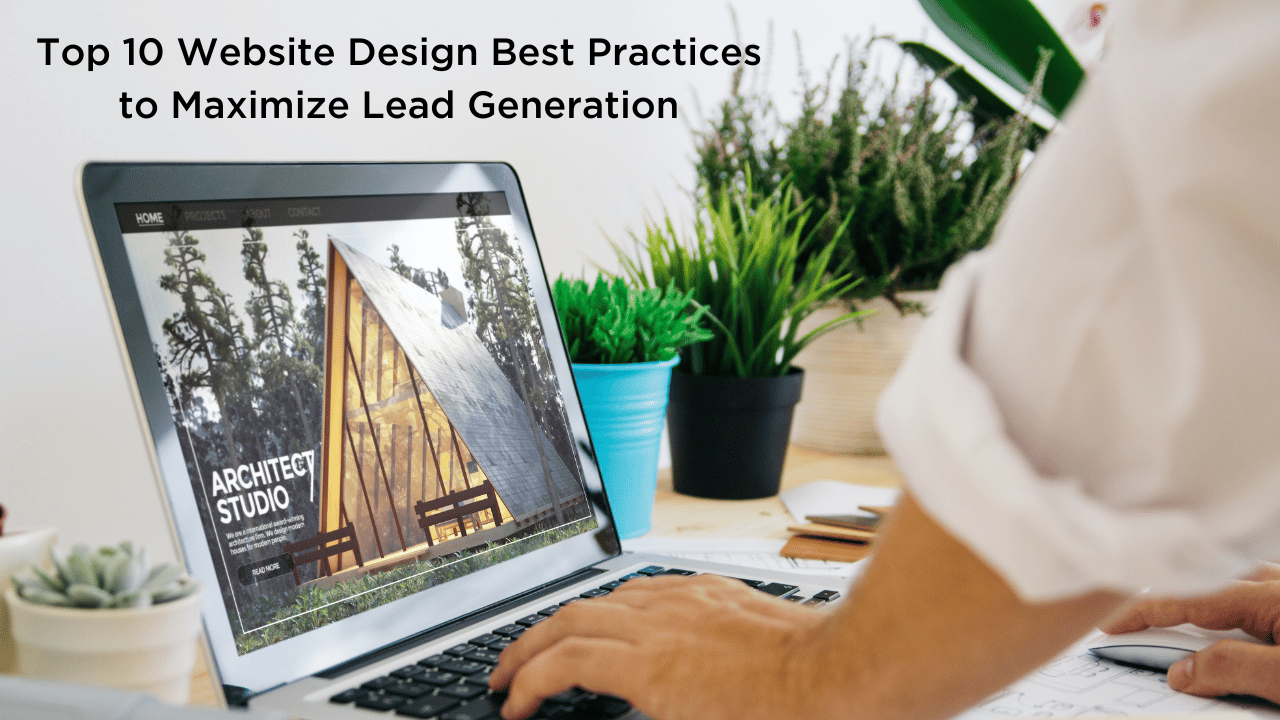 There are various ways to maximize a business's lead generation. If you run a business, it is vital to ensure that you invest in a good website design to ensure that you generate better leads. However, you cannot do so unless you adhere to the best website design practices.
If you're wondering what best practices to use, then this article is for you. It will explore all you need to know about building a website that will bring the desired returns. This article will explore the best practices to follow when looking to improve your lead generation.
The tips in this article will help you design your website correctly. You can ensure that your business grows and expands to new markets where it'll generate new and better leads. In the end, that will ensure that your business generates more profits.
Let's take a deeper look at them.
Focus on User Experience

User experience matters a lot when it comes to building a website. You need to ensure that the visitors who come to your website get an experience like no other. Building your website with your customers in mind will make it easy to provide them with the best user experience.

Here are some ways to provide the best user experience:

Ensuring web pages load fast
Make the navigation simple.
Focus on white spaces.

These elements will help ensure that customers have a friendlier experience. They will also stay on your site for longer and give referrals to other clients. Ultimately, ensuring you increase your business's conversions and profits will be easier.

Create Buyer Personas

This is another demand-generation marketing technique that you need to implement. When you have buyer personas, it is easier to know what your customers expect. Having buyer personas will also make it easier to tailor experiences to their needs.

These personas tell you who your ideal clients are and what they expect from your business. You can then design your website to ensure it meets their needs. For instance, you will know the best products to focus on and how to best market them, so customers buy them.

Add Forms to High-Traffic Pages

You also need to add forms to the pages with the most website traffic. Such pages are excellent lead generators you need to maximize to ensure your business gets the desired results. However, not many marketers realize the importance of high-traffic pages.

One way to maximize these pages and turn them into tools for demand lead generation. You can add forms to blog posts with the highest views and engagement. Besides the blog, you can have forms on your social media pages, a live chat service, or even emails.

Forms are vital for collecting essential customer data. You can leverage them to ensure you build an email list and market your business better. Forms work better when you have long-form content on your website. They can help bring better returns by generating more leads.

Offer E-Books for Download

There are specific blog posts that perform well on websites. If you want to build a website that will compete better with others in your niche, then you need to maximize such blog posts. One way to make the most of them is by creating ebooks for download.

E-books are also among the best demand marketing tools to leverage. People will want to read more about a topic if they find out that you went further to create an ebook for it. In the end, that will make increasing your leads and changing them into conversions easier.

Creating ebooks will not only benefit your business's lead generation. It is also an excellent tool for growing your business's SEO. But you need to do enough research to be sure that the topic you'll cover in your ebook will appeal to your audience and help boost leads.

Develop a Live Chat Service

Another excellent tool to use when building a website that will generate the most leads is a live chat service. This element will impact your business greatly by ensuring that you provide customers with the best experience. It will impact your business's ability to generate leads.

The best place to have a live chat is on the most frequented pages on your website. This means you might need to conduct a website audit first. Once the live chat is up and running, ensure you collect all the information you need to improve customer experiences.

For instance, you might find the products your customers need most. Also, it will help you learn the questions clients have about your products and how to answer them. The feedback that comes in through a live chat service can be very helpful to a business.

Choose the Right Design

The design of your website is another important factor to consider when building a website. It will be vital to ensure that you have a design that allows you to provide customers with an experience like no other. Also, the design you choose should provide an excellent first impression.

There are various things to remember when choosing a website's design. You need:

To have a good style guide
Choose a custom design
Make the design reflect your business.

The aim should be to settle on a professional design for your website. The design should be of the highest quality and must be unique to your business. This will make attracting leads easier and help maximize your business's lead generation and retention.

Add Testimonials

Testimonials are another set of elements that shouldn't be missed on your website. It is vital to ensure that customers trust you and are willing to recommend your business to their friends. Testimonials are the best tools to use when looking to build trust and confidence.

You can easily find testimonials as long as you offer high-quality services. You can ask your loyal clients to provide reviews of your business. Then, you can post these reviews on your website to ensure new clients know what to expect from your website and business.

You might wonder if finding testimonials will be daunting if your business is just starting. It is worth noting that incentives can also help you get testimonials. You can give discounts to every customer who takes their time to review your business to encourage more reviews.

Personalize Your CTAs

Calls-to-action is important for a business that wants to generate leads. It will be vital to ensure you provide CTAs at the end of every piece of content you create. This will make it easier to ensure your customers know what you expect from them after they read the content.

But then, having a call-to-action approach might not be enough. You also need to ensure that they are personalized. This means ensuring that they speak to a specific customer and that they are encouraged to make a purchase. Clients feel special when they get personalized services.

This is why you need to personalize the CTAs you post on your website. This will help you stand out from your competitors. It will also make customers happy, which might be enough to make some of them convert. In the end, you will have made sales and increased profits.

Add Visuals

This is another way to make your website a lead magnet. Visuals come with a wide range of benefits. They are engaging and keep people hooked up to a website for longer. They can help ensure your website generates more leads, conversions, and revenue.

Visuals make your website's products look better and more organized. They help ensure that people make purchase decisions quickly. This also includes making people make impulse purchases, which can help your business make more profits.

There are various ways that visuals can help you generate more leads. They can make people want to refer others to your website. This is especially so if your competitors have not invested enough in visuals. You can make visuals part of your unique selling proposition.
Conclusion
This article has explored everything you need to know about maximizing your brand's lead generation. You now know why providing your customers with the best user experience is critical. Also, you now understand that choosing an excellent design for your website is vital.
You also know some elements you can add to your website. This includes chatbots, testimonials, personalized CTAs, a live chat service, etc. Ultimately, it will be easier to ensure your website grows to greater heights and attracts the leads you need.
Maximizing your lead generation won't be daunting now that you have these tips. You only need to start implementing a website if you already have a website. Knowing what's worth implementing now and what can wait will be vital because not all of them can be urgent.