Title: Design Principles: Things to Consider In Flat Web Design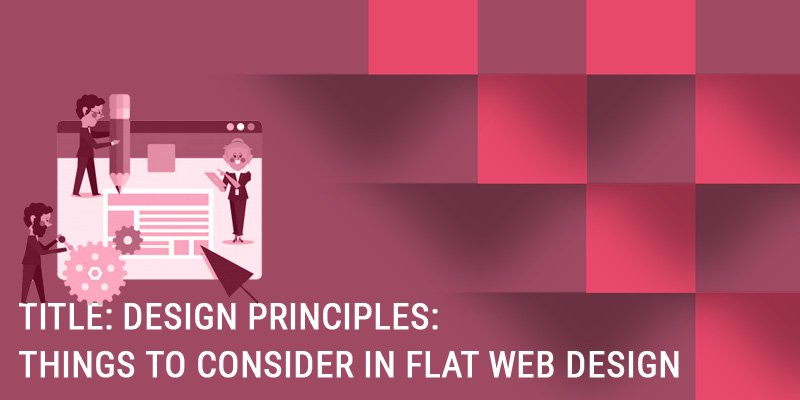 Some time ago, web designers used to cram every site they worked on with showy illustrations, animations and other effects just to captivate visitors. The website design and development landscape has seen even more.
There was the skeuomorphic design that tried to infuse reality into the screen using embellished textures, drop-shadows and mobility features. That has changed thanks to the advent of flat website design.
Flat website design encompasses the use of key elements that make any online site resources usable and functional. The integration of simplified fonts, colors, strips, icons and an exceptional user experience makes the flat design harmonious.
There is the aesthetic appeal; visual coherence and easy navigation that makes users enjoy site wide navigation while enhancing the perception of a flat website.
The reason why a flat design captivates its users stems from its simplicity and alluring UX. With a minimalist approach, it's easy for the site to offer fast loading speed and excellent performance.
But to achieve such on your website, there are specific factors to consider during the design phase. Here are some tips.
Underline what's Important

Flat design relies on simple basic geometric elements including shapes, frames, and typography to form a layout. If you want to score high with content hierarchy in the layout you create, you need to acknowledge the order, element symmetry and their size. You need to sync them in your page in a way that guides the visitors to view them the way you want.

Let Colors Create Depth

Colors are an important element when it comes to flat web design. You not only get a site that is visually appealing, but you can exploit them to create an illusion of depth. Flat design is hinged on the 2D appearance. You cannot work with the nifty tricks that web designers previously used to create depth.

If you know how to creatively work with light elements on darker shades, you will create depth that settles in perfectly.

Add Strips

Strips in a flat website design setting will add balanced loot on your layout. Strips are the horizontal areas that help you to organize your site's structure in a defined manner. You need to have a unique design and intent for every strip.

This way, it becomes easy to mark different content blocks and assist in distinguishing one content block from another. You can categorize the strips for particular content classes such as software, timeline and the like.

The horizontal strip setting in distinct segments should help a user navigate your site quickly and find what they are looking for.

Simplify Navigation

The flat website design isn't your average design concept. It differs from conventional designs since it doesn't give priority to the look. The design should be simple to offer a grand user experience.

Apparently, simplicity in this sense should be evident in the navigation. You need to keep the website structure as simple as possible and make usage of drop down options, if your site has many pages. Don't forget to make the drop down menu as logical as possible.

Work with the Right Fonts

Even though you have a variety of fronts that you can use for your flat design project, you need to know that not all fonts will be compatible. Try and pick straightforward fonts that are simple.

You can choose any san-serif front and you need to try out a few to see which one augurs well with your design idea.

Drop the Effects

Even before you are halfway designing the flat layout, you probably know that too much effects aren't an advantage in this context. This design doesn't resonate well with the flurry of visual effects and animations.

If you have embraced the principles of flat design, you will end up with a hypnotizing website and you won't have the need for such effects.

Choose Logical Icons

In flat design, icons play a central role. They highlight progression and direct a visitor on your site. Other than their graphic value, they help a visitor to intuitively grasp and make an informed next move. Remember, you cannot use these icons for the sake of it.

Every element in flat design needs to make sense in the bigger picture. You need to make that addition of icons more functional than visual.

Use Unsophisticated Colors

Colour usage in flat design is crucial. Without colors, flat design won't accomplish its objectives. You need to combine flat design elements with basic color. Consider going for bold and intense colors, they bring out the element of flatness in this type of design.

The good thing is that you won't be limited to specific colors. You can still use variations of the primary colors. You need to design with color knowing that your choice should reflect your business intentions, niche and your audience/customers.

If you are a seasoned web application expert, you shouldn't have a difficult time picking the ideal color schemes for the upcoming site. If you can't render the right color knowledge, there are online design tools that can help you in your endeavour.
When And Where To Use Flat Design?
Flat design id best used in moderation. You have the leeway to use a minimalistic interface anytime. However, it's not the perfect option for every site design task. Flat design is good for a portfolio website and its god for a small business tech site.
If your project is complex, it's not the best pick. For sites that cater to children interest, you can inject some fun elements animated characters and colors. If you are designing a gaming site, make use of graphics and effects that relate to the gaming idea.
What Makes It Effective?
Even if you don't have to include the frills, flat website design still works. The hierarchical sense in design and element placement makes it easy for users to navigate and understand the progress in without relying on anything technical.
Web developers are tiring to flat design concept, but it can work more wonders for the app and responsive site design. The fact that smaller screens come with a few buttons makes it easy to use a flat design for responsive website.
If you are planning a mobile website design, the flat design concept is your best starting point. The simplicity, excellent user experience and a minimalist approach make it easy to put the design principle into practical use.