Tips for Using free Stock Photos for Your WordPress Website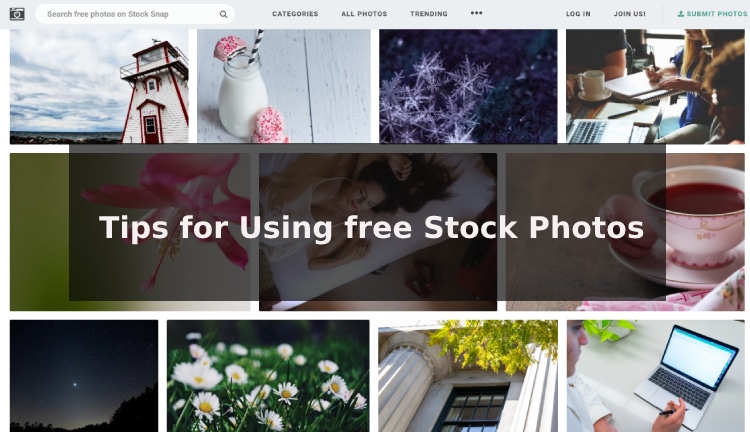 Using free stock photos or buying them is one of the common questions that come from new visual content creators. You can effortlessly access and download millions of pictures and videos on Google.
Although, there are rules and regulations to control the acquisition of content. The following article will go through essential tips and tricks to use these free stock photos efficiently.
First of all, let's see what a royalty-free license or RF license is?
The most basic concept of this license is obtaining the right to use that photo or image in a certain way, not our property. The photographer or the image creator is still the owner of the photo or some times, the company for which he/she works. This includes a wide variety of shots including creative background designs, which are often in high demand for stock photos.
The person holds the copyright, the legal term influencing the possession of photos, music, pictures, manuscripts, and other intellectual or non-physical creations.
Having copyright enables the artists from other orders to market their work multiple times and cause more income.
Free Stock photo agencies sell licenses that grant the buyers the liberty to use the photos, but they don't sell the copyright and ownership of the images.
Let's go through two types of RF image license:
1) Editorial RF license
If you have this license, you are restricted to use the image for editorial purposes. Commercial usage is strictly prohibited. So better do not make any money using such kind of images and stay out of trouble.
2) Commercial RF license 
If you have this license, you can use such photos or image for any commercial purpose too. However, it depends on the agency; the print run is commonly limited to 500,000 copies.
Still, buying an extended RF license gives additional rights for unlimited printing reproduction.
Must-follow rules
1. Always stick to the license guidelines for image use:
Even though these kinds of license are pretty much the same, you have to read all the terms carefully and run everything under the limitations they have put us through.
2. Proper attributions:
If you're using the stock photo or image for editorial use, make sure to give proper attributions and links they have asked you to provide. Depending on your license copy, attributions aren't legally required, but it's good practice and be on the safer side. 
3. Buy RF and RM licensed images:
Some of the stock image websites give up RF images for free, but for wiser use, it is safer to buy RF and RM licensed images.
4. Immediately improve if violated any rule.
If you found out any usage violation, correct it as quickly as possible. If the copyright owner asks you to take down an image, do it right away as he asks. As we discussed before, most of the times, the ownership remains.
Taking special care to prefer from legally and ethically sourced stock websites before you start your hunt will save you lots of unnecessary troubles in the long run.
Copyright violation is a severe issue that can cost you a fortune. Better to use copyright-free images and be fully conscious of any attribution that is required.