Tips and Tricks to Rephrase WordPress Posts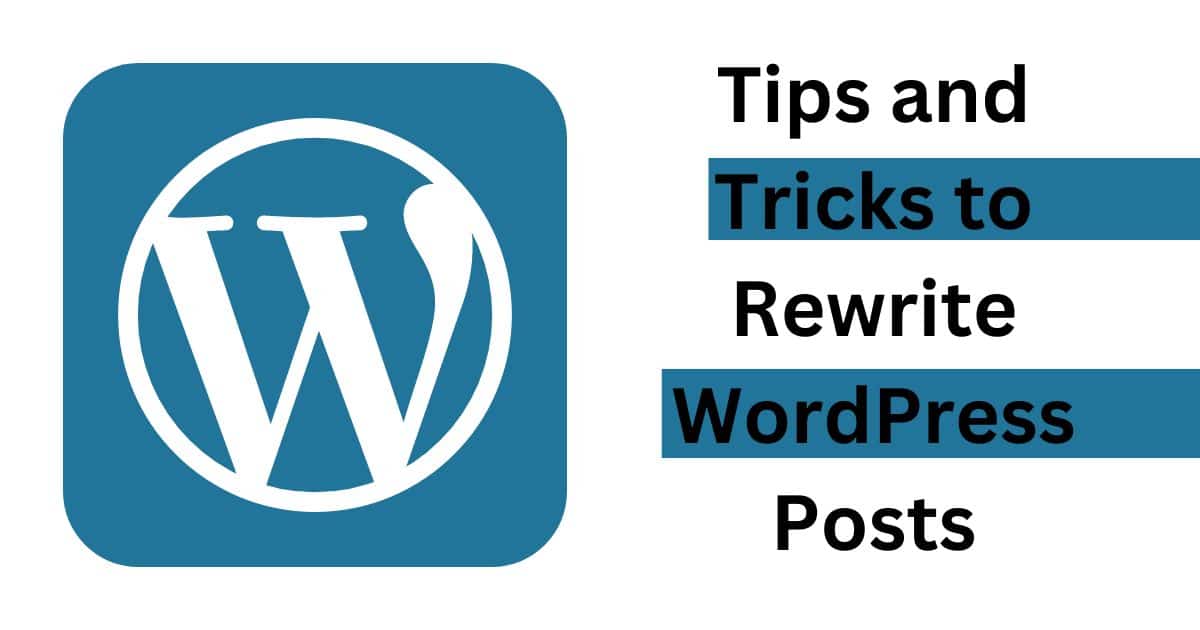 WordPress is a great content management system (CMS). It has many features, but one of its most useful is the ability to create and edit posts, pages, and other content in a simple manner.
If you have an interest in editing and rewriting WordPress posts, this guide will show you how to rewrite your posts. A rewrite is when you take a post and make changes to it to reflect a specific idea better.
Rewrites can be useful if authors have made mistakes or left out important information that readers may want. Authors can fix these problems by rewriting their posts before they go live on their sites.
There are many different ways of rewriting content, but here are some of the most commonly used ones.
Change The Title

The first thing to do is to change the title of your post. This is one of the most important things that you can do because it will determine whether or not people will be able to find your post on search engines.

You can do this by using the "Title" field in WordPress or a plugin such as Automatic Title Generator. The main difference between these two methods is that you can use automatic generation as a starting point and then edit it manually if necessary.

Always remember that the title of your post is the first thing people see when they search for a query in Google. That's why it has to be unique and well-written. It can make or break your SEO efforts, and it's usually something that you have to keep in mind when writing a new piece of content.

Update Keywords and Search Engine Optimization Info

The next thing to do while rewriting a WordPress post is to update keywords and SEO information on your post. This is important because it helps Google understand your post, which makes it more likely that they will rank it higher in search engine results.

You should make sure that your keywords and SEO information are up-to-date. This is especially important if you're trying to rank higher on Google or other search engines since Google uses these factors in its ranking algorithm.

You should also check whether there have been any changes in your industry or niche since this could affect your ability to rank for certain keywords. You can find out about any recent changes by searching for them on Google News or reading other blogs about SEO.

The SEO information that needs changing might include rewriting Meta Title, Meta Description, and Image Alt tags.

Update The Images

Next, update the images for your post. You should try to keep all of them the same size and format as before, but make sure that they have been optimized for SEO. If you have used WordPress's built-in image optimization tool, then you can use it again here.

If there was an error with one of your images, then it's best to replace it before continuing with the rest of your post. Otherwise, ensure that all of your images are showing up properly.

You might think why there's a need to change images when you are rewriting a post. Well, images are part of WordPress posts, so they have to be updated according to the content situation.

Rewrite The Main Body of the Post with The Paraphrasing Tool

Once everything is ready and formatted correctly, it's time to rewrite the body of your post. This just means taking out any unnecessary words and phrases from previous versions and replacing them with new ones that are more relevant today.

However, that's not as easy as it may sound to many bloggers. There are instances when changing a few sentences does not work at all, and you have to rewrite the post to gain readers' attraction completely.

Luckily, you can easily paraphrase text of an existing WordPress post with the help of a reliable paraphrasing tool. You do not need to download any software program, install it, and pay for a subscription.


Instead, you just need the source text and a stable internet connection. A paraphrasing tool allows you to convert any type of content into a well-written piece of text that you can easily use in your WP posts.

Rewrite the body of the post itself, so it reads better than before. You can use an online paraphrasing tool to regenerate content.

A paraphrasing tool is a free, fast, and reliable solution to rewrite WordPress posts like a real human being. It saves you a lot of time and effort. You can paraphrase the body of your post and use it as a fresh piece of content.

Add Links to New Content

There are many ways to make your content more accessible and help readers find the information they're looking for.

When you're writing a new post, you want to ensure it's as effective as possible. That's why you add links to new content. It helps readers find what they're looking for, and it gives them a way to explore your site further.

Internal links are a great way to create a relationship between two or more pages of your website. They allow users to go directly from one page to another without leaving your site, and they can also be used to link back to new posts in your blog.

Remove Outdated Information

While you rewrite an existing post, make sure to withdraw outdated information. There is no need to regenerate content that is no more relevant to your post. It could be anything from obsolete facts and figures to research that is no longer valid.
Conclusion
Good articles need to be updated from time to time to make them relevant for longer periods of time. When you have a post that's not performing well, it's not just the content that needs to be rewritten. The title, tags, and metadata are also important to consider.
The first thing you should do is check your keywords and optimize them if necessary. This will help search engines understand what your post is about, which in turn helps readers find it.
Next, check your images and make sure they're properly named and linked to their original source. If they're not, you'll have problems showing up in search results. Furthermore, make sure to rewrite the body of the post professionally so that it can win the confidence of your readership.