The Top Website Design Trends for 2023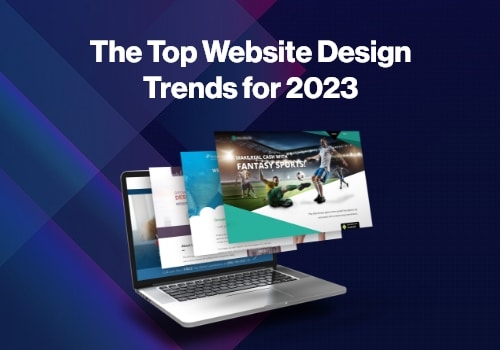 Website design is ever-evolving and constantly innovative; the formula behind the latest design trends is to create visually pleasing websites with a great user experience and responsive design.
Having said that, it becomes the duty of the website owners to go with the changing trends and embrace them with open arms. The year 2023 will also have to adapt to the same pattern to stay afloat in the competition. Since user experience solely depends on fresh, modern, and enticing designs, it becomes a successful formula for sustaining and growing.
This blog post packs all the compelling details on what trends are rolling out specific to Drupal web design, Drupal development services, and Drupal developers. Drupal is a popular CMS that has been welcomed and used globally. In the US, it is widely used by nonprofits, educational institutions, government organizations, and the media & entertainment industry.
Enhanced Web Accessibility
Last year, in March, the U.S. Department of Justice amended a major guidance crafted to ensure website accessibility for people with disability. The updated guidelines state that commercial websites will comply with Title III of the Americans with Disabilities Act (ADA). In simple, the law ropes in all commercial businesses and other "online-only" ventures.
Even though the DOJ guidelines do not compel any business to adhere on strict grounds, they provide some critical insights as to eliminating barriers to accessibility. Long story short, this prompts the need for the biggest Drupal web design trends of 2023. The Drupal developers are required to go with accessible designs.
For example, if you are a website owner who has used embedded videos, ensure it has captions to help users with visual impairments. Easily accessible websites should allow users to comprehend information smoothly and explore user interfaces.
Mobile-Friendly Designs
Mobile-friendly design will be familiar in 2023; however, it is essential to remember and implement it for better online results. In 2021, it was recorded that 75% to 85% of Americans owned smartphones, which were their most preferred instruments to make online purchases, such as groceries, tickets, and other essential tasks.
COVID-19 had a major impact on the rise of smartphone users as it turned out to be the best pass time, source of information, and a great medium to make purchases.
Thus, Drupal web design developers need to go with the mobile-friendly trends and ensure their websites work flawlessly on any device. The Drupal website should be planned so that users find it easy to perform all tasks without having to stretch too much.
Micro Interaction, Micro Animations, Smart Videos
Micro-interactions are delightful, subtle animations that add extra engagement to the user experience. For instance, when a visitor hovers over a link on your website, and it changes color – this is a micro-interaction!
People use these in social media conversations with stickers, GIFs and emojis as visual cues for their emotions – why not bring that same energy to enhance your web presence? They provide entertainment value and simplify tasks, like when you click delete, it opens file folders or similar actions.
Micro Animations
People everywhere are captivated by things that move more than remain still- this is a proven fact. Micro animations can create an engaging personality for webpage content, something that users become emotionally connected to and deepen your website's design.
Furthermore, micro animations can help guide users on how to interact with your site interface; micro animations are quickly becoming one of the most popular web design trends to provide shoppers with an interactive glimpse of their products!
Smart Videos
Through video, one can speedily and creatively communicate the message and make the website more compelling. However, this only happens sometimes; it must be carefully thought out and accurately executed for maximum impact.
HubSpot shows that 92% of video marketers recognize it as an integral part of their strategy. An interesting video on the loading page can be a powerful tool for brand recognition, engagement, and conversion. It's like having a digital billboard that conveys your core message while catching the viewer's eye. A Drupal development company can quickly help you understand and incorporate the best smart videos for your website. These smart videos have the power to deliver fast results without biting off your marketing budget.
VR – Virtual Reality
Embrace the future: virtual reality is an unstoppable wave of revolution that will redefine our digital world. We can all experience Bryce Canyon from the comfort of our couches, so why not take advantage and offer users this incredible opportunity? It's time to embrace VR technology for web design; it truly is one of the best trends for tomorrow!
If you are searching for the top Virtual Reality apps, then here are a couple of options – Viture, Showroom by Little Workshop, and Hubs by Mozilla.
Organic Shapes
Modern web design is moving beyond geometrical shapes and is headed toward organic, flowing forms inspired by nature – such as rivers, mountains, or raindrops. This trend has gained momentum among developers and designers since 2022, with asymmetrical layouts taking center stage.
By incorporating organic shapes into content, Drupal developers can add charm while remaining unobtrusive. Additionally, this is an efficient method to draw attention and make a website appear classic.
Frosted Glass Effects
The last one on our list is the frosted glass effect—no wonder it has recently become popular among the Drupal web design trends. Rather than depending on gradients, it has been implemented as background more and more.
Thanks to advancements in Drupal web design technology, creating a website with a frosted-glass effect is now easy. Not only can you add color to areas of your page, but blurring the elements behind it will make them partially visible over images too!
Wrapping Up
If you are looking for a compelling Drupal web design or a Drupal developer to work on your website design, find the best Drupal development service provider. Drupal developers are familiar with all the latest trends, tools, and techniques to make your website stand out. They will create a fantastic user experience for your website visitors and ensure all elements work seamlessly together.
Remember that a well-planned web design is essential to increase user engagement and drive conversions on your website. Use these eight notable trends to make it more captivating, interactive, and engaging.