The Top 4 Real Estate Website Design Tips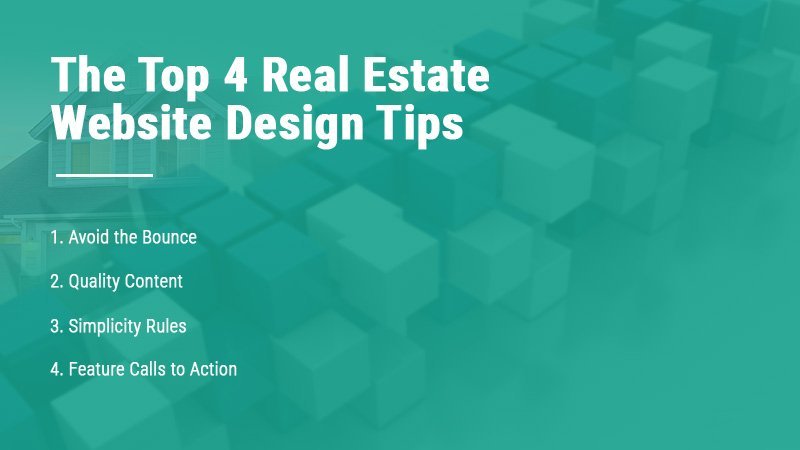 In 2018, there were 5.5 million homes sold in the United States. To get those home sold, every person needs a realtor to help them.
To find those realtors, people had to do their research. The majority of research is done online, so having a great real estate website design will make you stand out above the other competitors out there.
Four Real Estate Website Design Tips
88 percent of people do their research online before they make a decision. That means that having real estate web design that impresses people and shows them that you're professional is extremely important in their research process.
Avoid the Bounce

The number one thing you don't want people to do is to bounce from your website.
Sometimes, you can't avoid that from happening. But the best thing that you can do to keep people from leaving from your website right away is to improve your website speeds.

If someone is on your site and it's taking forever to load, it's not hard for them to jump over to another site that is loading quickly. And that's what they will do.

Quality Content

Another tip that's inherent in your real estate web design is that along with inviting visuals, you need to have quality content. If a site isn't useful, people won't stay on it very long and won't learn to trust you. If you aren't sure what type of content will work best for a realtor-based site, all you need to do is take a look at these examples and see what they are posting. With realty being a massive multi-billion dollar industry, you can learn from the top realtors and expert brands on the different type of content they are creating for their sites.

Buyers and sellers alike want to know what to expect when it comes to the real estate market. Including step by step guides, guides on what to expect, and budget walkthroughs can provide people with valuable content that will keep them sticking around. Educate your visitors about real estate, and they'll see you as someone who has added value to their life.

Simplicity Rules

When it comes to designing a site, it's a rule of thumb that you shouldn't try to do too much all at once. Focus on maintaining your color scheme throughout, and letting white space draw the eye to the most important information on the page.

If you overwhelm people with information, they will have too many choices. When someone is presented with too many choices, it's been proven they will have a harder time choosing. That means they might not choose you.

Feature Calls to Action

When people are on your website, you're trying to drive them to action.

The most important thing that you can do is convince your audience to contact you or book an online appointment. With every design feature, always be pointing them back to the fact that you're able to help them, and that they should take action now.

If you're a real estate investor and have questions about real estate and how it works, Strong Edge Realty can help answer your questions.
Start Designing with WordPress
No matter if you are a full service agency or just starting to sell real estate in your spare time, WordPress makes the whole process a lot easier. There are no design or coding requirements, and there are plenty of realtor WordPress themes to choose from.
When it comes to creating a real estate website design, you don't have to be an expert. You can use a template that you can get online, and go to Grace Themes to figure out everything you need to know about design.
There are thousands of themes for you to choose from that you can easily get online that look like you professionally designed your site. Once you've got your theme all set, you can focus on bringing customers to your business.