The Guide to Choosing a Reliable Tech Partner for a Data-Driven Project Development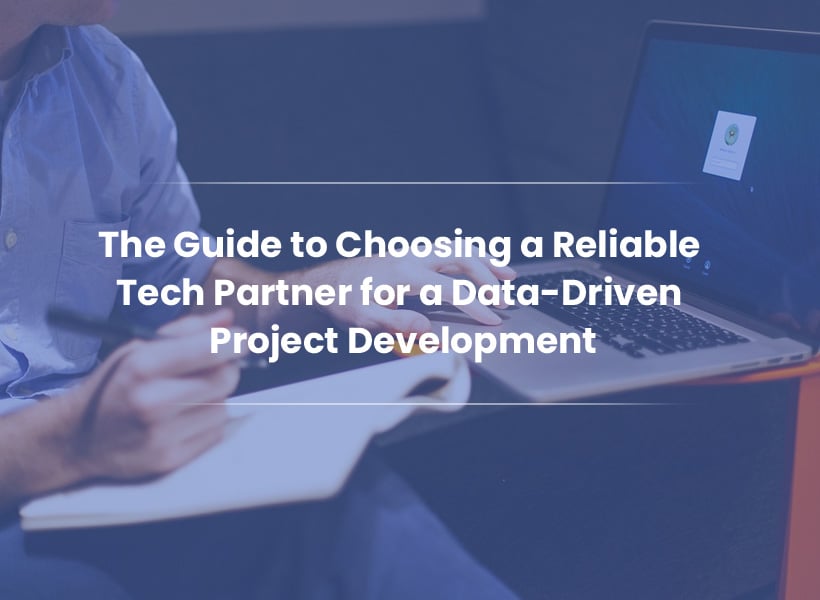 Data-driven projects can be quite complex and require data governance, practical tools, and technologies to ensure automation and robust data culture.
Hence, it's wise to get the assistance of a professional tech partner to obtain expert guidance, expertise in dealing with complex solutions, and ongoing support throughout the development process.
In this guide, we will discuss the key factors to consider when choosing the best tech partner for data-driven project development.
The Importance of Selecting a Good Technology Partner
When it comes to data-driven project development, choosing a software development partner is a number one priority. A company like Busy Rebel can become such a trusted ally. They specialize in AI, BI, and big data consulting and development and boast a proven track record of delivering custom data engineering services and solutions.
With a team of experts in building and maintaining data pipelines, designing and implementing data warehouses, and developing custom analytics solutions, they work with various data types and have expertise in data transformation, integration, and aggregation.
There are several challenges that you may encounter when selecting a partner:
Limited understanding of technology

Many business owners may not have a comprehensive understanding of technology, making it difficult for them to choose the right partner for their data-driven project.

Lack of clarity on project requirements

If you don't have a clear idea of what you want to achieve, finding a partner who can deliver your project's desired results can be difficult.

Data security

Data security is another significant challenge when selecting a technology partner for a data-driven project. You must ensure that the partner you choose has a strong focus on data security and has implemented the necessary measures to safeguard your data.

Cost vs. quality

Finding the right balance between cost and quality is also a challenge. While cost is an essential factor, choosing a partner solely based on price can result in a poor-quality end product.
Essential Features of a Reliable Tech Partner
Robust Data Architecture

Your future tech partner should have a deep understanding of data architecture (design, management, implementation, and maintenance of data systems). They should also be able to implement the latest data security measures to ensure your data protection.

Data Engineering and Analytics Skills

Expertise in data engineering and analytics (data modeling, data warehousing, data visualization, and development of custom analytics solutions) isn't less important. The company you choose should also have experience working with various data types to ensure a scalable, efficient, and high-quality end result.

Industry Experience

A partner with industry experience can provide you with valuable insights about potential business challenges and opportunities and industry-specific solutions to achieve your desired outcomes. With a deep understanding of business processes, data needs, and regulatory requirements, a trusted partner will be able to deliver a tailored solution that meets your specific needs.

Additionally, an experienced tech company needs to have a good understanding of the regulatory requirements, such as data privacy laws, security standards, and compliance requirements that apply to your business.

Communication Skills

Effective communication is another critical aspect of the success of any project. Excellent communication skills for effective information delivery with stakeholders at all levels of the organization are a must.

Transparency, regular updates on the project's status, inform about any obstacles should be a priority for your partner to ensure you are fully informed of your project's progress and have the possibility to make necessary adjustments as needed.

Innovative Solutions

Your partner should continuously implement innovations and new capabilities to keep up with the latest trends and technologies in the industry. This will make data-driven solutions up-to-date and competitive.

Flexibility and Scalability

As your business grows, your data needs will also grow. Hence, you need a partner that can handle large volumes of data. Your partner should have experience in building scalable data architecture and solutions, adjusting to your needs and data volumes. This will help you avoid costly and time-consuming data migration projects in the future.

Support and Maintenance

Ongoing support and maintenance are critical to ensure your project runs smoothly. When choosing a tech partner, you should consider their ability to provide continuing support and maintenance services — bug fixes, system updates, and technical support.
Bonus Tips: Do's and Don'ts When Choosing a Tech Partner
Do's:
Define your project requirements and business goals before searching for a partner.
Look for a partner with extensive experience and a proven track record of delivering quality work.
Consider the partner's expertise in the relevant technology stack that aligns with your cloud and data strategy vision.
Choose a partner who has a collaborative approach and can work closely with you to achieve your project's desired outcomes.
Review the partner's portfolio and past (and present) client testimonials.
Don'ts
Don't choose a partner solely based on price.
Don't select a partner without checking their expertise in the required technology stack or industry.
Don't overlook the importance of communication skills when selecting a partner.
Don't choose a partner who is unwilling to work collaboratively or isn't flexible.
Don't select a partner without any client testimonials.
Conclusion
Choosing a reliable tech partner for data-driven project development is a critical decision. It requires careful consideration of several factors, including the partner's expertise, experience, portfolio, and communication skills.
By following the steps outlined above and adhering to the dos and don'ts, you can find a partner who can add significant value to your project and help you achieve your desired outcomes. Consider contacting Busy Rebel to get a strategic tech assistance for your next data-driven project development.