The Benefits of Hiring a Web Developer for Your E-commerce Website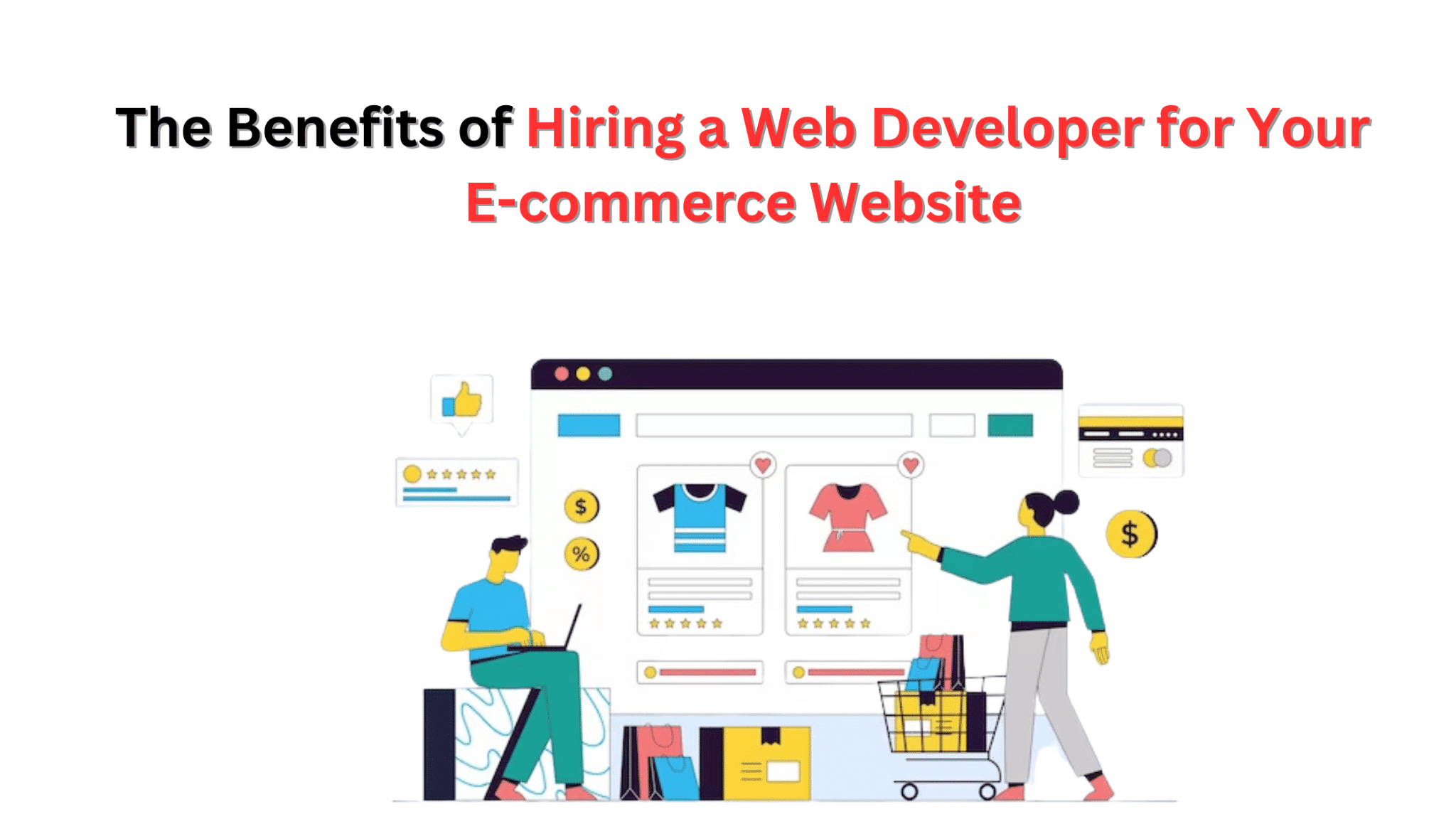 In this fast-paced world of digitalization, e-commerce is growing by leaps and bounds. And, if you don't know how to tap its potential for your business growth, you will be left far behind among your competitors. So, a well-designed and functional e-commerce website is vital to attracting and retaining your customers. You should hire a web developer for e-commerce website development. Partnering with a professional ecommerce website development firm can help you get a versatile, inescapable, and intuitive website that can cater to your business's every need.
This blog will explore how hiring an e-commerce website development firm can help you get a feature-rich e-commerce website.
Unique and Tailored Design
When you hire a web developer, ask him to customize and personalize your website according to your business's needs. Web developers possess the technical expertise to incorporate branding elements, functionalities, and custom features. They can create a tailored and unique design aligning with your brand identity. With such features, you can make your website user-friendly and stand out.
Here are a few benefits that you get from the unique and tailored design of the website:-
Establish a Distinct Brand Identity

Establishing a brand identity is the most significant advantage that you get from hiring a web developer. Your e-commerce website's unique and tailored design helps you create a brand image in your customers' minds. Web developers incorporate typography, brand colours, and visual elements into your website design to differentiate it from competitors and set it apart from the crowd.

Customized Features & Functionalities

E-commerce website development companies design customized features and functionalities while developing a website. They integrate a product customization tool and implement a personalized recommendation engine. Also, e-commerce website developers develop a unique checkout process that can align perfectly with your business needs.

Future Growth & Scalability

E-commerce websites with custom designs open the door for future growth. As your online store grows, it requires you to introduce more improved features to the website. With custom design, you get the freedom to integrate third-party systems, optimize performance and add new features.
Seamless & Intuitive User Experience
Optimizing your e-commerce website to provide a seamless and intuitive user experience is essential for the success of your online store. A firm with a dedicated team for developing e-commerce websites can optimize your website for users' smooth interaction.
Besides, optimizing an e-commerce website is essential for many reasons:-
Increased Sales & Conversion Rates

When customers get a smooth shopping experience on your online store, it impacts conversion rates. A seamless and intuitive user experience is focused on providing clear calls-to-action, streamlining the checkout processes, and reducing friction points. As a result, these features help to improve sales and conversion rates.

Higher Customer Retention Rates

E-commerce websites optimized for users include features like fast-loading pages, intuitive navigation, and relevant product information pages. It creates a positive impression on customers encouraging them to return to your online store. As a result, you get higher customer retention rates.

Shaping Brand Perception

When you hire a web developer to prioritize user experience optimization features in your e-commerce website, it helps you deliver exceptional customer experiences. As a result, it shapes a positive brand perception and enhances customer loyalty.
In-depth Technical Skills
E-commerce website development is not a child's game. It requires in-depth technical skills and knowledge. When you hire web developers, they possess professional knowledge in web development and expertise in programming languages such as JavaScript, HTML, and CSS. Also, web developers possess expertise in various frameworks like Angular or React.
Having so in-depth technical knowledge brings you these benefits:-
Fast & Responsive Websites

Users expect fast and responsive websites. They take seconds to leave your websites if loading pages take too long. An E-commerce web development company provides web developers with a way to minimize loading times and enhance website speed. Web developers can compress images, optimize codes, and implement caching mechanisms.

Advanced Features

The Technical expertise of e-commerce website developers helps them introduce the latest and advanced features to your online store. They implement advanced functionalities like payment gateways, shopping carts, user account management, and many more. It provides a smooth user experience to the users.

Secure Payment Gateways

It is the expertise and experience of the web developers that helps them to intercede highly secure payment gateway, SSL certificates, and encryption codes to your online store. It keeps your customers' data safe from cyber thefts.
Robust and Scalable Backend Development
When you involve a professional ecommerce website development company, it ensures you get a robust and scalable website Backend that can handle the heavy demands of e-commerce operations. Web developers design smooth Backend systems that can process transactions, manage inventory, and store customer data securely. They set up content management systems, implement databases, and integrate APIs and third-party tools. These tools and features help to track orders, automate processes, handle product inventory, and manage customer accounts.
Security of Customer Information

E-commerce websites handle the personal details of consumers, including payment details. That's why ensuring data security becomes vital for companies to gain the trust of their users. Working with an e-commerce web development agency can help you hire web developers who can implement robust data security measures to prevent unauthorized access, safeguard customer data, and reduce potential cyber risks.

Mobile Friendly Design

E-commerce website development companies provide web developers who can add interactive elements to websites. They can optimize e-commerce websites for different screen orientations and screen sizes, website layouts, and navigation. As a result, customers get an optimal user experience across smartphones, desktops, and tablets.

Regular Maintenance & Support

Building an e-commerce website is not enough. It requires regular updates and maintenance to run smoothly. A web developer can only provide such updates. When you hire web developers, they fix bugs and other issues and keep the e-commerce website updated with the latest technologies and security patches.
Optimize the Website for SEO
Your e-commerce website should be visible to customers on search engines. And, it is only possible when your hired web developer optimizes it for search engine optimization. A well-versed web developer can optimize meta tags, website structure, URL structure, and headings to improve its rankings on search engine result pages. Also, web developers can ensure fast speed, quick page loadings, and clean codebases in your website.
When your web developer optimizes your website for search engine optimization, it offers you many advantages like:-
Improve Your Website's Rankings

SEO-optimized websites lead to higher visibility and attract huge organic traffic. It enables your website to appear in the searches that customers perform to get their favorite products and services, improving the likelihood of potential customers becoming loyal.

Competitive Edge in the Market

A well-optimized website outranks your competitors and gives you a competitive edge over them. When your e-commerce website appears on the top of the search engine result pages, you get higher chances to capture user attention and attract potential customers. Hence, more customers lead to more sales and more profit.

Refine your Marketing Strategies

E-commerce websites optimized for search engine optimization provides detailed analysis of keywords and customer search. With this, you get an insight into your target audience's search preferences and behaviour. Further, using the insights, you can refine your marketing strategies and create relevant content that can resonate with your customers.
Conclusion
Hiring an e-commerce website company plays an important role in designing an online store that can give a strong, secure, and functional platform to drive growth, engage with potential customers, and process transactions. When you hire web developers to develop e-commerce websites, their technical knowledge and skills ensure their success and growth. Their expertise in designing unique and tailored websites, optimizing performance, security, backend management, and mobile responsiveness leads your website to enhance user experience, generate more leads, and improve sales.