The 9 Best WordPress Front End Editing Plugins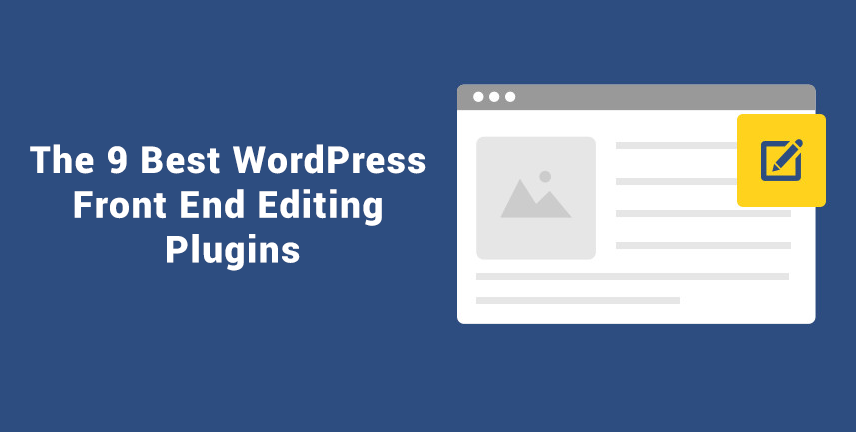 WordPress runs nearly 30% of all websites and controls close to 60% of the CMS market. There is no match for the platform. It rules the entire CMS world. But what makes it a leader is its simplicity in setting it up.
You can extend your WordPress experience with more than 55K plugins available to get desired functionalities in your website. The most useful of them are those front-end editing plugins that power users to design a page on their own, without any need of backend coding.
Let me list the 9 best WordPress front end editing plugins that facilitate users to design their WordPress CMS based websites just by dragging and dropping elements.
Visual Composer

When it comes to choosing one of the best WordPress front end plugins, WPBakery Page Builder (formerly Visual Composer) is the best one.

Of course, it comes for $45, but once your website has it, you just do not need to look at any designer to make your WordPress website and pages look out of the box. Also, Visual Composer comes free with some themes, like the Total WP Theme.

When the plugin is installed, it starts showing its options just below the title box of a page. Just click on the Backend Editor tab, and start building a page. You will see the following panel.

You can start by adding a text blog and several other elements. Here are the elements come with this front ending plugin.

Just drag an element and drop it wherever you want to place it. But keep in mind that you should always start creating a page with adding a row which you can divide into columns to place other elements on a specific area of a page.

Main Features

More than 60 drag-and-drop elements
More than 150 third-party add-ons
More than 60 prebuilt layouts
Front and editor to make a page in live mode.

Elementor (Free)

Elementor is another best front end editing plugin, but the most exciting thing about it is that some of best features of the plugin are available also in the free version. You can easily add content building elements like column, heading, image, video, and also control individual element separately.

There are several prebuilt templates available to quickly start with a page. Also, you can download Elementor's paid version if you want to take your design to the next level.

Main Features

23 Free elements
The pro version +24 more elements
Templates are easy to use and pre-formatted Translation
Easy and support most themes.

Motopress Content Editor (Freemium)

MotoPress is another one of the best front end editing plugins available as freemium. So far, the plugin has received more than 10,000 installations and a 4.8-star rating out of 5. Like the two above mentioned plugins, MotoPress also supports the drag and drop content elements. The premium version provides some premium support and more elements.

Main Features

More than 30 content elements
Extendible through add-ons
Several prebuilt layouts

Please not that the plugin will only support new pages created through it. It will not work with the existing content.

Live Composer (Free)

With 10,000 websites using it and 4.8 star rating out of 5, Live Composer is also as popular as Motopress Content Editor. It comes with an easiest drag-and-drop front end page builder. But again, you cannot use it for an existing page. You can create a new page with same old URL and delete the older one, instead.

Enable editor by clicking the green Activate Editor button and start creating a page by dragging and dropping elements. It' just this much simple!

Main Features

30+ drag-and-drop content elements
Import/ export sections or layouts
Live preview
No short codes used

Editus ($99)

Editus was originally designed as Lasso by ASE (Aesop Story Engine). It is also a front end content editing plugin that helps in making a page and view it in the real time. But it's a little costlier plugin as you will need to pay $99. But the best thing is that in this cost, the plugin can used on up to three sites.

It's easy to use Editus as you can access it with only one click from a small toolbar and then select content that automatically leads to a formatting toolbar.

Main Features

Edit text, links, images, and other content in real-time
Support for featured image
Also supports posts
Multisite compatible
Easy-to-use interface,
Add more functions through ASE add-ons.

Front-End Editor (Free)

Front-End Editor is also a useful, high-quality but free, and a 4.2-star rating plugin for the front ending of a WordPress website. While using it, you do not have to go through any configuration process. You are ready to go just by installing the plugin and activating it. So far the plugin has received more than 2000+ active installations.

Main Features

Real-time editing
Included image support
User-friendly interface

Content Manager for WordPress ($25)

If you are looking for a front end editing plugin to quickly create responsive layouts for your posts or pages, nothing is better OTW Content Manger for WordPress. This plugin is available only for $25. It comes with 50 short codes for creating a WordPress web page, front end editing custom styling options, custom short codes and several others features. You can add code and drag them into place and quickly add style, and publish. But the downside of this plugin is its outdated-looking interface.

Main Features

50+ Shortcodes
Front and back-end editing
Customizable sidebars

Frontier Post (Free)

If you need full post management right from the front end of your website, Frontier Post can be one of the best WordPress front end ending plugins for you. The plugin has received a 4.9-star satisfaction rating and 2,000 active installations. The plugin can be used to allow how and when a post is edited.

Main Features

Image support
Add categories and tags option
Support posts, pages, and custom post types
Configurable

Gutenberg (Free)

Last in our list is Gutenberg, a freely available front end editing plugin that will soon be built into WordPress core. Although, it's like other front end page builders, it comes included with blocks that can be inserted to create any type of layout you want to create.

Main feature Characteristics:

Simple an easy to use content blocks
Can be applied to older posts
Soon to be a part of the core