The 12 Best Content Marketing Tools in 2022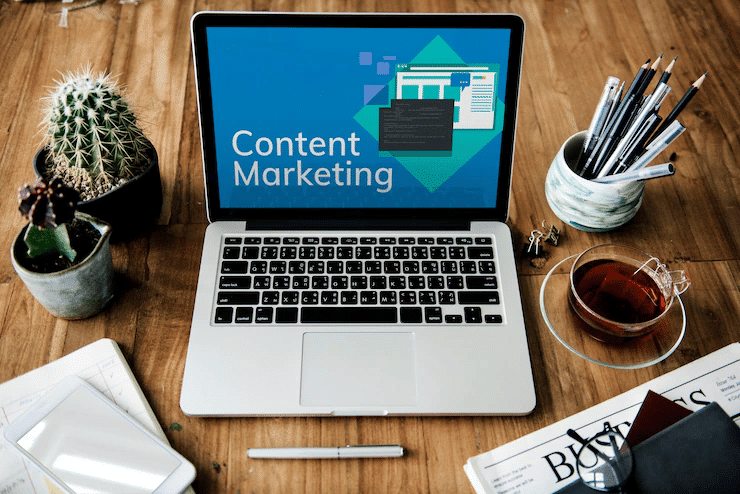 Content marketing helps companies build brands, increase people's awareness of products and services & generate leads in bulk. However, as stated by Radhika Gupta, a leading content market expert, and entrepreneur and the CEO of a famous content marketing agency, "content creation and marketing are fraught with several setbacks, such as a lack of unique ideas for business promotion, grammatical mistakes, improper placement of keywords in content, and errors. The whole process of content marketing demands careful research, analysis, and rigorous 3-layer proofreading."
Professional content marketing experts consume a considerable amount of time to come up with high-quality content. But content marketing tools simplify your task and help you achieve your target much faster. That's why we have prepared a list of the best content marketing tools every online business owner should integrate into everyday activities.
Google Analytics

Google Analytics is always best when you need initial data about your site. It gives you comprehensive data in a few clicks. Start using this tool and get detailed knowledge about the primary sources of traffic to the website, high/low performing keywords, website ranking in Google, etc.

Content marketing experts across the globe use it to know what is working or not working in their case. Then, it helps them make the necessary changes in content marketing campaigns accordingly & increase ROI.

Ahrefs

Proper placement of keywords in content is essential if you want search engines and people to see your content. Generally, digital marketing professionals use specific keywords to target the audience. Content marketing experts need to know these words to put them in content and thus connect with customers.

Ahrefs is one of the best tools for this purpose. It comes with a keyword browser, content browser, site browser, rank tracker, site audit, and more. They are continuously adding new features, allowing you to pick up the most relevant keywords & compose high-performing content. Its keyword explorer gives you a clear idea about the most popular words and terms under your niche.

Grammarly

Grammarly is an excellent free AI writing tool for all content marketing experts. Mistakes are common if you write blogs, articles, press releases, meta titles and descriptions, Email newsletters, and guest blogs every day at a professional level and then use advertising materials for content marketing.

This tool checks all your sentences for grammatical and spelling errors and suggests changing style and tone. It makes your content error-free, more refined, and appealing. As a result, you can keep yourself away from manually eliminating grammatical errors and increase your productivity by leaps and bounds.

Yoast

It is a boon for regular and professional WordPress bloggers and content marketing experts. With its help, you can optimize the site content for keywords, view and edit meta descriptions, glamorize URLs, suggest relevant internal links, etc. Before you publish content on the WordPress website, the tool will offer a complete account of what you did right and what needs improvement. It is an all-inclusive WordPress SEO tool that helps fix SEO errors, improve content remarkably & increase the performance of WordPress websites.

BuzzSumo

BuzzSumo is the real pal for all content marketing experts. With its help, you can search for topics that are being discussed on social networking websites and create compelling social media website content. It also allows you to connect with influencers who influence trends and issues. So start using this tool today to find topics with a high probability of conversation, lead generation, and sales.

Canva

All content marketing experts understand the importance of high-quality images or infographics. One high-quality picture is worth 1000 words and helps content marketing experts to attract customers & trigger sales. It comes with plenty of ready-made infographic template and elements.

You can create Instagram stories, logos, posters, business cards, birthday invitations, blog banners, flyers, and many other images per your requirement and increase the effectiveness of content marketing campaigns.

There are plenty of photos, a massive selection of image filters, free icons, shapes, and other elements, several fonts, etc. So, you can use it to create GIFs, videos, transparent photo PNGs for logos, and schedule your social media posts by using pre-setting options.

Google Drive

All content marketing experts must use Google Drive regularly. It allows them to create and share documents, spreadsheets, and presentations with team members in real time, edit files and work jointly on content improvement. This is a cloud-based content marketing tool, which means you can access it from any location and work around the clock at your convenience.

It is beneficial for companies that use remote employees to get their job done. The best thing about this content marketing tool is that all your files are automatically saved on the cloud servers. Only authorized individuals have access to created files. You can extract any file in a few seconds using specific keywords and names and keep the everyday content marketing work going as usual.

GetResponse

Content marketing experts engaged in email marketing often need help managing everyday work and tracking the lead generation work. Therefore, they must necessarily use GetResponse. It helps automate Email marketing activities, create beautiful mailing letters, manage leads, test different mailing formats, automate processes, and analyze traffic.

Amplifr

Amplifr is helpful for content marketing experts burdened with managing the company's social media pages. With this tool, you can automate social media posts and track social media optimization results on one page. It comes with a built-in editor, which makes SMO an easy task. You can use it to update multiple social media pages quickly, track sales, traffic, engagement, and other KPIs and streamline social media content marketing conveniently.

Trello

Trello allows content marketing experts to allocate tasks to employees, keep a close eye on work done or being done, measure word count, and evaluate the contribution of all team members toward the company's progress. It is helpful for IT companies with work-from-home mechanisms. Managers and team leaders use it extensively & keep everyday work going smoothly.

Visme

Content marketers use Visme to improve their digital marketing assets without having to rely on a professional designer, but Visme is also powerful enough for graphic designers. Visme has a great variety of templates for presentations, infographics, documents, printables, etc. It also offers tools like a form builder for designing engaging online forms and a whiteboard for real-time collaboration. No matter your role or level of design skills, with Visme your work life is easier.

DynaPictures

DynaPictures is a cloud-based solution for dynamic image generation. Connect your preferred data source like Google Sheets or CSV to generate personalized WordPress post thumbnails, opengraph images, coupons, or virtually any image for your website. DynaPictures provides a generous free plan.
Conclusion
Content marketing helps a company to form a community around the brand, influence the demand and interests of the audience, promote products and services, maintain constant communication, and trigger sales. To build effective content marketing strategies, you must have these tools in your arsenal. They help complete content marketing tasks quickly and generate more results.