The 10 most important reasons to use WordPress in 2022. Why is it a really good tool?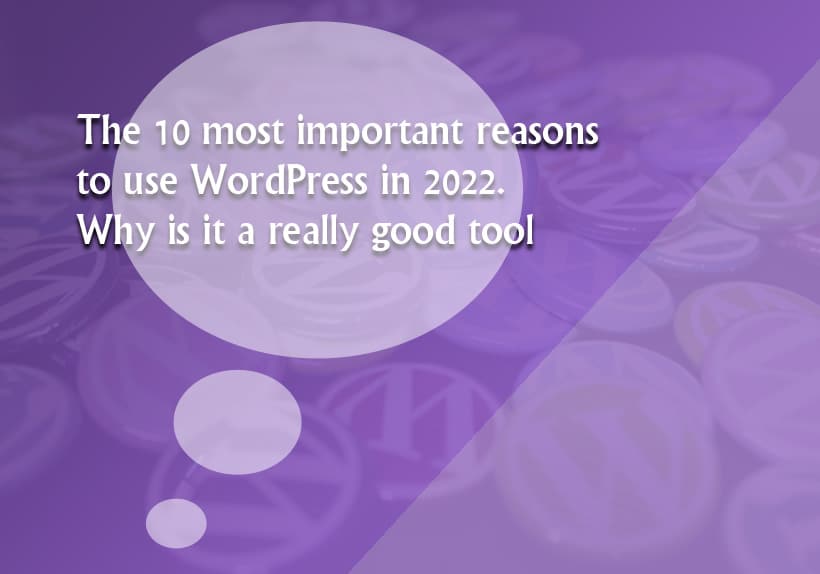 As the most versatile and widely-used content management system (CMS) available today, WordPress is an essential tool for any website. WordPress is the easiest way to create your website or blog – with WordPress built on more than 43% of all Internet sites. In 2022, WordPress will be more important than ever before, due to its many features and benefits
SEO-Friendly

WordPress is highly optimized for search engine optimization (SEO), meaning that your website will be more visible on search engines. This will give you an advantage over other websites, as it increases the chances of people finding and visiting your site. Blazing SEO helps to maximize your WordPress website's visibility and rankings on search engine results pages.

WordPress is the best CMS (content management system) for SEO.

We'll give you 6 reasons that prove it.

WordPress emphasizes user experience (UX)
With WordPress, you can create attractive permanent links
WordPress makes it easy to manage meta tags
WordPress helps you integrate your ad campaign with social media
WordPress has cool plugins designed specifically for SEO
WordPress is easy to combine with other software tools

Easily Customizable

Themes, plugins, and widgets make WordPress highly customizable, allowing you to tailor your website to match any needs. This makes WordPress highly adaptable, which is important in the ever-changing digital landscape.

Security

WordPress comes with built-in security measures that protect against malicious software and hackers. With regular updates, your website will be safe from potential threats.

Cost

WordPress is an open-source platform, meaning that it's free of charge. This makes it a cost-effective solution for those wanting to build and manage a website without having to worry about high costs. But despite this, you should understand that you will pay for the domain and hosting (or VPS), where your site files will be stored. If we talk about the software and plugins most often they are free. For example, if you plan to use Proxy Checker then you will need to purchase a subscription. In any case, WordPress is very affordable and cost-effective compared to other CMSs.

Analytics

The built-in analytics feature in WordPress allows you to track user engagement and behavior on your website. This helps you understand which content is most popular, as well as what kind of changes need to be made to increase user engagement.

Support

WordPress has an active and helpful community that is always on hand to help with any technical issues or questions about the platform. With so many experienced users available for support, WordPress remains one of the most reliable CMSs in 2022.

Mobile-Friendly

WordPress is designed to work on all devices, meaning that your website will look great on any screen size. This ensures that you won't lose out on potential customers browsing from their mobile phones or tablets.

Scalability

WordPress scales with your business. As your website grows, you can easily add more features and functionality without having to completely redesign the entire website.

Multilingual

WordPress supports over 70 languages, making it one of the most multilingual CMSs available today. This makes it perfect for businesses that wish to reach a wider audience around the world.

Social Media Integration

WordPress makes it easy to integrate social media platforms such as Facebook, Twitter, and Instagram. This encourages more interaction with your website, helping you build a strong online presence.
WordPress is an incredibly powerful and versatile content management system (CMS) that makes it easy to create, manage, and update web pages. It has gained immense popularity among web developers, business owners, bloggers, designers, and anyone wanting to create a website quickly with minimal effort. WordPress offers users a wide range of features for their websites, including themes and plugins, mobile-friendly designs, SEO optimization, and more.
For many businesses, WordPress is the ideal platform for their website. It's easy to use, has plenty of features to customize your site, and it's free. With its broad range of tools and resources available for creating a website from scratch, WordPress is the best choice for small businesses and startups.
Not only can you create a website quickly with WordPress, but it's also highly secure. The platform has regular security updates and its architecture screens out malicious code to protect your site from hackers. With built-in features like password protection and user authentication, WordPress makes sure your website and data remain safe.
Conclusion
In conclusion, WordPress is an excellent choice for businesses looking to create a professional-looking website quickly, with minimal effort and cost. With its wide range of features, mobile-friendly designs, security updates, and SEO optimization tools, WordPress is the perfect CMS for creating your business website. So make sure to consider using WordPress when building or updating your website in 2022.