7 Sophisticated Team Communication Apps (On Premise & Saas) of 2022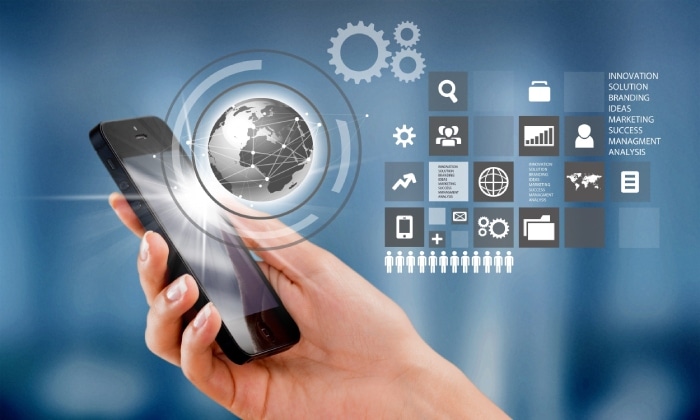 The corporate world had to change their work patterns with the changing times. The recent Covid-19 pandemic that has spread across the globe made more than 50% of the employees stick to their homes for performing their office work routines.
Consequently, the team communication and collaboration market has seen a tremendous rise in the number of applications joining the collaboration club to serve the needs of the unanticipated volume of users.
It is the very right time to build or enhance a great team communication tool. Entrepreneurs can test their luck.
Why are emails evil for internal team communication?
Hanging on with the emails might consume the team's abundant productive time. Spending one to two hours on the Emails alone will certainly kill the productivity of businesses.
Though Emails are considered to be one of the age-old practices for office collaboration, these days many workplace employees and employers are shifting their choices to team collaboration tools.
What made them think in this way?
To have a clear and transparent communication across the teams?
For getting work done faster and better by giving clear inputs to the teams with instant messaging?
To quickly connect with team members with the help of a conference meeting to clear the airs?
Or for making a taking quick decision?
What makes a great team communication App?
Whether it could be the user onboarding, the affordability quotient, the security that it offers to the organization's data, the user experience with the collaboration facilities, the navigational flows across the application, or the learning curve of it; all these have to be the end user-centric.
The simple to understand and fast to use team communication applications that have stable loading times are the ones the internal office teams look for.
Let's have a quick look at the team communication tools that have the things mentioned in this section.
Focused teamwork conversation happens within Troop Messenger!
An ideal team chat app for work collaboration that allows teams to use it seamlessly on the go with its mobile version, besides from its desktop and browser editions. Business owners can highly benefit from this tool, as most of the highly required features that are useful for team collaboration are available in its basic plan at completely affordable prices by all.
The Troop Messenger home page will give a glance at the members who are online and unread message notifications the moment we log in to the application.
The internal office teams can convey work collaborations over one-on-one instant messaging, group conversations, voice-video calling, video conferencing, audio messaging, and screen share with controlling the remote desktop.
Features those save time and increase work productivity:
Global and Text Search Filters
Forkout
Forward and Recall
Unlimited File sharing and preview
Advanced-Data Filters
Respond Later
Quick Profile View
Vendor-Client Collaboration
Integrations and more.
Premium and Enterprise are the other pricing versions available at $1 and $5 besides its 7-day free trial of the SaaS business model. It also supports the delivery models of on-premise, APIs, and custom applications.
Twist (SaaS)
Twist allows teams to have high collaborative conversations within the spaces of channels, threads, and messages. Apart from teams enabling structured communication, it also lets them have company-wide transparency with work conversations.
With Twist, companies can build a culture of collaboration while keeping different types of team conversations happening in one place.
It provides a wide range of support materials to users like:
Help Center
Twist Guides
Remote work guides
Blog
Microsoft Teams (Saas)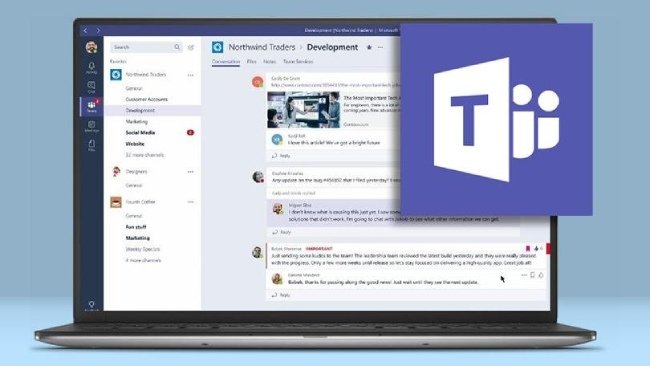 One can take Microsoft Teams alone for conducting their work conversations, or it comes as part of the Office 365 suite. This tool has noticed a major growth in its takers as it outperforms Slack with its seamless and flawless team collaboration facilities.
The one-on-one chat is highly intuitive with the features of video-voice calling and screen sharing right on the top of the chat area.
When it comes to the remote screen, the experience is simply flawless.
Features that engage users:
Activity
Collaboration
Meetings
Call History
File Management
Integrations and more
Slack (Saas)

Slack allows its users to switch between different workspaces right within the single platform for offering uninterrupted team conversations. This tool is pretty famous for its organized conversations over channels.
The best team chat solution for remote workers, distance learning groups, project management, sales, customer support, and more.
Facilities that connect teams:
Messaging
Voice-video Calls
File Sharing
Enterprise-grade security
Innumerable integrations and more.
Zulip (On Premise)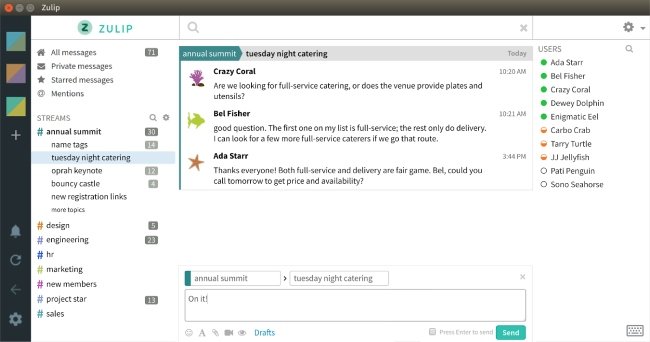 Another team communication app that makes people connect over a single interface with its powerful group chat. It simply provides great asynchronous conversations. It makes the users look into important ones, ignoring the unimportant.
Features that make messaging beautiful:
Emoji Reactions
Inline image, video and Tweet previews
Code and quote blocks
Customizable automatic linkification
On-premise
Mattermost (On Premise)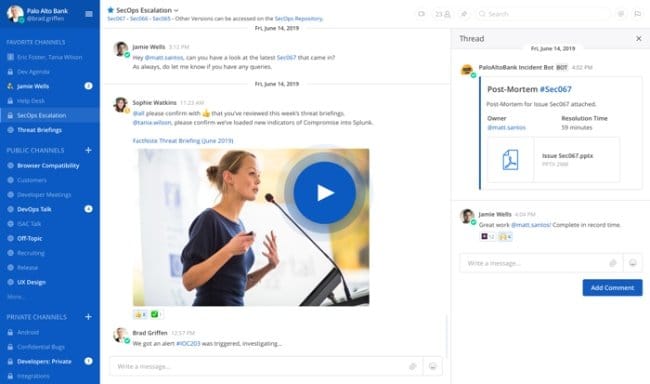 'High Trust Messaging for the Enterprise,' is what the Mattermost's webspace says. This open-source team messaging platform provides users with secured team collaboration. Besides SaaS, it offers an on-premise solution for the users to allow them to have data privacy.
Trusted by the DevOps teams, for having organized team interactions over the channels.
Features for seamless communication:
Markdown formatting while sending messages
Voice –video calling
Screen Sharing
File Sharing
Multi-language support.
Rocket Chat (On Premise)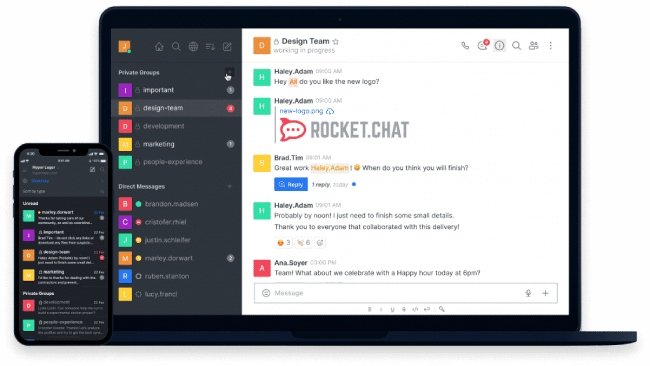 Rocket chat is an open-source team collaboration hub that manages the team's conversation and data within a single platform. It allows the users to have real-time chat conversations and users can switch to audio and video conferencing to enable work discussions with the remote teams.
Features for quick collaboration:
Free Audio and Video Conferencing
Screen Sharing
Guest Access
LDAP Group Sync
E2E encryption and more.
How to choose the best tool for your organization?
The key performance indicators (KPIs) to choose the best collaboration tool include:
Easy to understand and simple to navigate user interface
High on user experience
Delivery models
Affordable Pricing with Powerful Feature-set
Help Resources
Great Support Team
Seamless Registration Process with flawless onboarding
Conclusion
Teams could be of any size! But, business owners must choose the best tool for their daily operations to run effectively. You can opt from a list of team collaboration tools based on your need by checking their functionalities.
When selecting a team collaboration tool, consider the benefits of real-time in-app chat and communication platform, which can help your team stay connected, improve response time, and streamline workflows for better productivity.