Should Your Business Be Using Instagram Stories?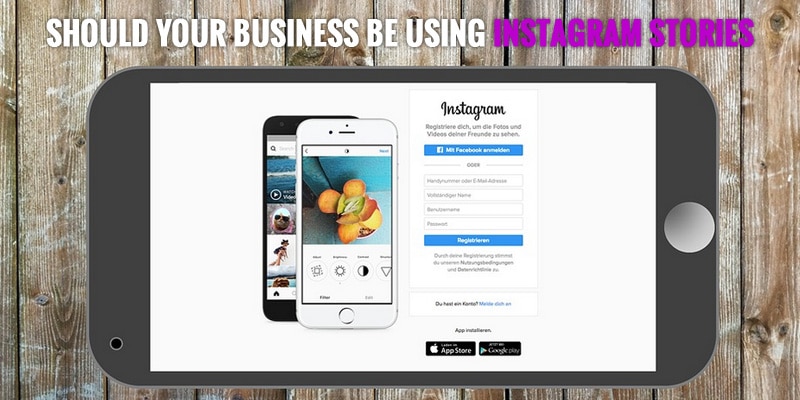 There is no doubt that, from a marketing perspective, Instagram is an appealing social media site. It hit the billion active user mark in June 2018 and currently rates as one of the most popular social media.
But it is not just the vast number of users that is attractive. It's also that the average user is fairly active on the channel.
Post amazing content and there is a good chance that it will go viral. Users love to support those who they perceive as providing valuable content.
But, you might wonder, how do you provide valuable content if all you can really do is to post photos. The channel does seem a bit limited in that respect.
Unlike other social media sites, you cannot post direct links to other content – if you want to do this, you have to record them in your photo somewhere.
Instagram Stories
There is, however, a very useful feature on the channel that is great for building brand awareness and adding value for your clients – Instagram Stories.
These are short snippets of video that can be quickly uploaded. Just point, shoot, and upload – your content is there in seconds.
It's a tool that is very popular. At the end of June 2018, about 40% of users made use of the feature on a daily basis. That's around 400 million users a day.
It has clearly become a very popular feature. It's not surprising – the snippets are short and easy to upload and will disappear after 24 hours. It's a perfect match for the transient nature of social media.
Should We Be Using It?
A lot of companies are rushing to get in on the action. Should your company be one of them? The answer to this question is going to depend on who your target market is.
Are the people you are targeting active on Instagram? If so, it could be a good idea to get started.
What Should You Post?
There are a lot of options here. Don't let the apparent ease of posting fool you, though. If you are serious about improving your brand image, you need to spend some time creating thoughtful content. It has to be something that your followers find useful and should be of good quality.
Let's take a look at some simple ideas to get you started.
A Look Behind The Scenes
What goes into creating a product that you sell? People are becoming extremely skeptical of claims made by businesses about how much work is put into each product being sent out. You can allay some of those fears by showing them how things progress from start to finish.
We are not saying that you should give away proprietary secrets or that you should create hours and hours-worth of video. We are saying that you need to let them have a look at what they normally wouldn't be privy to.
Just remember, use good quality footage and keep it interesting. How about releasing time-lapse footage of your craft beer process? Or showing the care your team takes when it comes to adding those final little touches.
Guides For Products
We all think that we can easily figure out how something works. That doesn't mean that we always know, though. We could easily find out by reading the instructions, but who really wants to do that? Giving a quick guide about using product features has two benefits.
First off, it allows you to highlight the benefits subtly. Secondly, it actually shows people how easy it is to use the item properly.
Tease Me Baby
They say that no one likes a tease, but that isn't strictly true now, is it? Why not create an intriguing teaser for your new product line? Build up some hype.
Maybe start off by taking a really close-up shot of the item, something that only lets followers see a little bit of it.
As the launch time approaches, you can reveal more and more of the item. Figure out a creative way to entice people to keep an eye out for the launch.
Event Promotion
What if you threw a sale and no one attended it? You can promote a new event just as easily as you can promote a product. Let people know why they should attend. Do keep it fun and interesting and avoid sounding like an infomercial.
Record The Launch Or Event
You've built up all the hype about the product or the event. Now follow through with coverage for those who couldn't make it. Let them see what they missed out on so that they'll be primed for the next launch or event.
Create A Limited Time Offer
Periodically offering great deals only on Instagram and only through this feature ensures that your followers pay more attention to your channel. After all, who wants to miss out on the next great sale or offer?
Do stick to the time limit, though. Once the video disappears, the special offer must as well. If you keep extending the offer, it's not really much incentive for people to check every post you make.
Answer Questions That Have Been Posed
There must be questions that you have been asked many times over. Get someone from the company to answer them. Maybe make it a series and schedule it at the same time every week.
Get Trendy
Everyone wants to be in on the next big thing. People love showing how clever they are and if you stay ahead of developments, you could let them get the scoop. Keep track of what is going on in your industry and how these changes may affect your followers.
Take current news stories and react to them. This is a great way to get your audience to engage with you. Ask for their opinion and they'll be glad to give it. There is a caveat here, though, steer clear of anything too polarizing. So, no religion or politics.
Overall, if used properly, this can be a great tool to boost user engagement and brand awareness. What are you waiting for? Just point, shoot, and upload.