Shopify Vs WooCommerce: Which One to Choose in 2023?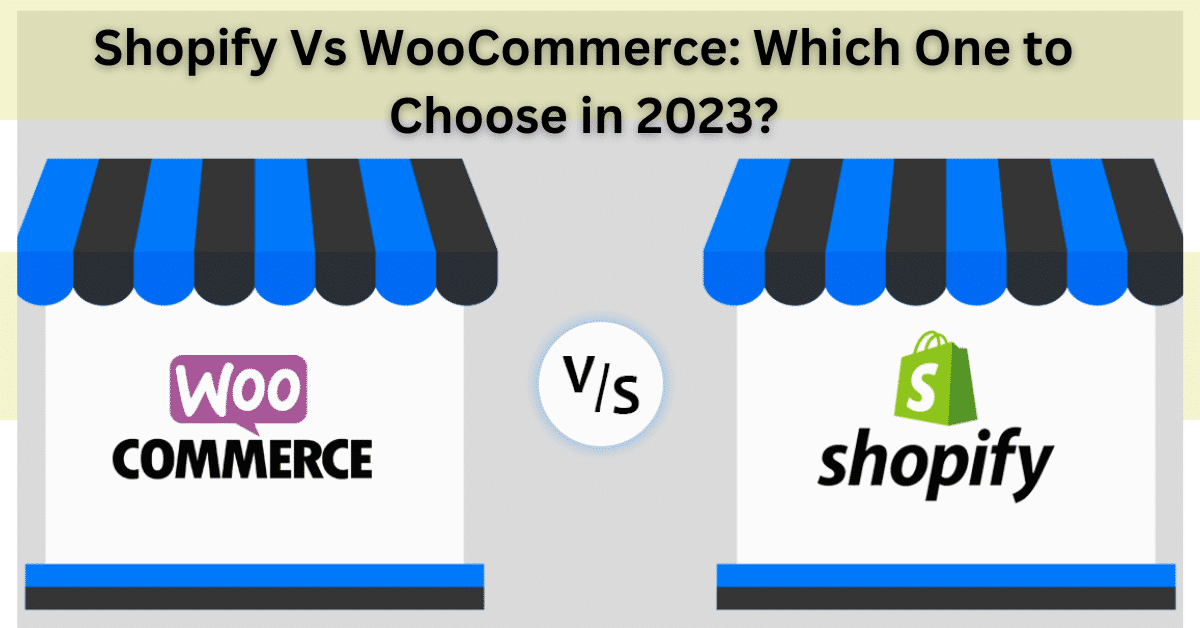 Shopify vs WooCommerce is a never-ending debate, ongoing for the past several years. If you ask a Shopify development company, they will argue that Shopify is the best eCommerce platform. If you ask another eCommerce development services provider, they might argue in favor of WooCommerce.
One can say their opinions are biased but being experts; one cannot ignore their advice. It leaves eCommerce store owners in a predicament. They spend countless hours googling and talking to experts about the best platform for their needs. Even then, they are not entirely convinced about their decision.
But don't worry, as we will make this decision easier by comparing the two platforms based on factors that matter most to an eCommerce store owner. Before doing so, let us quickly review the two platforms to develop an understanding of each.
Shopify & WooCommerce – Brief Overview
Undoubtedly, both are leading eCommerce platforms.
Shopify allows you to create and manage an eCommerce store in minutes. The best thing is that you can sell anywhere, from social media to online marketplaces to brick-and-mortar shops. Shopify is entirely cloud-hosted. In other words, you can access your store with any compatible device without worrying about hardware and software issues.
It is one of the primary reasons a Shopify development company sides with Shopify. Many of the world's top eCommerce stores are built using Shopify. So, if you opt for Shopify, you won't regret your decision.
On the other hand, WooCommerce is an open-source plugin for WordPress, a content management system and the world's most popular one. It powers almost 40% of all websites. WooCommerce allows you to enjoy the simple but powerful functionality of WordPress to create highly customized eCommerce storesThings to Consider When Selecting an Ecommerce Platform.
When setting up an eCommerce store, most people only consider the cost. This approach is wrong, as you can end up with a platform that does not meet your requirements. Therefore, you must keep the following things in mind whenever thinking about launching or upgrading an eCommerce store:
– Budget
What is your budget for this eCommerce store?
– Security?
What type of information do you plan to collect?
– Integration
Do you plan to integrate the platform with third-party applications?
– Scalability
Can the eCommerce platform grow as the business expands?
– Payment Methods
What payment methods do you plan to provide to your target market?
– Convenience
Will it be possible to operate the eCommerce store without expert help or dedicated resources?
Remember that the above list is not exhaustive. The purpose is to guide you about various things you need to consider rather than selecting a platform based on an eCommerce development services provider's opinion. Although they are experts in their fields, you cannot trust their opinion at face value.
Shopify vs WooCommerce – Comparison
Budget

We will get straight to the point. Regarding the budget, i.e. pricing, WooCommerce is an inexpensive alternative. Shopify's basic plan starts at $19.

Figure 1. Source: Shopify

You can get dedicated WooCommerce hosting and domain name registration for as little as $2.75.

Figure 2. Source: SiteGround

Unfortunately, Shopify's basic plan is not worth it, as you still need to pay for some much-needed add-ons. Thus, its basic plan will not meet your requirements. So, if budget is your only consideration, opt for WooCommerce. We recommend against basing a decision entirely on budget alone, meaning you should continue reading further.

Security

Regarding your eCommerce store's security, you should not take things lightly. Any data breach can result in a fine and loss of customer trust, which is challenging to recover, if not outright impossible. Unfortunately, WooCommerce offers very few security features by default. WordPress is not wholly secure, either.

Shopify is much better when it comes to security. It provides a free SSL Certificate and is PCI-DSS compliant by default, meaning it conforms to all six PCI categories. For instance, Shopify regularly monitors and tests networks, protects cardholder data, and has a robust information security policy.

Integration

The app approval process at Shopify is quite exhausting. It is why there are fewer plugins available on the official Shopify store. There are countless WordPress plugins which you can integrate with your WooCommerce store with a click of a button. The best thing is that many of these plugins are free, which is quite rare in Shopify.

However, one must note that quantity does not necessarily mean quality.

Apple, too, has a strict app approval program. It is why you rarely hear about malware apps available on the Apple App Store. Google Play Store is a whole other story, with malicious apps easily making their way to the store and being downloaded millions of times.

Scalability

With the right strategies and dedication, your eCommerce will eventually grow. The question is whether the selected platform can support its growth effortlessly. In WooCommerce, you will need to invest considerable resources to support your store's growth.

For instance, you will need to pay for the development costs related to the expansion. You may need to redesign the layout, add newer functionality, or even revamp the store altogether. That's not all, as with expansion, the security challenges increase. You will need to dedicate considerable resources to the store's security.

With Shopify, these concerns are non-existent. All you may need to do is upgrade your plan, while Shopify handles all technical aspects. For example, if you need to increase your products from 10 to 50, you can do it easily. There is no coding requirement or anything remotely close to it.

It is why many store owners opt for Shopify. The reason is that they might have excellent business acumen but no technical knowledge. Instead of eCommerce development experts, they prefer to handle the store themselves. Shopify is the best choice for such individuals. In the ever-evolving world of e-commerce, shopify development services are empowering businesses to create customized online stores that cater to the unique needs of their customers

Payment Methods

WooCommerce and Shopify offer almost similar payment mechanisms.

The problem is that Shopify charges a transaction fee. The Shopify customer must pay a certain fee when finalising a purchase in your store. It can prevent them from completing the purchase as no one likes to pay a fee on top of the product cost. If you use Shopify Payments, you are exempt from this fee.

Figure 3. Shopify Transaction Fee Overview

The above figure provides an overview of the transaction fee for Basic, Shopify, and Advanced plans. As you can see, the Advanced plan transaction fee is the lowest, but the plan costs $299 per month. The costs for the Basic and Shopify plans are $ 1 and $49 per month, respectively.

WooCommerce does not charge any fee, making it the winner in this category.

Convenience

You cannot set up a WooCommerce store without having coding knowledge. Even if you have beginner-level knowledge, it is not enough to set up a unique and appealing eCommerce store. So, you must hire an eCommerce development services provider or improve your WordPress skills.

Both require time and money, which everyone may not have or willing to spend. In Shopify, you can create a store in a matter of minutes as everything is completed beforehand. All you need to do is click on a few buttons, and that is it. So, we can conclude that Shopify is the winner when it comes to convenience.

Search Engine Optimisation

Once you set up your store, the first thing that you must do is start working on improving its ranking. It is done with the help of search engine optimisation (SEO). SEO improves your rankings on the search engine results page, bringing more organic traffic to your store.

WooCommerce has the edge over all other eCommerce platforms regarding SEO. You can easily do 301 redirects, add meta descriptions or alt tags, and edit the body content. There are dedicated SEO plugins for WooCommerce, which further simplify the entire process.

Unfortunately, Shopify is quite outdated when it comes to SEO. Users cannot edit the URLs to make them SEO friendly. Secondly, Shopify uses JavaScript in certain parts of the website, making it difficult for the crawler to crawl your store. Lastly, optimising for certain keywords can be challenging due to a lack of control over the HTML code. However, if you're using it, you can still work with a Shopify SEO agency to do all the tasks more professionally and effectively.

Blog

You must create a blog section to promote your products and connect with your audience. The blog section can also help with SEO. While both platforms allow for the easy addition of blogs, WooCommerce is certainly better. The reason is simple. WordPress was a blogging platform first.

So, it has numerous themes and plugins available compared to Shopify. Nevertheless, Shopify is making considerable improvements in this field.
Conclusion
Overall, we find that both stores offer numerous benefits. However, these benefits are not without drawbacks. If Shopify is better at scalability, it lacks integration with third-party apps. If WordPress is inexpensive, it takes longer to create a WooCommerce store. Therefore, it is impossible to determine which option is best.
We recommend you prioritise your considerations as it can help you finalise your choice. Otherwise, you will keep googling for the answer and only delay the launch of your eCommerce store. If you take too long, you can lose the business opportunity altogether.