Set Up Your Multilingual E-Commerce Website in 5 Easy Steps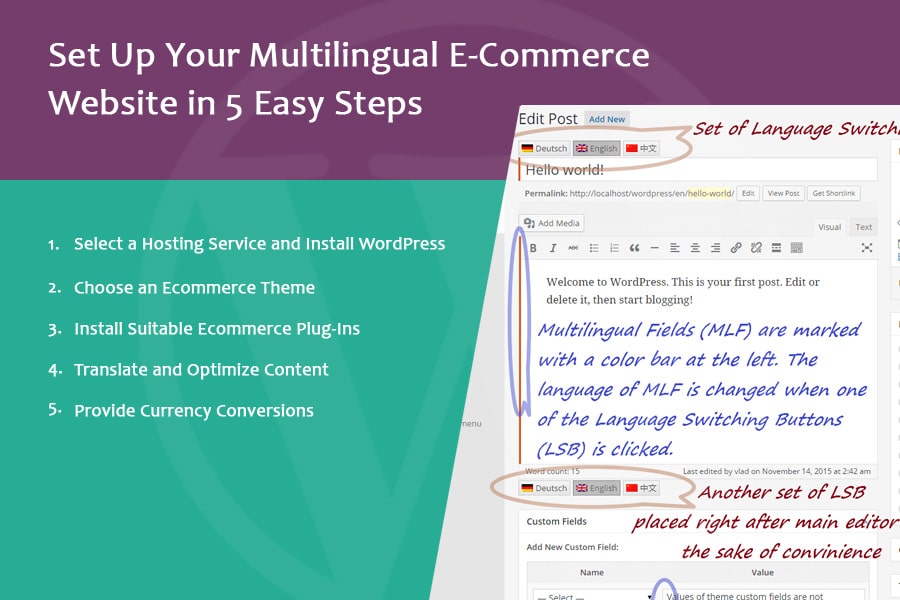 The dawn of globalization has led to companies catering to a global audience. The internet has only helped accelerate it. Today, there are millions of ecommerce sites on the internet.
To compete on a global scale, companies are launching multilingual ecommerce sites. It allows them to cater to a much broader audience in the best way possible. Since setting up a website can be a difficult task, it can be even harder to sell internationally.
If you are considering setting up a multilingual ecommerce website, you should use WordPress as it is the most popular content management system in the world.
It ensures easy access just about everywhere. Besides, it offers plenty of themes and plug-ins to help get you started.
This post aims to help you launch your very own multilingual ecommerce site in 5 easy steps.
Let's dive in.
Select a Hosting Service and Install WordPress
The first thing that you need to do when you decide to create a multilingual online store is to select a hosting and install WordPress.
As WordPress is responsible for powering about 38 percent of the web, it is a good idea to use it. However, you will need to find a host before you can proceed.
There are many hosting services that are available. This is why you need to take your time comparing your options. Some of the most popular hosting companies include Go Daddy, Host Gator, In-Motion, Site Ground, and Blue Host. Choose a host that suits your needs.
After you have purchased a hosting service, installing WordPress should be quick. Besides, many hosts offer outstanding support and will guide you with the entire process. You can read this useful guide on how to install WordPress.
Choose an Ecommerce Theme
Once you finish installing WordPress, you will need to select a theme. It will provide your website with a unique look and may offer additional capabilities. There are many free and premium themes available. This roundup of ecommerce themes will help you with your decision.
If you still experience trouble finding the right ecommerce theme, you can look up the WordPress.org theme repository or use a marketplace like Theme Forest. The following themes might be what you need.
Shopkeeper: It is an incredible ecommerce theme that is modern and enables you to get your store up and going fast without any coding skills.
The Retailer: Another excellent theme that offers the perfect look is the Retailer. It can be customized as needed.
Shop Isle: If you are looking for a free theme that is equally amazing, Shop Isle is the way to go.
Install Suitable Ecommerce Plug-Ins
Now that you have selected an ecommerce theme, you can move on by installing suitable ecommerce plug-ins. They help add functionality to your site and offer new features.
WordPress is home to thousands of plug-ins. Choose plug-ins based on your needs. Some are free, while others require you to pay.
Compare different ecommerce plug-ins to determine which ones to use. When it comes to ecommerce, Woo Commerce is a popular ecommerce plug-in that you need to check out.
It is completely free and helps turn your website into the ultimate online store. However, you need to pay for extensions.
Installing ecommerce plug-ins is super easy. It barely takes any time and transforms your website. If you want to set up the ideal ecommerce site, you cannot skip out on ecommerce plug-ins.
Translate and Optimize Content
Next, you will need to translate and optimize your content for a global audience. Making your ecommerce website multilingual is vital.
It offers a ton of benefits, such as a wider reach, increased sales, and better SEO ranking. Keep in mind that some translation solutions might not be SEO-compatible.
Certain ecommerce plug-ins can be added to your website to go multilingual without affecting your SEO, like the Weglot Translation plug-in. The reason why it is a must-use is that it follows the best practices as outlined by Google for multilingual sites.
When you use the plug-in, it would translate the pages and index them in the search engine. Thus, your ecommerce site would also be searchable for new markets. The plug-in translates the Content and displays it.
There is no reason for you to use multiple websites as it would harm your SEO ranking and overall searchability. The plug-in does not require any coding knowledge and translates the Content as soon as you install it.
Once it has translated all of the Content, you can manually edit the translations by hiring a professional translator. The translations are managed using the Weglot dashboard. It offers the following key features.
Customized language switch button
Search engine optimization
Compatibility with every WordPress theme
Translates over a hundred languages
Provide Currency Conversions
Finally, to set up your multilingual ecommerce site for success, you need to provide currency conversions. When creating a site in multiple languages, you will also need to provide multiple currency options to your audience.
To help people better understand how much your products cost, you can provide them with currency conversions. According to digital marketing Houston TX, currency conversions are extremely important. They help make or break a potential sale.
The Woo Commerce Currency Switcher is a popular currency conversion plug-in on the internet. It enables customers to switch between different currencies to see price conversions. Do not forget to offer currency conversions to your customers. It will make their journey a lot easier.
Takeaway – Set Up Your Multilingual Ecommerce Website in 5 Steps
With a multilingual ecommerce site, you get to boost sales and reach more customers. But, creating a multilingual store can be tough. However, by using the advice mentioned above, you can launch a profitable site in no time.
By using WordPress and the right plug-ins, there is nothing that you cannot achieve. Let's recap the steps quickly.
Select a hosting service and install WordPress
Choose an ecommerce theme
Install suitable ecommerce plug-ins
Translate and optimize Content
Provide currency conversions