SEO for WordPress: Quick Start Guide
WordPress is an affordable and efficient CMS, offering easy-to-handle themes and plugins for site construction. With some basic knowledge of technical SEO, you will build a successful WordPress-based website from scratch in a couple of days. This guide will help you get over technical issues when launching a new site.
Introduction
WordPress is one of today's most popular content management systems on the Internet. The main advantages of WordPress as a popular CMS are the following:
1) WordPress is easy to use even for tech-newbies.
2) It offers rich functionality.
3) It is scalable and flexible.
4) It can be used for free or at an affordable price.
Let's go through our step-by-step guide and see what you need to implement on your WordPress site. We will give a few tips on how to make your site run correctly, mention several tools and WordPress plugins that we use for this purpose, and the Website Auditor's SEO audit & analysis tool.
SEO-friendly URLs
It is crucial to have an SEO-friendly URL that is readable by both search engines and humans. Popular WordPress versions by default use pretty URLs. In order to edit URL settings, go to Settings > Permalinks in your Admin panel.
Select your desired permalink structure or customize it to create your own. For a more in-depth long-read guide on permalinks, have a look at this WordPress help page.
HTTPS
In 2014, the secure protocol HTTPS was added to the list of Google ranking factors. To set up HTTPS on your WordPress site:
1. Get an IP address for your website.
2. Obtain an SSL certificate.
3. Configure your web server for using SSL.
4. In the Admin panel, go to Settings > General. In fields Address (URL) and Site Address (URL), fill in your site's homepage URL with the secure protocol in it.
5. Use this tool from SSL labs to test the HTTPS setup.
WebSite Auditor quickly finds issues with HTTPS and www/non-www settings, find it in the Site Audit module: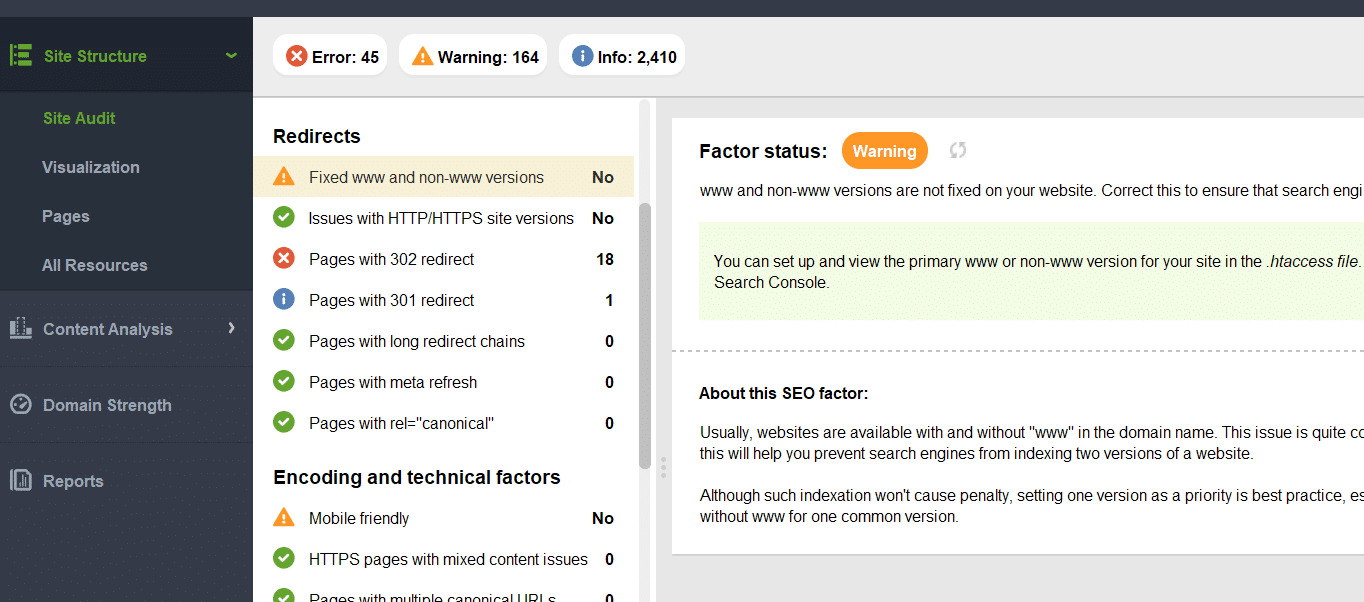 Site structure
Any site structure should be clean and logical, which means it will be better accessible by both people and search engines.
Website Auditor lets you visualize and rebuild the site structure: add and remove pages, links, detect orphan pages, etc.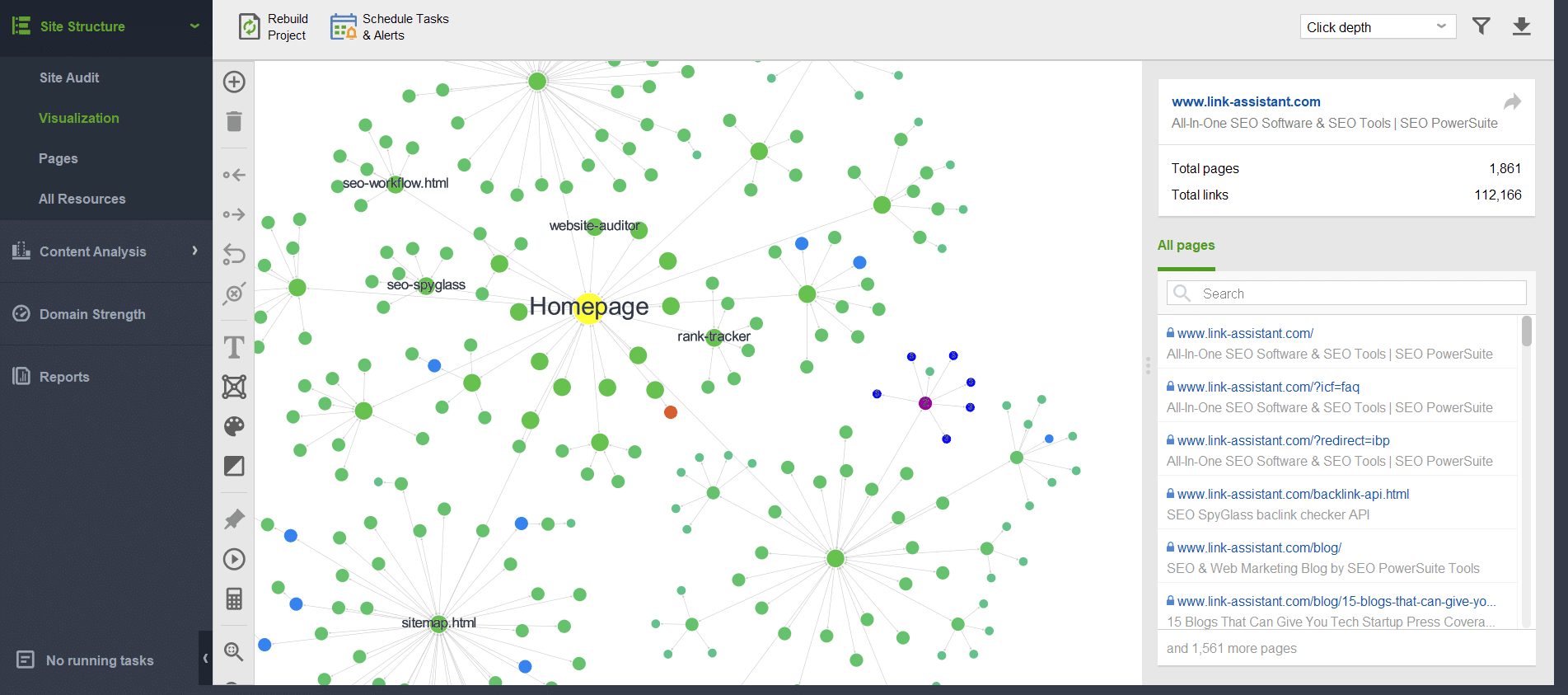 XML sitemap
WordPress does not generate XML sitemaps by default, you can use some plugins to add this feature, for example, Google XML Sitemaps.
Run WebSite Auditor to create or edit your sitemap.
1. Go to Site Structure > Pages module, and from the Webmaster Tools, hit the Sitemap button.
2. Select pages to include in the sitemap, set their change frequency, priority, and modification date. You can exclude pages blocked from indexing by robots.txt or Robots tags from your sitemap.
3. Save your sitemap on the computer or upload it to the server via FTP.
Robots.txt
Robot.txt is a text file in the root directory of your website that tells search engines what pages to index with allow or disallow rules.
In Site Structure > Pages, click on the Robots.txt button to launch the wizard and create your robots.txt file. Get your current robots.txt file, create a new one, and add, edit, remove, or test the rules.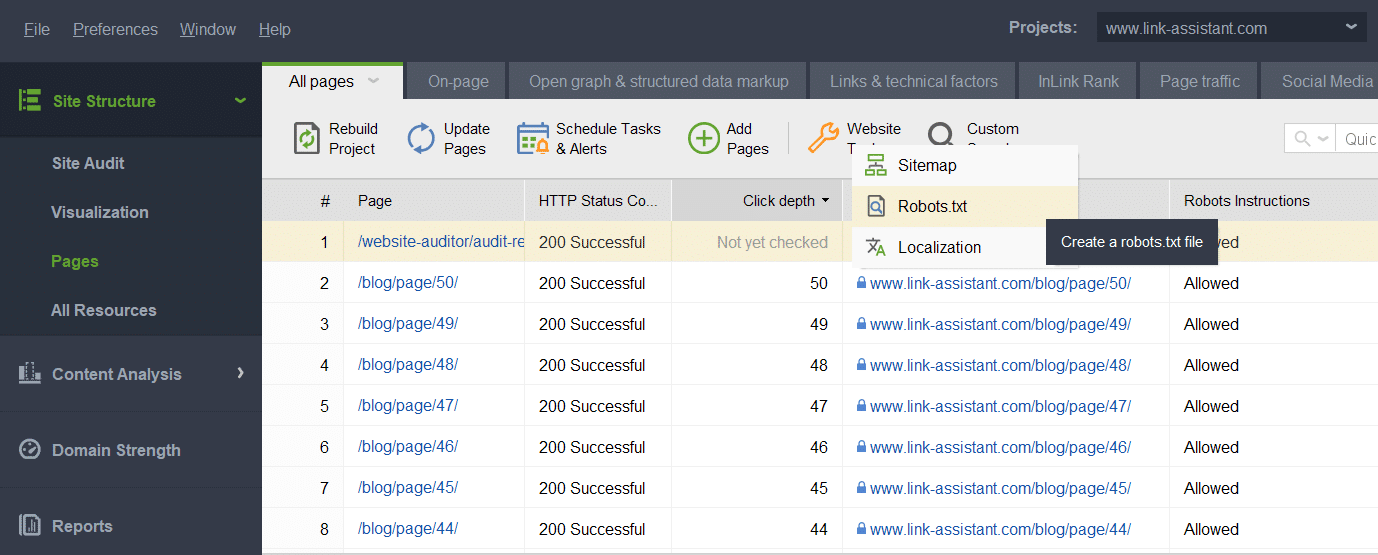 Comments
Comments increase engagement and dwell time on your site. However, it may take tons of effort to moderate them. There are a few WordPress lifesavers to do that.
1. In the WordPress Admin Panel, go to Settings > Discussion. Check the Before comment appears > Comment must be manually approved.
Hold a comment in the moderation queue when it contains two or more links. Enable user registration and allow comments for registered users only. And create a list of blacklisted phrases for your comments.
Site speed
Site speed is a crucial ranking factor, especially now when mobile-first indexing is live. The first tip is to try the Google Page Speed Insights and test your site with or without plugins.
WebSite Auditor reviews the resources and pages that are too big and too slow to load.
1. Go to Page Audit and click Add Page to analyze it individually.
2. See the Technical Audit column. WebSite Auditor will analyze a bunch of technical factors that impact the page speed. Click on any of them to get detailed tips.
Alternatively, you can check your pages for Core Web Vitals metrics. The check-up is done via Google Page Speed API. You will need to generate your key first (it's free from Google), and then check all the pages' scores. Do this in Site Structure > Site Audit submodule.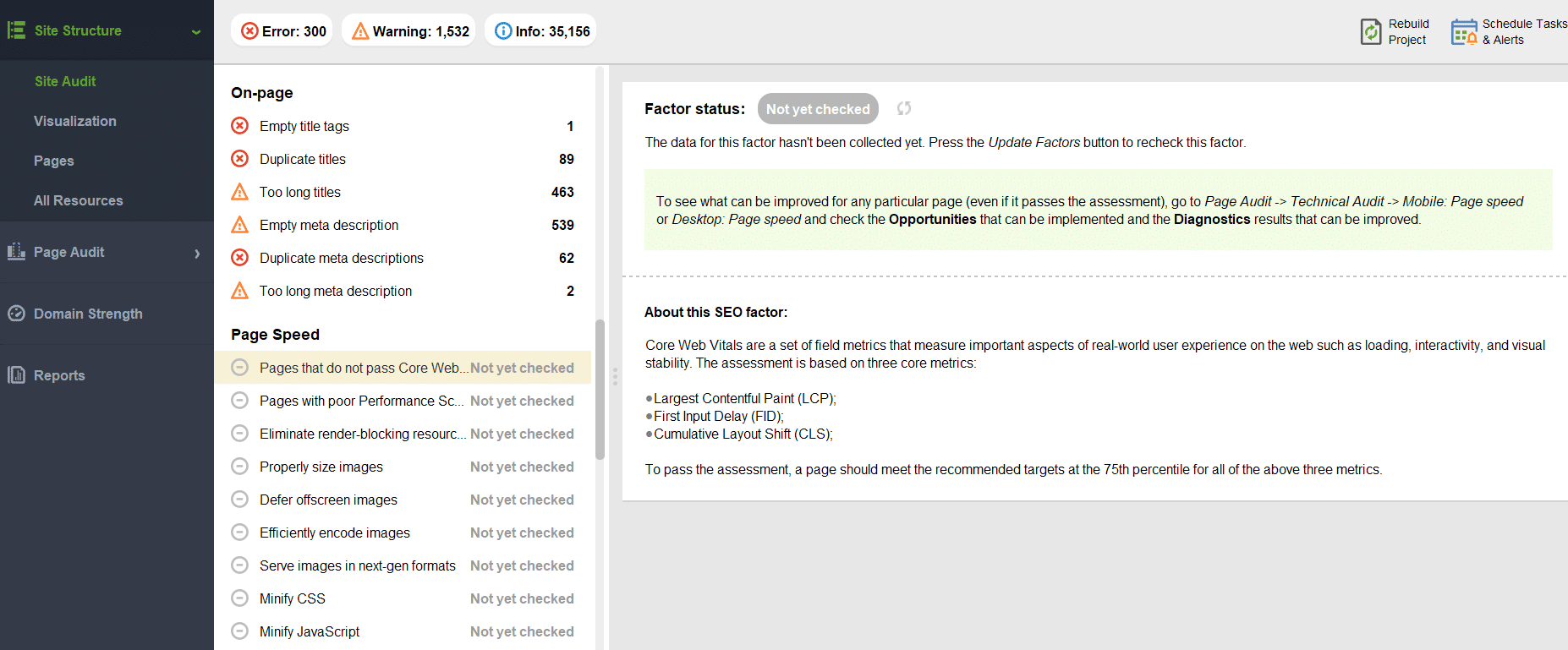 Content optimization
The Yoast SEO plugin does this job great. It reviews content length, keywords in titles, and descriptions.
You can also use WebSite Auditor's Content Audit and Content Editor tools for a more in-depth on-page optimization.
1. Go to Page Audit > Content Analysis module and click on Add Page. Enter the URL of the page you want to analyze, the target keywords, and the search engine where you aim to improve your rankings.
Along with your page content, WebSite Auditor will scan the top 10 ranking pages for the target keywords. The tool will then suggest how to improve your pages.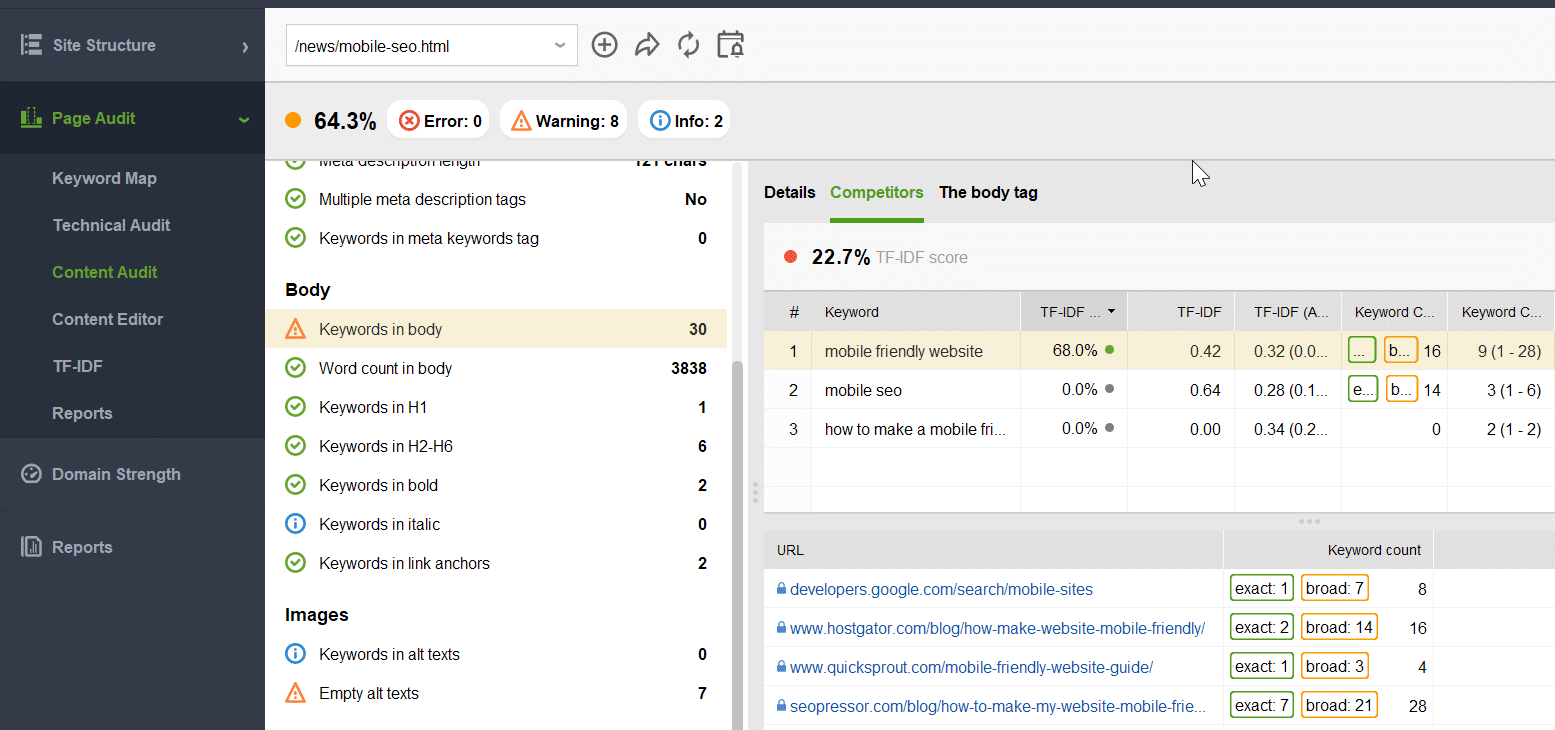 When you make an improvement on your page, click the Update page factors button in the top left corner of your workspace to see how your changes affect the optimization score of the page.
Wrapping up
This guide has drawn just the basic picture about how to do an SEO website in WordPress. Be ready to experiment with tools, shape a good strategy – and enjoy!