Security Ninja Plugin Review: Scans & Protects Entire WordPress sites
What can you get with Security Ninja Pro version?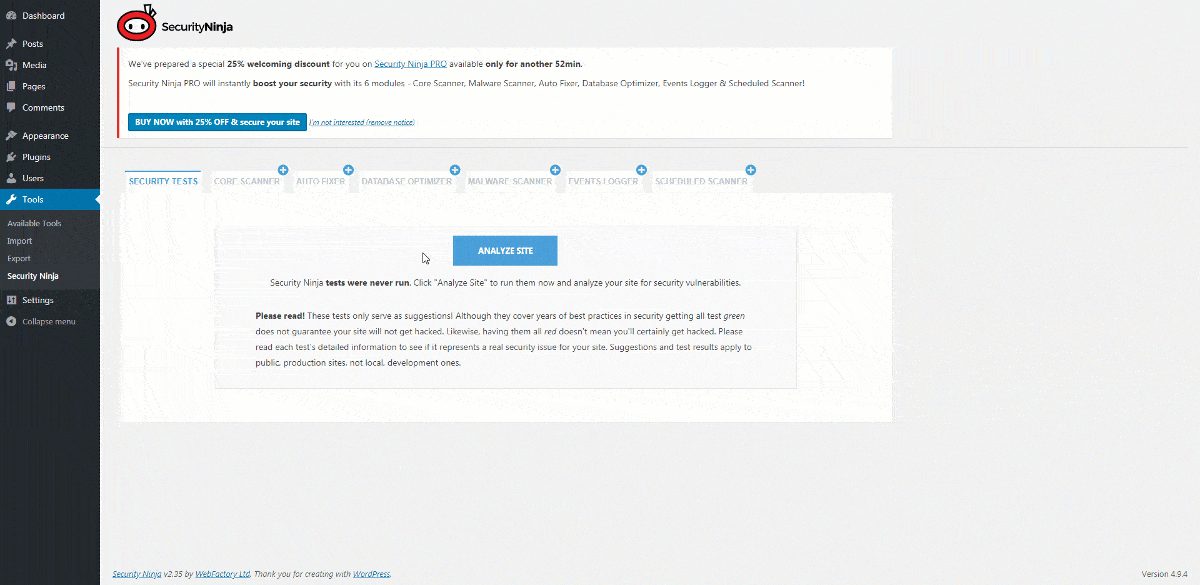 As mentioned earlier, there is a Security Ninja PRO version, apart from the base version. You will need to make a payment and obtain the subscription for the pro version.
But before you do, it is important to have a clear understanding about the features that come along with the pro version as well. Then you know what exactly you'll be getting for the amount you pay.
Below mentioned are the most prominent features that you can get along with the pro version of Security Ninja Plugin.
Events logger
The Events logger can be considered as one of the most important and useful features that you will be able to get. That's because it has the ability to keep track of every single event that is happening on your website.
This will be the most convenient option available for you to keep an eye on all suspicious events that are taking place on the site.
Scheduled scanner
This is another useful feature that Security Ninja Plugin Pro version users can try out. It has the ability to automate the security scans.
You can let the job run on regular intervals and keep an eye on the security of your website. This will keep you away from the hassle of running security scans manually on the site.
Malware scanner
The pro version of Security Ninja comes along with a comprehensive malware scanner as well. It will look for all malicious code found within core files of the WordPress website.
If there are any, they will be cleaned up automatically, without creating a negative impact on your website.
Core scanner
The core scanner feature can keep an eye on all the core files of the WordPress website. It will get deep into the architecture of the WordPress website and look for threats. Therefore, you can receive complete protection against all sorts of security issues.
Cloud Firewall
The module gathers more than 600 known bad IP addresses and it makes sure that access from them gets banned before a bad guy gets to your site.
Database Optimizer
Optimize your database by clicking one button. Your database will be cleaner, the site will run faster, and Security Ninja will have less work to do when inspecting your site
Final Words
Now you have a clear understanding on Security Ninja for WordPress. If these features are appealing to you, all you need to do is to go ahead and download the plugin.
If you are impressed with the free version, you can think about upgrading it to the professional version as well.