Scan & Fix Your WordPress Website for Free With WP Checkup
Do you have a WordPress website? How often do you do its security check or check its performance?
Because tracking your website regularly is a must thing. That's how you can keep significant meltdowns at bay or at least fix the issues disturbing your website's growth.
How many of you know to perform a WordPress website health check? That's what this blog is about. So, have an in-depth reading of this blog and learn to keep your website in tip-top shape with the WP Checkup.
Let's begin with WordPress stats.
The recent Google Trend survey shows that WordPress is ruling globally among developers. Even Drupal, Magento, and Joomla can't compete with it. Though these are popular too, and the results are based on the current scenarios and overall market perspective.
Additionally, the web development stats state that WordPress alone powers have a share of 37% entirely.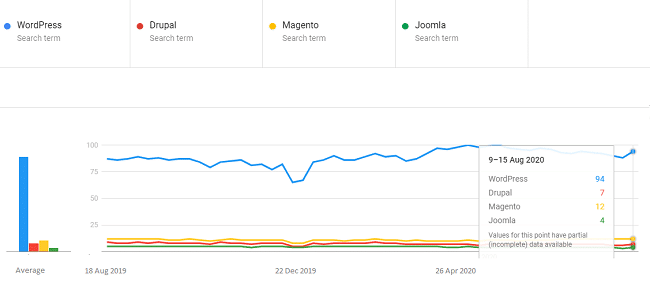 1. WordPress powers 70 million+ of websites worldwide.
2. WordPress Plugin Directory has more than 55,000 plugins.
3. WordPress rules 34% of all websites on the internet.
4. 500+ sites are built daily with WordPress.
5. 14.7% of the world's top websites are WordPress-powered.
6. WordPress blogs are written in 120+ languages.
WP Checkup is an entirely free tool used to perform a scan on websites. It checks security, performance, and SEO issues that require fixing plus share fixes and condense in a PDF report.
Today, I'll explain WP Checkup in detail and show you how to use it for scanning and fixing your WordPress website.
With WP, you can check a multitude of issues which are:
● Performance
● Security
● SEO
Now Learn How to Use WP Tool



When you visit the website WP Checkup tool, just simply enter the web URL that you want to check and click on the free scan.
This tool is entirely free to scan your WordPress website. When the results appear, the score will be given out of 100 and provide you a head's up on how your WordPress website is going. The higher score explains that your website is going well from the performance, SEO, and security standpoint.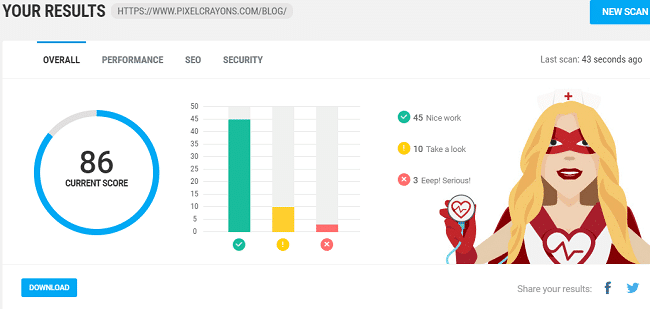 The results will include a summary of the test that your website passed and show you the moderate and high-level risks both that the tool has found.
WP Check gives you an overall score, and you can scroll down to check the breakdown of each category with fixing the solution. It provides a detailed assessment breakdown, and you can also save in a PDF report or get a copy emailed from the site to pass it further for fixation.
Get Down With Nitty-Gritty
WP Checkup is an excellent tool that scans more than 35 different potential web problems. These are categorized into three categories that I have mentioned above.
Below is the detailed breakdown of the issues covered in every scan. Let's take a look:
Leverage Browser Caching
Page caching is the biggest killer of web speed and performance. The main issue is the strain HTTPS requests that you put on the server.
Optimize images
Visitors are less interested today in reading long pages of text. You should use visual contents like images and videos, but it adds load to your server. Thus image optimization is essential.
Remove render-blocking resources
CSS and JavaScript are the main reasons behind render-blocking issues, but web development is incomplete without it. You have to devise a solution to remove render-blocking resources without doing away completely.
Improve server response time
Google algorithm says that the ideal server time should be less than 200ms. It means a website should load within 2 seconds.
Minify JavaScript/CSS/HTML
There are specific resources on your website that can occupy a larger space in the server. To remove this, you have to minify your resources to improve performance.
Enable Compression
Images are essential for user experience, and that's why you need to show them in a full resolution. If you upload an oversized image, then it can impact your page. For this, you need to compress it first and then upload it.
Prioritize visible content
You should be particular about above-the-fold content that loads first users visit your website. Thus, you should make sure that no issues come on the way when someone visits your site.
Avoid landing page redirects
In every page redirect, sending an additional HTTPS request to the visitor's browser is not good.
Canonical
Canonical tags let you know which web page represents the master copy of that specific URL.
Favicons
A small file containing an icon that represents your brand and also called the website icon. With a unique icon within an open browser tab where your website is, your branding will remain ever-present.
Generator
Tell whether your current WordPress version is public knowledge or not, and it should not be.
H1 Headings
H1 tag tells search engines what page is precisely about.
HTTPS
SSL certificates and the HTTPS web address to ensure your web security.
Image ALTs
Alternative Image Text is useful for your website and provides benefits to its search ranking for two reasons: first, it adds extra emphasis and explains search engine content focus. Second, it becomes accessible to those who can't see your images.
Meta Robots
It provides you the ability to direct search engines on what they can scan your website.
Meta Description
Every page and post of the website needs a meta description. A concise and accurate description will guide the users about the page, whether it's worth clicking or not.
Microdata
Schema.org microdata helps in improving the searchability of a website and ranks it at the top SERPs.
OpenGraph
OpenGraph metadata allows your content sharing on social media.
Robots.txt
You can use it to tell search bots about your website and how to search it on the search engines.
Sitemaps
An XML sitemap breaks down your site into its most specific parts: pages, posts, and even taxonomies if you want. This document is then sent to the search engines to index your site for webs searches.
Title
The meta title is essential for every website and its web pages. It lets people know your particular web pages, and the web page includes the home page too.
URL Structure
A URL structure can be examined from many angles. The WP tool will find out the issues and also check whether it contains keywords as it's useful for search optimization purposes.
Anchor Tags
These are the parts of hyperlinked text URLs that direct where users will be directed and how.
Additionally, the WP checkup tool assesses the website from the other ways, including Redundant Anchor Titles, Relative Anchors Pointing to Invalid IDs, and Uninformative Anchor Text, Duplicate element IDs, and List of ARIA Roles. For this, it will be better if you hire indian developers for WordPress. They will do it in the right way.
Security Assessment
WordPress Version
Among other security measures, you should also remove the WordPress version, and you shouldn't forget it at any cost.
WordPress Core Secure
The WordPress core is safe, but it doesn't mean that hackers can't reach your site. For this, you need to do your role and ensure its security.
Blacklist Status
It refers to whether the domain has been flagged or not by security pros online.
Full Path Disclosure
Keep all your web files containing sensitive information beneath the root, including the login page.
Config Files
The wp-config.php file should also remain private.
Uploads Directory Listing
You can change the Includes and Uploads directories to protect uploaded files and your WordPress site listings.
Log Files
It checks whether the error or debug files are visible to people or not who visits your website.
XML-RPC
If you want to use the WordPress pingbacks comments and trackbacks features, disabling XML-RPC is a vital step to protect your site.
Default Admin User
The default admin user in WordPress is something that needs change.
Active Theme
It tells you what WordPress theme you're using currently, and It's up to you to choose if it's a reliable option.
Enumerated Users
User enumeration is WordPress usernames that can be figured out by adding a string at your page URL's end and it can let the hacks to discover your real username.
Summing Up!
WP Checkup is a tool that performs quick and thorough scans on your website from the three different standpoints, which are performance, SEO, and security. It lets you know what can be sorted instantly and whether you need to hire opencart developers or WordPress developers.
When it comes to the WordPress website, you have no idea what can hurt your website and affect your growth, but thanks to the WP Checkup tool, it can take care of your website just like a doctor with its test. That's what you have read above too, and I hope you got it well. Better if this task is left to the WordPress development companies in India. They will get it done right.