Returning Tips for WooCommerce Stores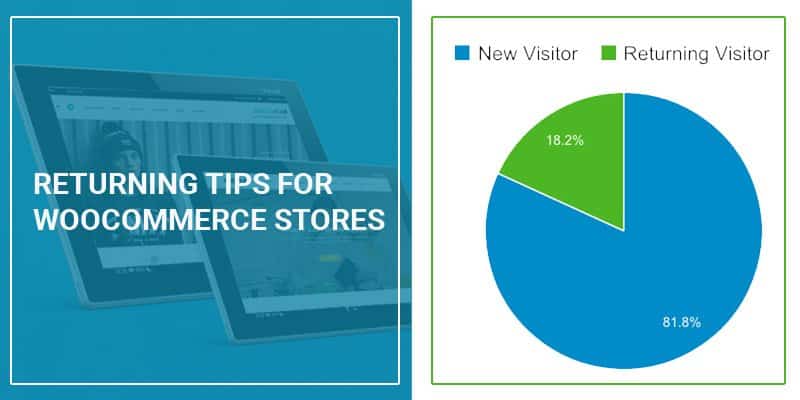 Like never before, ecommerce development is witnessinga continuous surge. This hike is most definitely linked to technological growth.
There are now many existing online platforms that bridge the gap between businesses and their customers; businesses can now maximize sales and build solid customer relationships online.
WooCommerce is one of the best ecommerce platforms. It is perfect for both start-ups and already established businesses, and is designed in a way that an average user can easily understand.
If you would want to utilize this platform, an ecommerce development company can help you get the best out of it.
Bear in mind that there are tones of businesses seeking to benefit from the profit-making opportunities that exist online. This means that there is stiff competition.
As an online business, you do not want to have only new customers purchasing from your WooCommerce store.
Customer retention is as important as customer acquisition; if you want to stay successful in business, one-time customers are good but loyal customers are a better bet. Returning customers imply that you offer quality products and services.
To capture the hearts of your customers and make them return to your WooCommerce store, here are some tips that you may find useful:
Pricing

Offering your products at prices better than that of your competitors could influence customers to return. While this approach would help, do not forget that your business has to break-even.

There are steps you can take to make products available at better prices without reducing their quality.

Large companies can take advantage of economies of scale. However, this is an option. Consider your competitors and the industry and make sure that prices are moderate enough.

Discounts

This is another approach that can be beneficial. Whether it is 5%, 10% or 30%, people love discounts. Discount codes can only be used within a limited time frame.

By giving a code for a discount on the next purchase, customers are encouraged to visit your WooCommerce store sooner in order to claim their discount.

Solid Customer Support System

Make customers know that there are important to your business. In a situation where there is a hitch and a customer cannot get the necessary solutions or answers on time, they may perceive this as a nonchalant attitude and quickly withdraw their loyalty.

Setting up a live chat can help you provide prompt services to customer issues.

This is a plus for you. You get to sustain your relationship with one customer who in turn recommends your business to many others.

Have a Clear Refund Policy

Having a clear refund policy can boost customers' confidence in your services. Let the customer feel safe while purchasing from your WooCommerce store knowing that, if they are dissatisfied with a purchase, the product can be exchanged for another.

A money-back guarantee may also so be part of the policy. If you can follow through with this promise, customers would not hesitate to return to your store.

Use Attractive Product Images and Videos

Images and videos fill the gap of not having to touch products physically. A well represented product can capture the attention of the customer.

In cases where customers are surfing through to look at products other than their purchase, these attractive visual presentations encourage them to add products into their wishlist. Wishlists signify that customers are interested in purchasing a product at a later time.

Engage Social Media

Social media is a powerful tool. It accounts for a good number of people online at a given time. You can engage social media platforms to keep your customers reminded about your products and services.

Some customers only revisit your site because of an advertisement you placed on a social media platform.

Make Different Payment Options Available

Providing more than one payment option creates room for flexibility. A customer wants to be assured that they can easily pay for products through the option that is convenient for them.

Where customers can comfortably make payments without difficulties, they would be able to return to your WooCommerce store for more purchases.

Make Your WooCommerce Store Mobile-Friendly

A mobile-friendly website is designed to work the same way across all devices so that all features can be used on mobile devices and computers.

Mobile devices are more portable and a lot of online activities are carried out on them. People can easily shop with their phones while surfing the net.

You should consider optimizing your WooCommerce store for mobile devices. That way, with a mobile phone, customers can easily revisit your store to check your products and make purchases.

Ensure Fast Delivery

Another important factor that can attract customers to return to your WooCommerce store is speedy delivery. This is highly satisfying to your customer.

Choosing a fast, reliable and economical delivery service can help you meet this need. By delivering orders in time, customers are encouraged to return to your store and make more purchases.

Carefully Choose Your WooCommerce Theme

Within a second, a visitor can judge a website from its appearance. Just as the colour and arrangement of furniture in a place can have lasting effect on people's minds, a simple and logical design would give a better impression.

Your WooCommerce store is an online representative of a physical store. Imagine your customers being welcomed by a soothing environment when they step into your physical shop.

As much as possible, replicate this environment on your online store. Your WooCommerce theme should encourage your customer to stay and subsequently come back for more.

Utilize SEO (Search Engine Optimization)

One effective practice that can help you generate traffic to your WooCommerce store is Search Engine Optimization. While creating content for your store, ensure that you utilize trending keywords that are listed on search engines.

Optimizing your store for SEO can help customers return as your store becomes more visible to old and new customers.

Follow Up

Keep the communication line between you and your customer open. You can send "welcome" emails to new customers and "thank you for purchasing" to active customers.

After a purchase from your store, be ready to reach out to customers. You can request for a feedback too. By caring about the experiences of your customers, you foster a stronger relationship.

Your customers' inboxes should not be flooded with too many emails. You can feed them with valuable content such as updates on your products and insights on interesting topics in the industry.

Secure Shopping

Cyber security is of utmost importance in ecommerce. Shopping websites collect personal information of customers and so without the proper protocols put in place, customers could be put at risk of a payment fraud.

If your security is breached, the reputation of your WooCommerce store would be destroyed and loyal customers would be lost.

Secure your WooCommerce store with an SSL certificate and keep the store updated to the latest version. You can also ensure that the site's administrator account is accessed through a complex password.

Let Customers Leave Product Reviews

Encourage customers to leave reviews about your products and services. Other customers look forward to these reviews as it saves them from the risk of finding out the quality of a product after purchasing it.

Favourable product reviews indicate that other customers were satisfied with your product and largely encourage customers to return and make more purchases.

A User-Friendly Experience

If you want customers to return to your WooCommerce store, a friendly and hitch-free experience is essential. Your store should be designed to provide clear and easy navigation for customers so that they can find relevant features without difficulty.

If a new customer encounters poor navigation, they might abandon their purchase and proceed to a competitor. This customer might never return to your store.

Offer Loyalty Programs

Loyalty programs are reward programs offered to customers that make frequent purchases. This can cultivate true customer loyalty.

Instead of going to the WooCommerce store of your competitors, customers are encouraged to purchase your products in order to build up their benefits.

Where Applicable, Provide Customization

Customization might not be easy especially for a small business, but for companies that can afford it, this is a remarkable tool.

This might not work for every product. For some products however, you can let customers customize their purchase exactly how they want.

This builds loyalty and feelings of ownership, encourages customers to return for more and gives you an edge over your competitors.
Like every business activity, ecommerce requires some strategy. You have to find out the best ways to acquire customers and keep them too. As an owner of a WooCommerce store, returning customers are important to the life of your business.
To keep them coming to your site, you need to make sure that your customers have a delightful experience. With the above tips, you can foster loyalty among your customers. And as you know, loyal customers would return to your ecommerce store for more business activities!