Why Referral Marketing is Beneficial For E-Commerce Success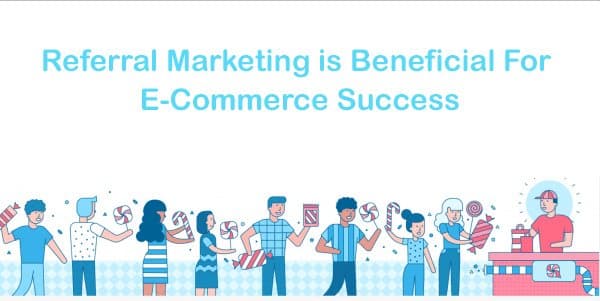 E-commerce success is what every online business looks forward to these days. Although there are many options available on the internet to market your business you may be surprised to know that referral marketing is the one method that is used most frequently and it is one of the most valuable options available in the market for eCommerce.
As it turns out, your customers are 4 times more likely to buy from your businesses if they have been recommended by a friend or relative.
Customers use word of mouth to spread awareness of the brands that are their favorites through email, newsletters, content marketing, and natural conversation with the customers.
When a business goes into the interactions that are existing and joins them with their referral program, it can help in improving the acquisition of the customers at a cost lower than the traditional methods of marketing.
Referral marketing is beneficial in the e-commerce business because it provides a wide scope of customer recognition and free traffic in a short time. The following are some of the reasons why referral marketing is considered beneficial in the e-commerce business.
1. It is Easy to Implement Referral Marketing
If you are wondering how to set up a referral program then don't forget that you can always use a referral marketing software. This software helps in making the process of referral marketing more efficient and easier.
By using a referral program many eCommerce businesses have become able to lay off the burden of tracking the traffic of customers on their website, checking the referrals of each customer, and many other tasks easier.
The businesses do not have to worry about coding or working from scratch because everything is being taken care of by using a referral program.
2. It Adds Strength to Your Emails
There are great chances that your eCommerce company has set up triggers or drip emails for carrying out certain events and actions.
The opportunity that some businesses take during this process is to choose this method to promote and mention their referral programs. As the customers are already viewing your emails, the engagement can increase in a great way.
To take it to the next level, eCommerce businesses that are using confirmation emails and email receipts are more likely to get their products and services promoted by a referral program.
The reason why this happens is that transactional emails are more likely to get opened by a customer over emails that are of other types. Take Drum Set Lab and Hunting Bow Lab, for example, they were able to increase their engagement by simply strengthening their email strategy.
3. Referral Marketing is Social Media Friendly
Numerous eCommerce websites operate by social media and that is where referral marketing fits in this experience perfectly.
Since there are easy to use buttons on these social media websites, it becomes super easy for online stores to track and automate referrals that are coming their way. Another benefit of referral marketing serves as social proof as well.
It is a tried and tested fact that when the social audience of your customers see them sharing the products and services you offer, this action will add even more to your credibility. Around 84% of people have confidence in the recommendations that are given by their friends and family which proves that a business can be marketed.
4. Referral Marketing Creates a New Meaning for Coupons
You may be aware of the fact that customers love coupons. Whether it is a coupon for free food, discount, or gifts, it motivates people to take some action.
When it comes to referral marketing, offering incentives like gift cards are the right way to go as eCommerce stores enjoy the advantage of offering store discounts and coupons that have different offers in them.
Numerous eCommerce stores are selling products loved by customers who keep coming back for more. You can combine the usage of referral programs along with incentives to give your business a nice boost and increase your sales.
5. It Helps in Getting Great Reviews
Product reviews have become an important part of the eCommerce market these days. The people who have tried or tested some products of a brand like to tell everyone what they liked or disliked about the products they have used.
In this way, businesses estimate the success of their products by estimating which product has more positive reviews and which doesn't.
The benefit of referral programs here is that it will serve as a primer for positive reviews. The people who have participated in your referral program will write a review if asked to do so because they have become an advocate.
6. Referral Marketing Builds Trust Within Your Brand
It is without any doubt that referrals are very trustworthy. People are more likely to choose a product if it is being backed by their friends or relatives that they must try it at least once.
This means that in the eCommerce world companies are more likely to go with a good lead if their customers are being referred and those customers are bringing in more referrals.
If you have good leads in your business it means that a stronger sense of trust can be established which makes the people trust in your business even more because they are sent by someone they know closely – it can be their friends, relatives, or anyone they know. A cart abandonment software will surely ensure that referrals will turn into actual conversions.
7. Referral Marketing Will Help You Find Your Influencers
These days social media influencers have taken over the entire marketing industry. Many women, girls, and even guys have started to create their blogs on Instagram because they get to do product reviews for a brand, and in return what they get is free food, makeup, or any other great products that are sent to them as samples to try out and post on their profiles so that their followers get to know about your business and follow you too.
This is a great way to initiate referrals and it helps you in connecting with potential influencers that are available in your country, town, or city. Having influencer software will aid you in tracking the effectiveness of influencer marketing.