Pros and Cons of WordPress in 2023 (Why should you use it?)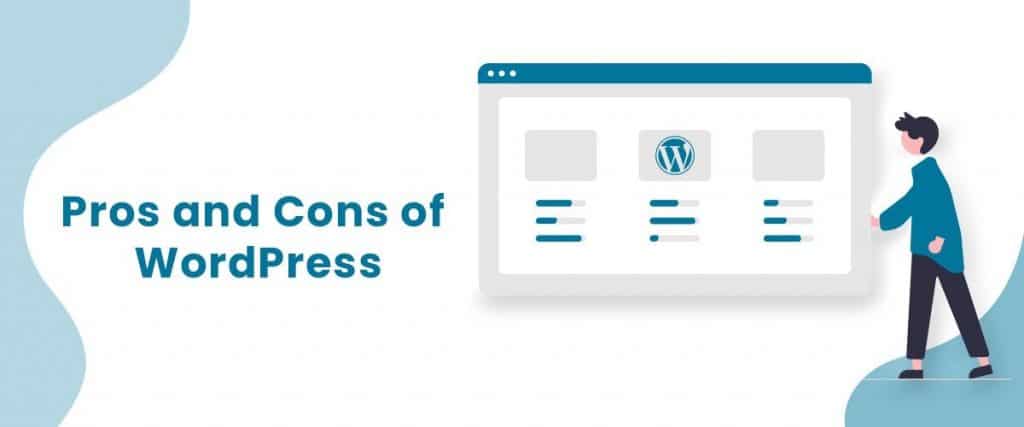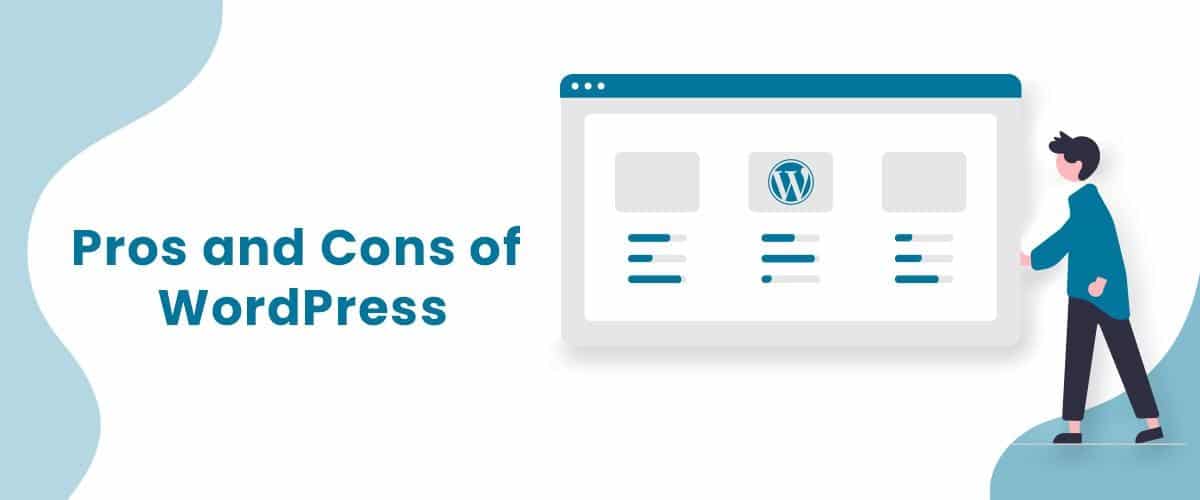 When WordPress was first started it started as a blogging platform, but has become a strong, robust CMS in the last 15 years that WordPress is able to manage even big websites of the industry. For big media companies such as Facebook, CNN, United States Today, Time Inc., eBay, Sony, Spotify, and Microsoft, it's become the default digital publishing platform for 30% of the web.
After seeing names of the big companies you will be intrigued towards WordPress and if I'll be very honest then it is the most popular website builder platform, but you need to make sure that is it right for your business? Is WordPress the right choice for you?
Forbes said that WordPress is "the promising land—the standard, user-friendly, multimedia platform—after ten years of expensive and costly content management systems,"
What is WordPress?
WordPress started off as a simple blogging platform, but rapidly became a powerful Content Management System (CMS). The scripting language PHP is used to create the software. All website material is saved in a database, including settings, blog entries and pages. MySQL is the most common database choice, although some owners of web sites choose an alternate solution like MariaDB or SQLite.
Wait, you all will be thinking what are all these technical terms? but leave this all to the technical experts. Your hosting company will hold the technical side of running your WordPress site, you just solely need to focus on creating the content you need for your website, and also marketing it the way you want to, and that is the beauty of WordPress. The programme enables everyone to easily construct great websites because of their user-friendly space, irrespective of their technical knowledge.
What kind of Website can WordPress Make?
Few years ago everybody was asking "what can you do with the help of WordPress?" but now everybody is saying "what can't you do with the help of WordPress?" a tool which was primarily created just for blogging, now can do anything and everything. Because of improvements to the core code, as well as WordPress' vast ecosystem of plugins and themes, you can construct any sort of website with WordPress.
With the help of WordPress you are able to create
Business Website
eCommerce Website
Membership Website
Portfolio Website
Forum Website
Event Website
eLearning Website
Blog
The opportunities for the personalization of a WordPress website are infinite. Additional design options and new functionality are added by WordPress themes and plugins. WordPress.org is a great place to get free themes and plugins.
What happens when you search for WordPress on Google?
Whenever you search for WordPress on a search engine, it is one of the most confusing things. The problem is when you search WordPress on Google you will find two primary answers.
WordPress.com
WordPress.org
You will think that both are the same, there's no difference in both of them, but they are not the same. Infact, they are very different, here is the most common difference between WordPress.org and WordPress.com
WordPress.com:- this is a commercialized online platform
WordPress.org:- this is an open source software
Now this whole blog is going to talk about WordPress.org
Who uses WordPress
As a blogging platform WordPress began its life. However, fewer people now only use WordPress to blog. 69% use it as a CMS only, 20% as a blog and as a CMS, and 6% as a blog only. Now it is not a surprise that WordPress is widely used.
This WordPress platform is highly versatile and is therefore ideal for both small and large companies and individual bloggers. Large companies, renowned blogs, small companies and individuals flock to WordPress to create websites that work fully and are ideal.
Companies like
TechCrunch
Sony Music
MTV News
PlayStation.Blog
Microsoft News Center
James Bond
Vogue
WordPress stats for 2023 are quite remarkable:
Currently there are so many websites on WordPress. If we are aiming for a round figure then there are approximately 455 million sites that are using WordPress.
More than 500+ are created daily with the help of free version of WordPress.org
Approximately more than 70million new blog posts are written and posted every month.
But every pros has its cons so it is necessary to check if WordPress is the enterprise website CMS you want to go with.
Pros of WordPress CMS
1. User Friendly CMS
This is the beauty of WordPress: how easy and user friendly it is. If you are not a developer then also you don't have to worry about anything. Because in a very short span, you can learn the basics of WordPress. This is one of the factors that made WordPress so popular.
Before WordPress, it was a prolonged and frustrating process to create a website. The designers and developers who understand HTML, CSS and compliance standards can only build sites successfully.
WordPress has largely removed technical hurdles. WordPress can be built and managed by anyone with any level of expertise, including those with only basic computer skills.
And, because WordPress is a content management system (CMS), you don't start with a blank page. Rather you start with a website that has been completely designed and ready to adapt and customise your content. This simplifies the process of launching your website.
And here's the best part: as a beginner in web design, you can keep things simple by sticking to the fundamentals of WordPress. Run your website with its point-and-click interface and add new content as needed. Perhaps this is everything you would like to know about WordPress — and that's fine! Or if you want, you can dive into WordPress deeper and deeper. Perhaps you'd like to learn more about custom theme design.
In fact, WordPress can serve as a gateway into the larger world of web design and running online projects in many ways. And as you continue to learn more about WordPress and web design, they will expand and grow alongside you, taking you as far as you want to go.
2. Plugins
One of the main reasons why you should use WordPress as a CMS is because it is supported by a wide community of talented developers. As a result, there are now many top WordPress plugins for website owners to choose from. The official WordPress Directory has over 54,000 plugins. You can pretty much find any type of integration in the WordPress directory, including more technically-advanced ones, like a WordPress accessibility plugin.
You are able to do anything with the help of the plugin:
You can start an online store with the help of WooCommerce plugin
You can create a job board
Sell Voucher through your WooCommerce website
Create a Wiki website
Build a photography website
Get regular backup of your site
With other sites which are not built with the help of WordPress the options are limited. You have to work with whatever functionality has been provided. If you want more functionality then you should hire a WordPress developer and then he can add the functionality which you require. Let's take an example if you want to add safety and security functionality then it will be very risky and also costly. Because the security implication of the financial data means you have to be very careful with the code that you are developing.
3. SEO Friendly
WordPress is the best CMS for SEO and here are 10 reasons to prove this point.
WordPress solely focus on the experience of the users
It also helps you making attractive permalinks
WordPress makes metadata easy to manage
You can easily optimize image SEO on WordPress
It can't frustrate any user because it loads faster
It is also optimized for mobile
You are able to integrate your campaign with social media easily
They have plugin specifically made for SEO
They also have SEO friendly themes
4. Cost Effective


It has been already mentioned multiple times that WordPress is an open-source platform. Therefore you don't have to worry about paying the licensing cost to gain access to the CMS.
When a client requires a relatively simplistic page, it is not necessary to become crazy with work. In such cases, it's no big deal to use WordPress. We get to the important stuff fast immediately and start building the actual content management within WordPress itself rather than building low-level admin features and content management. We basically combine tools such as Advanced Custom Fields Pro, WordPress SEO and others to create a structure for template content pieces. No waste of time.
5. Mobile Friendly
With WordPress, it's simple to stay on top of this critical aspect. Google dislikes non-mobile-friendly websites and will automatically position them pretty low than those that are.
It makes no difference how great your content is if your site does not convert well on a mobile device.
When you design your WordPress site with mobile users in mind, it will be easier to manage in general. Responsiveness is important, so choose a responsive theme to give your mobile users the best experience possible.
6. Managed Hosting Option
There are no defined criteria for the way a managed plan is intended, and so what you get will vary between providers. However, most managed hosting options will:
It takes care of all the backups for you, and make regular backups for your site for safety
It can easily scan your site if there are any security threats, and firmly deal with the issues that arise.
Speed optimized, so that your site can load speedily all the time.
If you have a VPS or dedicated server, configure it to meet your needs.
Provide staging areas to assist you in testing changes and updates in a safe manner.
7. Flexibility
The most versatile CMS on the Internet now is undoubtedly WordPress. Here are a few of factors behind the flexibility of WordPress:
If you are an experienced programmer, coder or someone with no experience about it, WordPress is so easy to understand that it will easily set up your website on the internet, live, in no time, without putting much effort.
There are so many different types of themes available in the market, and if you feel like you need to create your own theme you can do that too, cause it's open source.
Plugins are the best part of WordPress if you want any functionality on your WordPress site that you can easily do with the help of the plugin.
You can choose any hosting provider you want to.
You have complete control over the theme, customizations, plugins, etc. You may easily transfer and migrate your site to any other web hosting company you choose and take with you all of the data.
WordPress supports any type of Website. It can be a small one or a large one in WordPress that doesn't matter. Some of the pretty well known websites are runned with the help of WordPress.
You will have infinite options to create sites via PHP if you are eager to become a developer of WordPress. Although some think PHP is an old language, the quantity of custom code cannot be neglected, which is freely available to construct big and beautiful websites.
Cons of WordPress CMS
1. Vulnerability
It is important for you guys to understand that WordPress is not fully secure, well no site is fully secure. The security flaws of WordPress extends to its themes and plugins and it not only remains to WordPress core. In wpvulndb.com's recent report, 2.837 known safety vulnerabilities in WordPress are identified.
75% are from WordPress plugins
14% are from core WordPress
11% are from WordPress theme
Here are the top 4 WordPress security problems you should be aware of:
1. Brute Force Attack
WordPress brute force attack is a trial and error method, the hacker tries entering multiple username and password till he finds the correct combination. The Brute Force Attacks manipulates the simple method there is to get access to your WordPress site: your WordPress login page.
2. File Inclusion Exploits
The next most common safety issues that can be exploited by attackers are vulnerabilities in PHP code for your WordPress site following brute assaults.
3. SQL Injection
To function, your WordPress website relies on a MySQL database. SQL injections occur when an attacker gains access to your WordPress database as well as all of the data on your website.
With an SQL injection the hacker can create a new admin level to your user account with that they can get full access to your WordPress site and therefore they can login to your WordPress site whenever the hacker wants to.
4. Malware
When a Malicious Software comes into your site or PC a code is injected and because of that they are able to gain unauthorized access to your site and after that they can get all the sensible data of yours. There are multiple types of malware infection available on the web. And that doesn't mean that WordPress is vulnerable to every single type of Malicious virus, but there are some common WordPress malware infections and they are.
Backdoors
Drive-by downloads
Pharma hacks
Malicious redirect
And some other things you need to keep in mind so that your WordPress website doesn't get hacked easily are.
Weak passwords
Update your WordPress plugins and themes
Don't use plugins and themes from a untrusted source
Don't use poor quality hosting or shared hosting
2. Frequent Updates
It is not sufficient to simply install WordPress. You need to install several plugins and themes in order to ensure it works correctly. And the more plugins you use you will find out that there are a lot of compatibility challenges,and that frustrates you.
And if you have your site on WordPress for a long time you know how frequent the updates are, and these frequent updates might hinder the functionality of the plugins you are using, if the plugin is not compatible. So if you are going to update the site then you must make sure that you have backup of your data.
3. Plugin Bloat
There can be some potential problems that can appear according to the plugins you have installed and how many are active, coded and used.
And few of them are listed down.
1. Website crash
When you have installed multiple plugins for your site and two or more plugins are there which are doing the same function, this leads to conflict happening between them and that will cause your site to crash.
Lets understand this by an example you all are well aware of : two of the most successful plugin and very well known plugin WP Super Cache and W3 Total Cache had what was deemed as "a very serious vulnerability – Remote code execution.
The thing with WordPress is that they want to remain an open source platform and therefore anyone can create, use, customize and share whatever they want to. That means that once in a while a poorly coded and malicious software comes into existence and that will harm the website.
2. Site performance and Page speed
As far as performance is concerned, website owners are primarily concerned about page load speed. But in fact if you are not aware that if you are installing too many plugins the slower they will run. Because if you are installing so many plugins to your site a server request is sent when the user is loading a specific part of your website.
3. Reliability issues
Another major concern for WordPress users, as well as their desire for multiple plugins, is their dependability. Potential problems include poor coding quality, discontinuation of products, slow release schedules, poor support and ease of use.
All of these problems can combine to turn something which seemed great at the time into something unreliable that can do more damage than good.
Everything has its own pros cons
Nothing is perfect therefore, WordPress too has its own pros and cons, but if you see the advantages over weights the disadvantages. And the disadvantages are something which you are able to solve easily if you consult a WordPress expert. So, you should hire a WordPress Development Company, and your site will run very smoothly without any problem.
After looking at all the pros and cons you can overcome the problems easily. Looking at the bright side you should choose WordPress as your enterprise CMS.