Pro Tips to Increase the Domain Authority of Your Website
If you're working on a digital strategy, the first thing you should know is how to measure and evaluate the results. Domain Authority is one of the most popular metrics used by professionals to determine the effectiveness of their digital strategies.
Domain Authority (DA) is a score that predicts how well a website will rank on SERPs. It was created to complement the more prominent page authority score and take into account the size and recency of a site's backlink profile. Site owners and digital professionals use this score to determine the success of their SEO techniques and the value they offer to their customers, as well as to assess the success of competitors' marketing campaigns.
For those of you who have no idea what Domain Authority is and how it fits in with search engine optimization, let's put it into context. Think of Domain Authority as an entire game, which includes a system with its own unique rules. To succeed in the game, you have to know the rules without fail. We'll discuss this further.
What Is Domain Authority?
Domain Authority (DA) is an off-page SEO score that measures a domain's reputation and overall authority. It describes the overall strength of the domain: link quantity and quality (including nofollow links and anchor text), the popularity of the site by social media influence, and the popularity of the site on other high-authority websites.
Upon analyzing backlinks, the SEO tool SE Ranking provides you with the total scores as a way to quantify the power of different sites, allowing you to gauge where your own site may fall on their ranking scales.
In short, it's a statistic that roughly indicates how "well known" or "well trusted" the domain is to search engines and, therefore, how well it will probably rank in SERPs. There are major factors that build domain authority:
1) the age of the domain;
2) the quantity and quality of links pointing to your website;
3) the authority of referring domains
4) the amount of low-quality links pointing to your site;
5) link attributes (dofollow/nofollow/UGC/sponsored).
Look at the chart below to discover some extra domain authority metrics: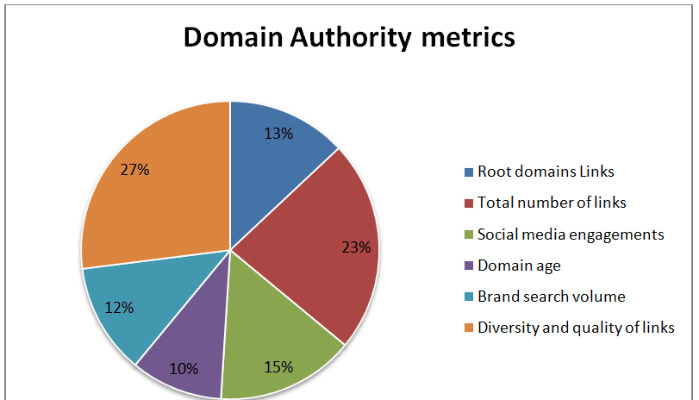 Although most SEO tools use expressions such as "domain authority", other tools like SE Ranking and Web CEO use expressions like "domain trust" and "site authority" to show a site's specific off-page reputation score. It's important to understand that these expressions are essentially the same thing.
Why Is Domain Authority Important?
First of all, speaking of the benefits of high domain authority websites, we need to mention that although DA is not actually used by Google for ranking, it is still immensely helpful when trying to assess a domain's performance in search engines like Google. Oftentimes, a website with DA 16 can rank higher than a website with DA 83 just because it has more relevant and quality content: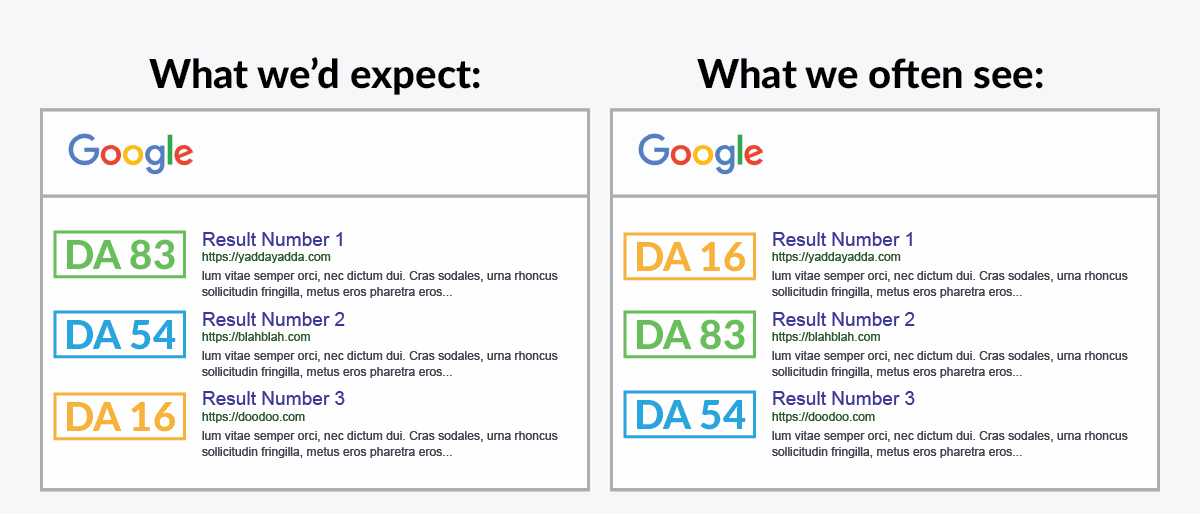 Each domain authority score is actually a simulation of how Google might score domains based on their backlinks when it considers what the backlinks are made of. The benefit of a high domain authority website is usually trustworthiness, whereas a low domain authority is indicative of having "spammy" links.
Basically, high DA sites get ranked higher and have a better chance of obtaining the number-one spot in their niche. Though it sounds strange, high DA websites do not rank higher because they are well-designed, mobile responsive, or tech-savvy. High DA websites rank higher primarily because they are more trusted as measured by link popularity.
A rank of 1 – 100 is given to each domain on a scale:
A site with a DA of 10 to 20 is not going to get you very far in the SERPs.
A site with a DA of 30 to 40 is reasonable, but no one would consider it a high authority site.
A site with a DA of over 50 is pretty good and, depending on what you're trying to accomplish, may get you a top 3 ranking for some keywords.
But if you really want to start dominating, you need to improve domain authority to over 80.


To put things into perspective, the New York Times and Medium have a domain authority of over 95. However, if you want to increase your domain authority (DA), you should know that it's harder when it's in the 70–80 range than when it's between 20–30.
How to Increase the Domain Authority of the Website
Build High-Quality Backlinks

On the modern Internet, even a beginner understands backlinks are one of the most important ranking factors for search engines like Google. They are necessary for not only improving the trust of your profile in the eyes of search engines but also for showing the world what niche you're the leader in. Each link to your website can be divided into two groups:

➔ A link from a site that has no authority and value;
➔ A link from a highly valuable, relevant, and unique site.

You will not get high rankings in Google or Yahoo! just by having tons of low-quality backlinks from websites all over the internet. However, you will rank higher by gaining high-quality backlinks since they have a positive impact on the site's credibility, building it's reputation in Google's index as an authoritative resource.

Your link profile is the main element responsible for boosting your website's position in the SERP. Backlinks are links to your website from other websites, and consequently, they tell Google that your website is trustworthy and has good content. Therefore, building relevant links is the best SEO strategy to optimize your site so that it gains higher ratings in search results than competitors.

Before using a certain resource as a link-building tool, a website owner should check the metrics that matter most to the link-building strategy, such as the domain trust that shows the domain quality score, traffic, keywords used to improve its ranking, referring domains that link to a given domain, its age, the number of indexed pages, etc. Fortunately, the SE Ranking backlink checker frees you up from the mundane and tedious task of getting all the important SEO metrics mentioned above by yourself and does it for you in a matter of seconds.


The Best Practices for Getting Links

Google Search Console Report: Google search console's link report will give you all the links which are pointing to your website, so you can use it to find out where the links came from and what type of content they link to. This will help you in the future while outreaching the same websites.
Broken Links to Build Backlinks: One of the easiest and safest ways to build backlinks is to find broken links and then earn a link from the same page. For example, if there's a broken link on your competitor's website, you can reach out and ask them for a link exchange to your own valuable content or even replace their broken link with one of your own.
Link-Worthy Content: Creating an in-depth guide, an informational piece of content, a "how-to", or adding some capturing infographics can result in a large number of high-quality backlinks pointing to your website. You can also include articles and information that answer certain questions or give readers actionable insights into your industry. However, it's important not to just write about random topics but rather try to figure out what people are looking for and cater to your audience accordingly. If your writing is outstanding and offers something new to the reader, chances are they will link back to your site.

Monitor and Reduce Bad Links

The domain authority of a website is essentially its credibility. Links from relevant and authoritative sources will boost a website's domain authority, whereas spammy links containing low-quality content pose more harm than good and can irreversibly ruin a site's credibility. It is also important that the pages where the links reside are authoritative on their respective topics.

Although Google puts a lot of weight on the authoritativeness and quality of an article, it can lead to a penalty if it's being linked from a bunch of low-quality websites. For this reason, monitoring your backlink profile should be an essential part of your SEO and content marketing strategy. You can set up a system to regularly monitor your backlinks and remove them if they are harmful to your website. The better you deal with malicious backlinks, the more time the search engines have to crawl and index good backlinks that will help you promote your website and increase DA in the long run.

Create Great Content to Earn Links

Earning links through content creation is an old method that was used by early-era SEOs. Back then, it was much easier to earn quality links. The competitive landscape was a lot less fierce when social media wasn't yet part of the game. And if you created a post that got shared on Facebook by different circles of people, chances are that someone would find it useful and link to it under the same context.

Nowadays, becoming a trusted source of information in your industry can lead to links on high-quality, authoritative websites that boost your DA. For example, if you provide useful content like guides for how to hire frontend developers or help and advice to developers on writing test scripts, there's a good chance that developers will link to your content since you provide highly-engaging and valuable content for them. So, it's obvious that the value of the information you provide depends on how many people are sharing it and thus linking back to you. Again, as mentioned earlier, using a collaborative editing solution is a good idea if you're running on a CMS like WordPress.

Analyze Competitors' Strategies

As any marketer knows, your competitors are a treasure trove of information for your own campaigns. Since they are your main obstacle on the path to success — if you don't know them, you will lose. Analyzing the link-building techniques of your competitors provides you with a way to learn from their experiences and make your SEO strategy even more effective.

Fortunately, there are SEO tools like Google Analytics and SE Ranking that have a useful link referral information feature, thanks to which you can study the strategies implemented by the competitors and try to match them with yours. It might also be worth looking for information about how many links your competitors build per month, what anchors they use, and what pages they link to. This information will help you understand how to grow your own link profile and will save you a lot of time and money

Enhance Social Interaction to Increase Backlinks

Social media has been around for quite some time and is a great platform for you to market yourself. So when it comes to linking back to your website after reading an article or blog post, a backlink from social media accounts can lend credibility to a web page, build trustworthy relationships, and bring backlinks from other valuable resources that accidentally come across your referral links.

Social media follows the basic laws of supply and demand. It's safe to assume that the more shares an article has on social media, the higher popularity it will have. The most important thing is to have an engaged readership who is able to interact with your content. This will increase likes on Facebook and could even convert those likes into email subscribers. With a bigger audience comes more traffic and social shares, as well as brand awareness, which will eventually lead to huge amounts of backlinks.
Conclusion
For any online business or blog, domain authority is an important piece of the online marketing puzzle. You want your site to rank well in Google and other search engines, and that is why having high domain authority can be just as important as having good content. By definition, this score represents a measure of the overall authority of a given domain, page, or link. It takes into account many factors, such as the number of links to a page and the ratings those links carry.
Thanks to DA, you can see how your website compares with other websites on a scale of 0-100. Oftentimes, SEOs on the web use it to track the progress they are making with running their SEO campaigns. So, if you strive to improve the DA of your website, feel free to use our most significant tips mentioned above.