Picking the Right Web Company: 5 Factors to Take Into Account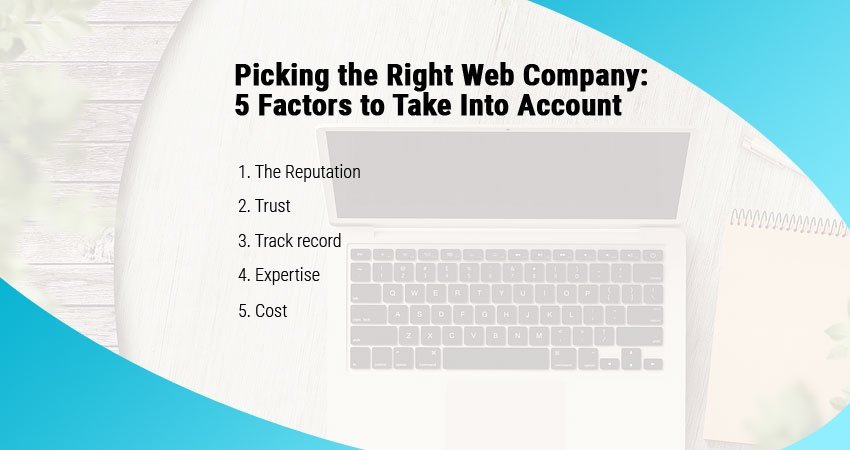 Anytime you want to hire a web development company; you must choose among the many alternatives available with care. Remember, once you opt for a web development firm you are developing a relationship that could last for years.
So it is recommended you make the right choice since the results would reflect your entire business to the whole world.
And to help you seamlessly do the homework for web design in London, this post explores five factors that if you put them into consideration, you will eventually smile at the results.
The Reputation
It is right to state that everyone likes being associated with the most reputable brands. So if the company may have former clients you know, it is good to contact them and get their opinion.
Their word of mouth will give you an overview of what to expect once you hire the same web development company.
You can also perform extensive research on the internet. You may get what other people had to say about the company. However, the feedback you get from either way is worth taking into account towards selecting the best for you.
Trust
The second aspect to take into account when selecting a web development company london is the level of confidence. Trust is vital because web designing matters are technical issues and you will work with that particular group of developers long-term.
However, do not let your contrary intuition scare you away from them just because you do not comprehend the technical part of the matter.
From reviews or feedback from other satisfied past clients can give you a comfortable feeling, though. Once decided, make sure you trust them.
Track record
Every elite web creation company will have a portfolio of websites that they have developed and continue to work on them.
A clear portfolio on their sites can help you learn about their design aesthetic, typical client base and the number of thriving websites created by them.
Though you may not see all websites created by companies in most of their portfolio sections, you will get a hint of their web development standards and their overall professionalism.
So make sure you skim across their portfolios to catch a glimpse of what they can offer plus what they have been providing to their current client base.
Expertise
As per your needs, the expertise of the firm you choose can be varied. For example; if you want a basic site, an intermediate web developing firm can suffice.
However, since you may require a few tweaks in the future, make sure you pick a company that can suit your future needs.
Be it custom registration forms, email systems, user management systems or any other task that may arise with time.
Cost
For sure, the best price is typically reached for the tasks rendered satisfactorily. And for your website design quotes, make sure you deal with a company that plainly outlines upfront and all ongoing costs. This will give you a clear picture of your short-term and long-term costs.
Conclusion
As you shop around, meeting various web designing companies remember to judge using the aspects mentioned above. Weigh their quote based on your trust, their reputation and their track record are equally vital.
Hopefully, your thinking has been expanded by these factors. The lowest quote isn't always the best choice, though.