Overview WordPress Directory Plugin – HivePress


Are you looking to create a business directory website, a members directory or a classified ads site like Craigslist?
You can get your directory site up and running in next to no time with the help of HivePress, a free WordPress directory plugin that allows you to create listing websites of any type or you can utilize the readymade classified script.
HivePress is not just a plugin but an all-in-one solution that includes the HivePress core itself, the official ListingHive theme and 6 add-ons, all completely free.
In this overview, we'll briefly cover some of the HivePress features and its customizability options. Also, we'll talk about HivePress themes and extensions and finally explain how HivePress-built websites can be monetized in several different ways.
HivePress Customizability
HivePress is a crazy customizable open-source plugin that allows you to tailor your directory site to any niche. For example, the HivePress plugin goes with:
Custom Listing Categories – Create as many listing categories as you need for your website. Additionally, you can add category images and create a hierarchy of categories if necessary.
Custom Listing Fields – You make your own listing & vendor custom fields and search filters. There are no limits, so feel free to add as many as required.
Gutenberg Integration – You don't have to mess with shortcodes every time you want to customize your layout. Since
HivePress is fully integrated with Gutenberg, you can use blocks to create stunning layouts.
HivePress Extensibility
With the HivePress plugin, you are not limited to the core features and can extend your website's functionality using HivePress add-ons. There are 15+ free and premium extensions that you can download directly from your WP dashboard. Here's a list of the available extensions:
Bookings – Allows users to book listings;
Marketplace – Allows users to sell listings;
Requests – With this extension, users can receive offers and make requests;
Memberships – Allows you to make listings available to view for a fee;
Search Alerts – Notify users with emails when new listings that meet a user's search criteria are posted;
Social Login – Adds an ability to sign in via third-party services like Google, Facebook, etc.;
Social Links – Social links can be added to listing and vendor pages;
Opening Hours – Allows users to add business hours to their listings;
Statistics – Allows vendors to see monthly, weekly, and daily unique listing views;
Tags – Allows users to set listing tags;
Paid Listings – Allows you to create various listing packages and sell them;
Claim Listings – Monetize your website charging users for claiming listings;
Favorites – This feature allows users to create lists of their favorite listings;
Messages – Enables the communication system on your website;
Geolocation – Integrate your website with Google Maps to enable the location-based search;
Reviews – Allows users to rate listings and leave reviews.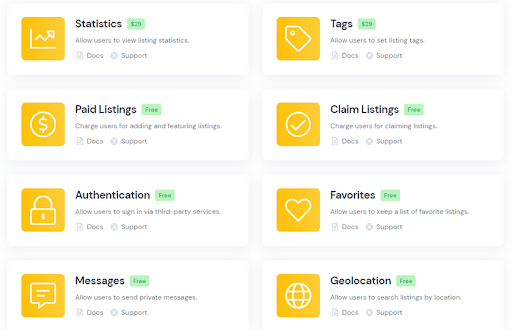 Bear in mind that you can combine various extensions and create a listing website with unique functionality. All the extensions are fully compatible with each other, so everything will run smoothly and without any technical drawbacks.
Let's take a look at some examples of directory and classifieds websites that you can create with HivePress by combining different add-ons:
Business directory website;
Restaurant directory site;
Classified ads website like Craigslist;
Coupon website;
Memberships directory;
Real estate directory;
Travel directory like Tripadvisor;
Members directory;
Affiliate marketing website (e.g., Amazon affiliate store).
You can create all these listing websites and many others with the HivePress plugin in a blink of an eye and absolutely costless.
HivePress Monetization Options
Depending on the type of website you are building, several monetization options are available.
Charging Users for Adding Listings
It's the most straightforward of monetizing a directory website. With the Paid Listings extension, you can create several listing packages (e.g., Standart, Premium, Premium Plus with different restrictions). So users will have to buy one of the available packages when they want to add a new listing.
Additionally, you can promote listings for a fee so that they will be highlighted and appear at the top of the search results page.
Charging Commissions
In case you are building a marketplace of service or rental marketplace, you can charge a commission from each transaction made through your website. You can easily set up commissions with the Marketplace extension.
Charge Users for Viewing Listings
If you have some valuable or unique information on your website, you can set up membership plans on your website with the Memberships extension. You can limit access for all listing pages (which would include both search and category pages), single listing pages, or particular listing fields.
Charge Users Businesses for Claiming Listings
If you are running a website similar to Yelp, you can list different businesses on your website and charge fees for claiming listings.
As you can see, there are at least 4 different ways of making money with HivePress-built websites. Depending on your website niche and requirements, you can choose any monetization model that suits your project the best.
Moreover, you can also display ads on your website as an additional source of revenue. Probably, the easiest way to display ads is to integrate your website with Google AdSense and make money every time users click an ad.
Also, keep in mind that HivePress is fully integrated with WooCommerce, meaning that you'll be able to use dozens of payment gateways.
HivePress Support & Community
HivePress is directly supported by its developers, guys who know their plugin inside and out. Users can find detailed documentation on the official website or use the support forum to create a new topic if they have some issues with setting up HivePress or any of its products.
At the time of writing, the HivePress plugin has more than 5000 active installations in the WordPress repository, and there is an active community of website owners sharing their tips and ideas on the community forum.
The Bottom Line
That wraps up our short overview of HivePress. If you are looking to create a directory or classifieds website with WordPress, you may consider HivePress, it already includes tons of different features right out of the box and has gained the trust of thousands of website owners worldwide.