5 Outlandish Plugins Which You Never Knew Existed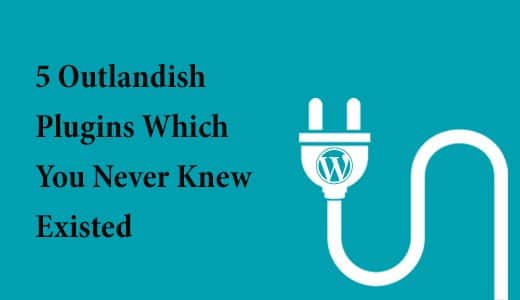 WordPress became a revolution in website making when it grew from being a blog making tool to a website creating one. Today one in four sites are powered by WordPress. The application of WordPress in eCommerce stores is the latest tale in its long journey towards success.
Beginning your website with WordPress is only the first step, there is much you need to work upon from your side to harness the whole vitality of this fantastic platform. And once you have built your site the right way for your website, magazine, community or whatever specific purpose you have in mind. Then the next question that will be bothering you will be to engage your users. Get them to stick on your site.
And there is perhaps no other platform like WordPress that can do it for you. What makes WordPress outstanding are the plugins. WordPress plugins can make up for the gaps in your website. It means that with plugins WordPress lets you scale up to add amazing features like social networking, forums, complex galleries, media widgets, calendars and the list goes on and on.
The role of design and content is invaluable for your site's success. But there is something that fun plugins can do for you which design and content can never deliver. And that is "appeal." It is an appeal that a creative site makes to a visitor's heart that makes them come back for more.
Here we discuss some of the fun plugins which you knew existed, so we bring it to enlighten you and make your day. Use them to transform your website and build user appeal.
It happens even with the greatest of fans that, they are on to work and one thing leads to another, and you lose track of time. By the time you realize it, the match you have been waiting for will have passed halfway.
There are many ways you can keep track of the time and score of your beloved games. Football Pool is one among them. This fantastic plugin came up during the 2018 FIFA World Cup. However, it can easily show your favourite tournaments. The plugin will install some custom standing tables, and the database can be modified to run the logic of your particular tournament or league with ease. So make your blog compelling with this fantastic sports plugin.
How often do you visit Apple Inc?
Not that you need to, but for the sheer joy of those mesmerizing visual effects.
What if you can do that too? Yes, there is a hero in town who can do it for you, and that's Slider Hero. It lets you weave cinematic and futuristic intro to your WordPress site.
Slider hero can be the right choice for you if you want to pitch your product at the very first instant. It enriches you with more than 85+ special effects, unique text animations, Google Fonts, background audio, video, slides and much more. It leverages HTML5, CSS3, JavaScript as its back layer to cash in parallax and ken burn effects with style.
It's not one of the best WordPress sliders out there, but it's free.
Well, your website rating is not all about design and visual dynamism. Your content, too, can be made dynamic, and H5P is such a plugin. It provides various content types that cater to your multiple needs.
The cool thing about H5P is that you can merge it into your WordPress, Moodle or Drupal site. It also makes for LTI integration via Canvas, Blackboard, Brightspace etc.
You can employ engaging content strategies like interactive videos, personality quiz, collage making, flashcards, and so much more.
A unique and straightforward way to gamify your website. It uses all the three award systems that you can add to your site viz. are points, achievements and ranks. Further, you can decide on the types of the above and how users earn the points.
Software and mobile app development companies can effectively use it for ranking high by expanding the time clients spent on their website. It reduces the bounce rate and helps them climb the ladder of search results.
It is an innovative solution to your document handling problem with WordPress sites. Most workplaces today are equipped with Microsoft Office Suite tools to deal with their documentation hurdles. It doesn't break your structure, as is the case with most of the blogging platforms. It keeps the design and format of the document by conserving headings, tables, links, bookmarks, images, charts, textboxes, specially formatted texts etc.
So continue your enriching experience with WordPress and implement these plugins to innovate your website.