Optimizing Website Content for Search Engine Visibility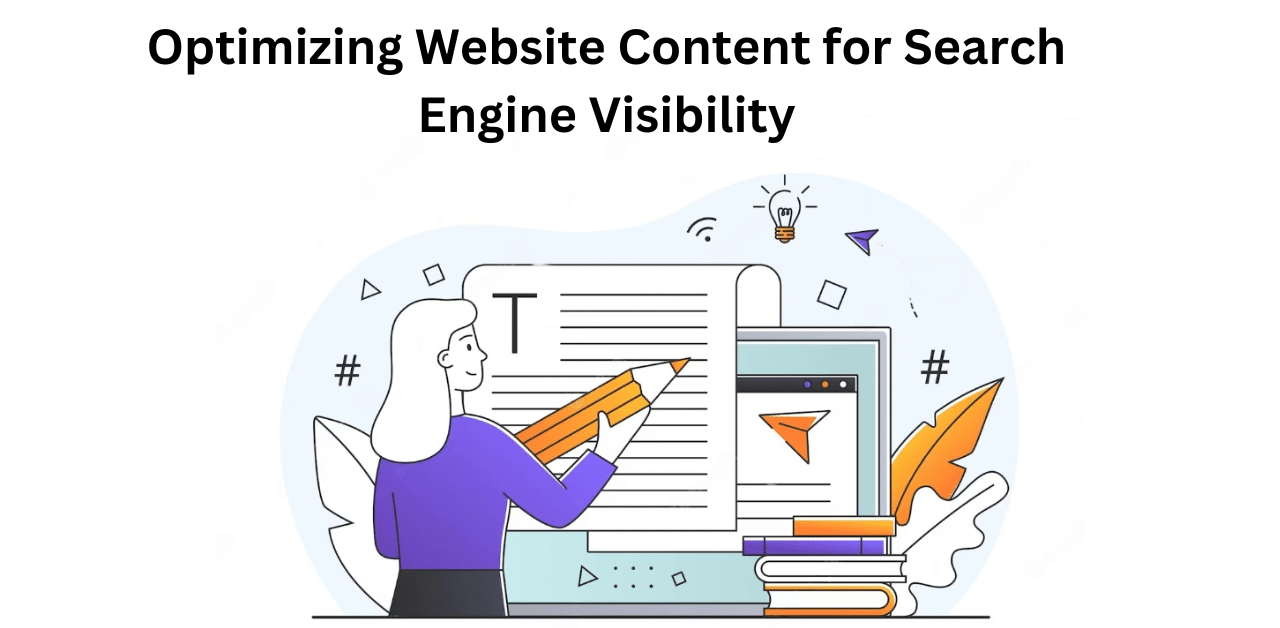 You might be surprised to see a drop in website traffic and search ranks. They can be brought on by a variety of factors, but frequently a change in your SEO visibility is to blame.
Such a change signals your firm that it's time to reassess and focus on enhancing your SEO approach. In order to rank higher on search engine results pages and reach more of your target audience.
SEO is a deliberate process. To achieve your goals, you must have a well-thought-out strategy and consistently apply yourself to it. You must optimise your website for search engines. So that potential customers can view your website and create new sales chances.
In this article we discuss a few tips to Optimize your website content for search engines.
What is SEO Visibility?
The percentage of potential traffic that your website obtains from organic searches for a keyword is known as SEO visibility. And a lot of that percentage depends on how you compare to your competitors in the SERPs.
It's an important indicator that shows how visible your website is in natural search results whenever a pertinent query is typed in. You won't be found without it, your conversion rates will drop, and your revenue will suffer.
Easy Tips for Increasing Search Engine Visibility
You must follow the following tips if you wish to optimise content for search engines;
Perform Keyword Research


Before writing content, keyword research is important. Because it enables you to match your topics to the queries that potential customers are making in search engines. Your content will rank higher in search engines when it is written to address user needs.

If you don't practise keyword research. You're less likely to satisfy the topic needs, wants, and interests of potential customers. Semrush and Ahrefs are just two of the many tools available on the market to assist with keyword research. It's important to think about the volume and intent of a keyword when choosing which ones to use.

Be Conscious of User Intent

Search engines aim to give users the greatest possible experience. The same idea is used when creating content for search engines as well. This is why it's important to keep the user's aim in mind when producing and sharing content for your business website.

If the information on your website matches what consumers are searching for on search engines. It will be described by the search engine as useful content that offers users a wonderful experience. You have the chance to rank higher on SERPs by keeping user intent front of mind. It increases user access to users looking for your content.

Write High Quality Content


Although longer content doesn't always equal better, better SEO content usually lasts longer. The more information you have to share. The greater your authority on the topic is recognised by search engines. Yet it's essential to prevent veering off subject or using unnecessary jargon in your writing.

Research, planning, and writing abilities are necessary for producing high-quality content. Yet, even if your essay was interesting and instructive. It's possible that readers won't have the patience or time to read the whole thing. Here is when a summary generator can be useful.

Summary generator summarises your content to make it more concise and clear. It allows you to obtain an infinite number of summaries without sacrificing quality or wasting time.

Use Internal and External Links

Another technique to demonstrate Google how authentic and relevant your content is is through internal linking. The ideal practice for linking to a page is to point to another page or blog on your website.

Connecting to authoritative external websites shows to search engines that you are knowledgeable in the subject matter. Also, it improves search engines' comprehension of the subject matter of your material and might raise visitors' trust in your website.

SEO heavily emphasises credibility, and Google will give more weight to sites that are seen as reliable. On every page, there should be both internal and external links.

Use Meta Title and Description

Pay attention to your meta titles and descriptions while you write content for your website. The first interactions consumers have with your content are with the meta titles and descriptions. It significantly increases the content's impact and click-through rate (CTR).

Your meta title should not exceed 60 characters. While blog names should be intriguing enough to be clicked, meta descriptions for pages should be neat and formatted. Your keywords should always be in the meta title and description.

By creating your own metadata, you may set your material apart from those of competing blogs. highlighting your brand's distinctiveness and enticing visitors to read your website content.

Optimize for Mobile Devices

It's important to make sure that your website is mobile-friendly. This entails designing your website such that it is mobile-friendly and responsive.

Through the use of responsive design, page load time optimization, mobile-friendly navigation, shorter content, and testing your website on mobile devices. You can make sure that mobile users can access and enjoy your website.

Use Visuals in your Content

It's beneficial for SEO ranking factors to include relevant visuals and videos in your content. Images and graphics can aid readers in better visualising the text. These may help in boosting shareability and engagement.

Using visuals in your content not only helps the reader by giving them useful visual assistance, but it also improves the SEO value of your page. due to the fact that it can be optimised to rank for particular keywords associated with the page.

Search engines look for alt text on photos when they crawl web pages. Brief text that includes the head keyword and explains the image is known as alt text.
Conclusion
Content optimization for search engines involves many steps. For you to get the outcomes you want, you must take persistent action and adopt careful strategies. Creating new sales prospects or improving your search engine ranking. A key digital marketing tactic that can point you in the correct way is SEO. Your comprehensive SEO approach will be essential to your success in terms of rankings, conversions, and revenue growth.