How Mobile App Development Has Contributed To E-Commerce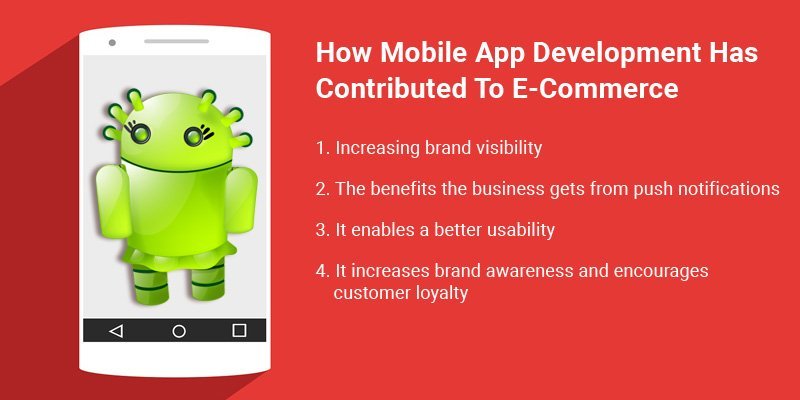 We now live in a world where things are advanced and technology is everywhere. Mobile apps are no longer new as many businesses have adopted this mode of conducting their businesses.
It is not an arguable fact that technology has no doubt contributed in so many ways and has been of benefit to everyone all around the world.
A few years ago people made so much fuss about desktop applications but with advancement in technology changes brought about mobile development apps.
Studies have shown that many people spend most of their time on their mobile phones and as such businesses have taken advantage of this opportunity to reach their target customers through mobile apps.
Mobile apps have made things so easy for people. One can buy items to their doorstep, book tickets for their flights and so much more using their mobile phones.
People browse through their smart-phones idly to see what is going on, to know the current fashion trends which makes it a good target for e-commerce businesses to focus on developing mobile apps for their businesses.
In this article, we will show you how mobile apps have become beneficial to e-commerce and why you should develop your own mobile app for your e-commerce business.
Here are some of the benefits of mobile apps for ecommerce businesses:
Increasing brand visibility
Many spend more time on their mobile phones today and as such many business owners are investing developing mobile apps for their business.
A business cannot only rely on their desktop website to reach their customers as the larger market can be reached on mobile.
People no longer want to go through with the stress and time it takes to turn on their computers before they can surf the internet.
Everything they need is just in their pocket and can easily be assessed on their smartphones. Having a mobile app will make your business available to customers at any time they need to access it and it would assist in driving more sales for the business.
The benefits the business gets from push notifications
In mobile apps, push notifications helps the business by reminding loyal customers of new products and services that are being offered. The push notification will immediately inform a user of a new product that is available.
Mobile apps will constantly keep people informed of the business and attract the attention of customers using the push notification functions.
It enhances customer relationship as the customer is constantly reminded that you are always available to serve their needs. A mobile app development company Dubai usually build mobile apps with these push notifications to enhance the user's experience.
It enables a better usability
When a mobile app is installed it is expected that the mobile app should come with user-friendly features that will make it easy to use.
A mobile app development company or developer makes sure they create UI/UX designs to make the mobile app easy to use.
The mobile app usually makes use of built-in features on the user's mobile device such as their camera, microphone, etc. to enable the app keep track of the customer's activities.
When an app comes with excellent user experience, it gives customers a good impression and encourages them to buy your products or services.
For instance, if it takes less than 3 seconds to download your mobile app, it would encourage a customer to try it out, unlike a mobile app that takes longer to install. Also, a mobile app that has easy navigation is also a plus for an e-commerce business.
It increases brand awareness and encourages customer loyalty
Aside from making your products visible to users, studies have shown that mobile apps increase the chances of bringing new customers to patronize business products and services.
This can happen when a person who has downloaded your app likes it, it can encourage other people to want to try it out. Also when a person downloads a mobile app, they will want to try it the first time and once they like it, they continue to use it.
Having a mobile app will encourage customers to continue shopping on the platform and with the push-up notifications attracting them with special offers, they would want to keep using the mobile application.
Mobile apps attract more customers to a business especially when one person downloads it. The mobile app will get more people connected when people visit the mobile store. Furthermore, mobile app analytics tools provide valuable insights into user behavior, allowing businesses to optimize their mobile apps and enhance the overall user experience.
It makes it so easy for customers to shop
One of the major benefits of mobile applications is that users can enjoy a very stress-free shopping experience.
Many people spend a lot of time on their mobile phones and it only gets better when they can easily place orders and have their items delivered to their doorstep.
It is easy for customers to be able to search for items they need on the mobile app. Some mobile applications come with search options that help the user narrow their search to find products and also see their price range.
Users get a lot of options depending on what they want. Mobile apps make shopping very easy for customers. It saves a lot of time that could have been spent browsing through shelves at the supermarket or offline stores.
Everything customers need is very much available on their smartphones. When you set up a mobile app for your e-commerce store, you are encouraging customers to get your products easily and in turn, you get the reward of boosting your sales.
If you are yet to get your own mobile app for your business, you can contact a mobile app development company to assist in making a mobile app for your business.
It is good to take advantage of the benefits of having your e-commerce mobile application to improve your brand visibility and increase sales.
Many people prefer to use their smartphones instead of their desktops. Get a mobile app developer today to enjoy the many benefits your business can enjoy.