Mistakes You Should Never Make When Creating a WordPress Site
Everyone makes mistakes, but an error on your website could gravely impact its performance and your business results.
While WordPress is the most widely used content management system (CMS) on the planet and is considered user-friendly, it's simple to overlook some of the things that are vital to your success.
Whether you're a seasoned user that's in a hurry to set up that business or eCommerce site or are a WordPress novice, there are certainly some stumbling blocks that you'll want to avoid. Here are five common mistakes that you should steer away from when creating a WordPress site.
1. Choosing the Wrong Web Host
If you choose a poor hosting service, it can certainly lead to a ton of issues such as the slow loading of your website. Not only can this impact the user experience but also your website rankings.
According to marketing guru Neil Patel, 40% of consumers are willing to abandon a web page that takes over 3 seconds to load. Think about what this can do to your conversion rates!
Google understands this as well. Speed is now a website ranking factor for both desktop and mobile pages.
In addition to performance factors, you need a web host that will meet the needs of your business. This means that it comes in at the right price, offers reliable service, has scalable options, is simple to use, gives good support, and delivers the other services that align with your website goals.


For example, WHSR examined web hosting for small businesses and provided several case studies. For a complex, high-volume business website, some of its recommendations were SiteGround, InMotion Hosting, and Interserver. SiteGround is a host that offers scalable Cloud hosting options as well as excellent performance and a long list of features.
2. Using Weak Security
WordPress might be the most popular CMS in the world, but it is also the most hacked. If you don't take security seriously from the start, all of that work you're putting into creating a new site could be for nothing.
When you set up a WordPress site, it creates a default username for you. Change this immediately to something that isn't simple to guess. "Admin," "User," or "Username" are terrible choices. Also, choose a strong password and consider adding a security plugin to your site.
If your security plugin doesn't include an option for backing up your website and its database, set this up independently. There are other services and plugins that will take care of this for you and provide additional peace of mind.
Finally, most websites online today would benefit from installing SSL. Beginning in July 2018, Google began making all websites without an SSL insecure. This means that you are at a disadvantage when it comes to ranking against competitors who have SSL.
If you sell anything on your site or keep sensitive customer information, SSL is a must. Otherwise, it's just a good move for your business to get this installed.
If you're not sure how to go about this, ask your web host for help since some are even offering free SSL certificates for customers.
3. Ignoring the SEO Settings
When setting up a WordPress site, you have the option to keep search engine bots from indexing your site. This might be useful when your website is "under construction," but the problem arises when you forget to uncheck this box once you're done. In essence, your site never gets indexed.


Even if you do have this box unchecked, this isn't enough for your search engine optimization (SEO). You'll need to put more effort into making your posts and pages search engine-friendly.
First, change the default permalink structure in WordPress to something more intuitive. By default, the links in WordPress will look something like this:
https://www.yoursite.com/?p=123
Sure, this works, but it doesn't tell the user what they're looking at or support the SEO of your site. A better option is something like this:
https://www.yoursite.com/your-post-name/ OR
https://www.yoursite.com/post-date/your-post-name/
Doing this when your site is created is preferable since it won't require setting up redirects due to changes in permalinks.
Beyond your permalink structure, you should also install an SEO plugin, such as Yoast, and make full use of its features.
4. Picking a Non-Responsive Theme
You might have a certain look in mind for your website. Maybe you've found a theme that you believe is going to do the job perfectly. If it isn't responsive, you're making a terrible mistake.
Responsive design is what makes your website user-friendly across a variety of devices, particularly mobile devices such as smartphones and tablets.
Interestingly, as much as 70% of all web traffic now happens on mobile devices, so ignoring this would be like turning your back on a majority of your potential customers.
Having a mobile-responsive theme is literally money in your pocket. According to one Econsultancy study, 68% of companies that developed mobile-responsive websites saw an increase in sales once the site launched.
Maybe you found a theme and aren't sure whether it is responsive or not – or you want to see the results for yourself. One solution is to pull it up on your mobile device, but many devices are different.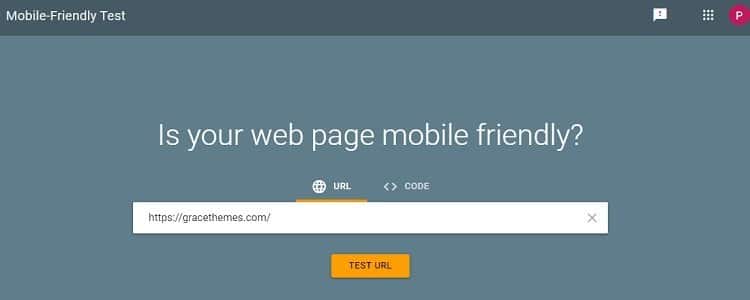 Instead, use Google's mobile-friendly testing tool to get a clear picture of what your site will look like and how it responds on different devices.
5. Not Monitoring Speed and Performance
Your website might function well out of the box, but it would be a mistake not to continuously monitor its speed and performance.
We already emphasized how important site speed can be, and there are plenty of factors that can slow your site down after it's been created.
A few of these are bloated plugins and large images. If you continue to post large images on your site, it's going to have difficulty loading quickly.
Using an image optimization plugin, caching plugin, and CDN are all things that can help. But anything can go wrong, so you should monitor your site's speed to quickly address any issues.
Doesn't matter how many WordPress sites you have, Google Analytics can also provide you with valuable insights into your website traffic and its overall performance.
This is a free tool through Google that helps you monitor the traffic on your website track visitor's behavior. You can also track the health of your website through Google Webmaster Tools.
Building a new website is exciting, but rushing through the process could be a terrible idea. Now that you know some of the most common mistakes to avoid when creating or moving your WordPress site, you can save time, aggravation, and money during this critical process.