MilesWeb WordPress Hosting Review – Get Higher Reliability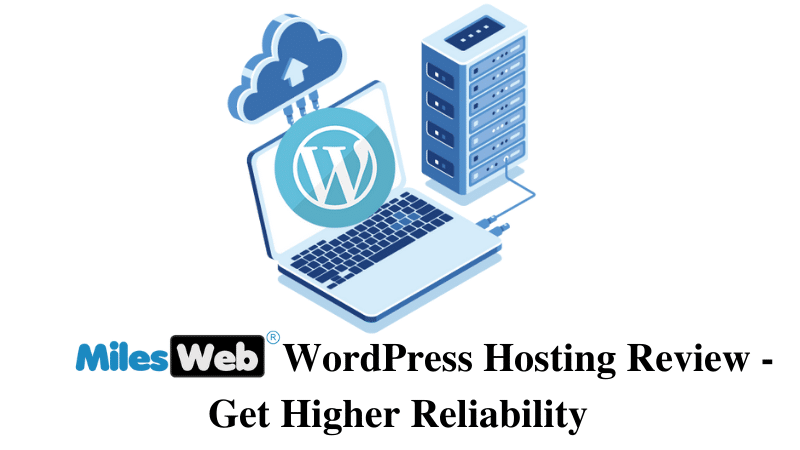 If you want to go digital, you require two things. The first is a creative website, and the second is a reliable hosting service.
Ask yourself, Is it a WordPress site if you already have one? Because a WordPress site is simple to set up and maintain.
Many people use WordPress CMS to build their websites. It has thousands of themes and templates. As a result, you can select the best one and use it to create a website.
However, in order for your website to be visible on the internet, you must use a hosting service. WordPress hosting is a specialized service for WordPress-powered websites. Many WordPress users are unaware of this type of hosting. However, it improves the performance of your website.
WordPress hosting can help your website in a variety of ways. Because it is unique, it has more to offer the WordPress platform.
You benefit from well-equipped web hosting and optimization features. The server management becomes better, and the site becomes more efficient. WordPress hosting services are available from a variety of companies. It is also necessary to conduct some research to find the best host for your hosting services.
As much as you want your website to run smoothly and without hiccups, quality service is also essential.
So how do you pick a host from among so many options? That is the central question!
That is why we've put together this article to introduce you to MilesWeb, a hosting company. It is one of many web hosting companies, but it is the best.
MilesWeb is among the top service providers. They have provided top-tier WordPress hosting along with cPanel hosting services to thousands of customers.
They are well-known for their consistency, reliability and high-quality services. So you can rely on them, and they will assist you in growing.
Why Choose MilesWeb WordPress Hosting?
MilesWeb is a low-cost hosting provider. The company focuses on providing high-quality services to help each user succeed in their respective businesses. Cheap WordPress hosting is their most popular service, and it is cost-effective.
MilesWeb is an excellent choice if you want to provide the best possible user experience. It also has a network uptime guarantee of 99.95%. Other hosting providers, I don't believe, guarantee that much uptime.
The availability of your website is essential to reduce bounce rates and downtime. In this case, the 99.95% uptime comes in handy.
Can I use MilesWeb WordPress Hosting to host a non-WordPress site?
WordPress hosting is only available for WordPress sites. It might not work well with standard websites.
It is a one-of-a-kind product designed for WordPress users.
In that case, you can use regular hosting services such as shared hosting or VPS.
Shared hosting is similar to WordPress hosting, but it can be used to host any website. WordPress sites work well with WordPress hosting. Furthermore, using WordPress hosting improves the site's efficiency and smoothness. It has many benefits and speedup features.
WordPress hosting is not extremely expensive. MilesWeb sells it for Rs. 60 per month after a 70% discount.
Each of the three WordPress hosting plans has expandable features. The entry-level WordPress hosting plan can be ideal for a beginner's website. You can host medium-sized websites with the Prime plan. After the discount, it will cost you Rs.195/m.
In fact, the Multi plan allows you to host multiple small websites. You can also host other WordPress sites on your server if opted for Multipack.
Is Creating an Account Hard?
No, not at all. MilesWeb makes the entire process easier. They will set up your account, and you can use the WordPress hosting service immediately.
Once you've purchased your preferred plan, the team will handle the rest.
Will MilesWeb Provide Support?
MilesWeb offers human customer service 24/7, so you can contact them via chat or email at any time. They'll be delighted to help you with your queries and ensure to resolve them.
Can I Expect a High Level of Security?
With its WordPress hosting services, MilesWeb provides a free SSL certificate. With SSL certificates, your website will use HTTPS rather than HTTP. This will secure the site's information and create a secure platform for visitors.
Features
Website Builder – You can create a beautiful site using their free site builder tool, with thousands of template options.
Free Domain – Enjoy a free domain with Prime and Multi plan for the first year.
1-Click Installer – Install more than 400 web applications on your hosting, and run them hassle-free. WordPress hosting makes it easier for users to install apps in just one click.
Finally,
Consider using WordPress when creating a new website. It is simple and easy to use. You can host your website on WordPress hosting and improve its performance.
Plus, MilesWeb offers the best plans with tons of features. They are very cost-effective and will help in your business/blog growth.