MilesWeb Review – Dynamic Dedicated Server Hosting for your Business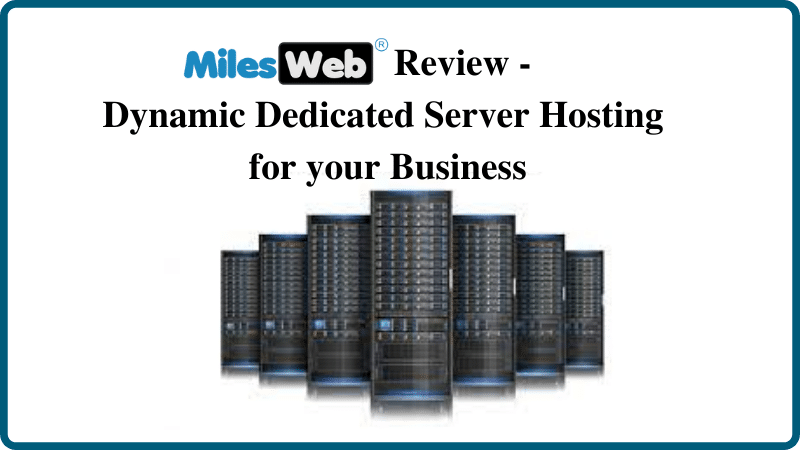 If you want to experience more growth and require a more powerful server, you've come to the right place.
Each web hosting server has its own set of features and potential. They provide their services to the best of their abilities. If your website has exceeded it's hosting and is experiencing downtime, privacy concerns, or poor performance, it's time to upgrade your server.
You are most likely using a virtual private server (VPS) at this time. You switched to VPS hosting a while ago for increased privacy and speed. That was the wisest choice you could have made. However, your traffic has increased by twice the amount expected.
If your server is not efficient enough to manage the traffic, the website performance will decrease. VPS is definitely a perfect hosting solution, but your site may require more amount of resources. Plus, VPS is a virtual server. It still has some security risks, which can affect your brand authenticity and the overall growth of the business.
So if you want to eliminate all such risks and not lose the site you have worked hard on, upgrade to better hosting. Here better hosting is none other than dedicated servers.
Dedicated servers are a supreme hosting solution for heavy websites. You can rely on them for managing the huge traffic base. Over time dedicated server hosting has helped several websites sustain growth and eliminate risks of security attacks.
It is usual for heavy websites to receive security risks. They are always trying to secure their files and data to offer a safe visitor experience. So, in that case, dedicated servers are highly reliable.
They offer higher privacy and security to help you flourish your online business and achieve more success.
It is indeed essential to have a smooth running website. We don't want our sites to load slower and disappoint visitors. So if your current hosting is anywhere affecting the performance and throwing server-related concerns, dedicated servers can resolve the issue.
It is not so difficult to understand what is dedicated hosting. It only has a few differences if compared to VPS and Shared hosting.
What Is Dedicated Server Hosting?
A cheap dedicated server is a type of hosting that offers a fully isolated environment as well as complete control over the server itself. You don't need to share anything with anyone. You will enjoy 100% dedicated resources, and you can use them in any way you want.
There are no restrictions on resource usage or server administration. You have complete control over how you monitor, manage, and adjust it since you own it.
You can purchase cost-effective dedicated servers from MilesWeb. They are leading web hosts in India and offer tons of benefits alongside.
MilesWeb provides both managed and unmanaged dedicated services. Unmanaged plans are listed on their website, but you need to contact sales for managed plans.
Here unmanaged dedicated hosting plans are the cheapest. They range from Rs.6,999 to Rs. 46,999, and has helped tens of thousands of websites each month. So, they may undoubtedly assist you in achieving your goals.
MilesWeb also offers custom packages. The possibility is that your required resources are not available in the current plans. So, you can contact MilesWeb sales support, and they will create a package according to your requirements.
MilesWeb is really supportive in all aspects. They ensure quality services over anything else. Over time they have helped more than 36000 customers worldwide. If you ever see the list of top hosting companies, MilesWeb is clearly visible.
Not only this, but they also provide you with plenty of features. These features will contribute to greater success and growth.
Advantages of a Dedicated Server
There are numerous benefits to using dedicated servers. If you choose MilesWeb's dedicated hosting, you will receive a range of benefits that will help you grow your business.
Sales will increase, hassle-free server management, websites will run smoothly, and you will have all you need to expand.
Security – There is a high level of privacy because the area is physically isolated. It also eliminates the possibility of any other website interfering with your website's traffic.
Custom Applications – You can easily install and run custom applications on your server. You have full control over the dedicated server's setup.
SSH Root Access – MilesWeb offers full SSH root access. This means you have complete control over how you customise, install, and monitor web activity.
Unlimited Hosting – MilesWeb's dedicated servers allow you to host multiple websites. You have complete control over this and can add additional websites to the dedicated server.
You can permit your clients to host on your server if you want. And profit from it.
Service Level Agreement – MilesWeb ensures a 99.99 % uptime. This will keep your site up and running at all times.
Conclusion
Dedicated servers are the perfect choice for high-traffic websites. After a while, you may require additional energy, and a VPS may not be sufficient.
Growth is an ongoing process. VPS may not be sufficient to propel you to new heights. On the other hand, dedicated servers provide greater privacy and isolation. The resources are truly yours and secure. That implies that you are safe from threats.
MilesWeb's dedicated server plans are the most cost-effective on the market. They are among the best. So you know who to choose.