MilesWeb Review: Are They Best for Reseller Hosting in 2023?
So, maybe you are a web designer or a developer and might already have some clients. Or maybe you are a tech graduate and planning to enter the field that has great potential.
Whoever you maybe, if you are thinking of setting up your web hosting business or adding hosting services to your current services, you have landed at the right place.
You might have heard the word "reseller hosting". Do you know exactly what it is? Let's dive into the details of it then.
Understanding Reseller Hosting
Let's assume that you are a web developer or an individual who has some basic knowledge about web development as well as web hosting. Do you know you can start your own web hosting company?
Surprised! Yes, if you have basic knowledge of web hosting, you can right away start your web hosting business. If you are already into the business of website development, you might be having a good client base.
Your clients might need to host their websites and so, they might be asking you for recommendation of good web host. No doubt you might be suggesting them a good web host in the market.
But if you start your own web hosting business, your clients will get everything at one place. It means they as well as you will be happy. How? They will get everything under one roof at affordable prices and you will get a chance to earn extra income.
Now, the hosting option that allows you to sell the web hosting services to your clients is called as reseller hosting.
When you purchase a reseller hosting plan from your web host, you can create packages of your own and sell them at your own prices to the clients. Thus, reseller hosting helps you to start your own web hosting business easily.
Selecting a web hosting provider that sells reseller hosting with all the required features as well as the best tech support is a bit tough. But when it comes to MilesWeb, you can always rely on them as they offer the best services.
MilesWeb: An Overview
MilesWeb was founded in 2012 by three tech experts in India. It today hosts over 18000 websites turning into one of the most popular web hosting providers in the industry.
It has a global presence in the countries such as UK, USA, Australia, Canada, Singapore and India.
Every MilesWeb plan comes with a vast array of tools that enable you to quickly make your website available to your visitors. If you want site builder tools or one-click application installer, backup solution, you will get everything at your fingertips.
Additionally, it offers a 30 day money back guarantee, so you can sign up for the hosting account without any risk.
The award winning support team of MilesWeb is available round the clock and you can reach them via live chat or email. You get 99.95% uptime with their Tier-3 and Tier-4 datacenter.
MilesWeb has always attempted for excellence by enhancing their infrastructure along with the user experience.
If you want to build a hobby website or a company website, you can do that easily with the help of the free site builder. When your business starts growing, you can easily upgrade to their VPS and dedicated server options.
Reseller Hosting Plans
Unlimited Reseller Hosting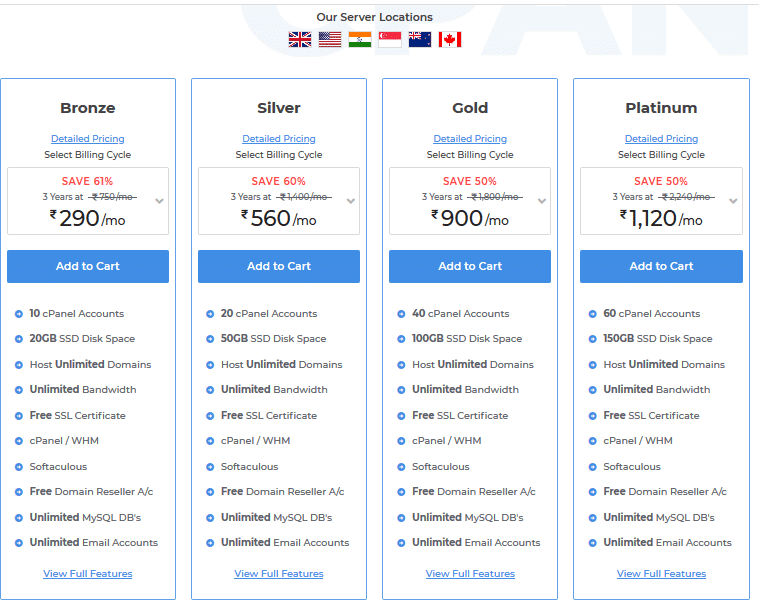 Windows Reseller Hosting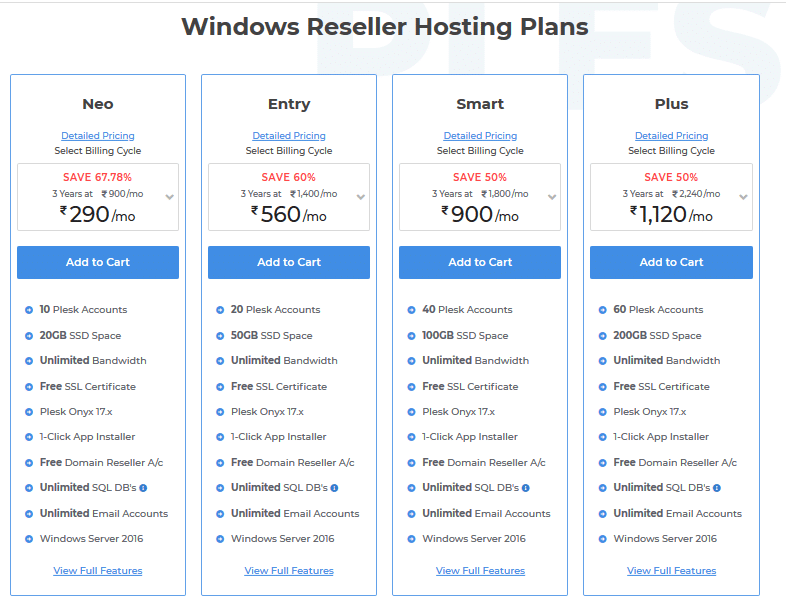 Features
• Free Migration: Want to migrate to MilesWeb? That's very easy, just call them and let them know that you want to migrate. You don't have to worry about your data as your website data is migrated with complete security. Also, your website is migrated at your convenient timing.
• Free SSL Certificate: Since all the websites on the MilesWeb's server come with SSL certificate installed on them, security is not an issue. Additionally, this keeps your customers' data secure, helps in building trust of your visitors and improves your website ranking in search engines.
• Free Domain Reseller: Selling domains along with web hosting can help you earn more. You can resell domains and add into your profit. A free domain reseller account is offered with reseller hosting through which you can sell over 400 extensions and TLDs.
• Host Unlimited Websites: You can host any number of websites under your single cPanel account. There is no limit on the number of websites to be hosted.
• 100% White Labelled: Now, sell web hosting to your clients with your own brand name. The name of MilesWeb won't be displayed anywhere and so your clients will buy hosting with your brand name. This is possible only with the 100% white labelled hosting feature.
• 100% SSD Storage: You get the best performance with SSDs as compared to HDDs. The flash technology is used by SSDs to store data instantly and enhance your website's performance.
• Web Host Manager (WHM): You can create and manage multiple cPanel accounts with unlimited websites and emails.
• Control Panel: You can give the cPanel's access to your clients to manage their domains, emails and websites from a user-friendly web-based interface. The Plesk control panel is offered with Windows reseller hosting which allows you to manage your client's websites, emails and more.
• One-Click Installer: Installing applications is possible with a single click. You can install over 400 applications with Softaculous which saves your maximum time.
• Free Website Builder: It is possible to build your own website with the free website builder tool. It allows you to build the website by just dragging and dropping the elements in your selected theme. Your website gets created in few minutes.
• Datacenter Choice: You can select the datacenter as per your target audience to avoid latency from multiple locations such as USA, UK, India, Australia, Singapore and Canada.
• Malware Scan and Protection: The malware scan tool continuously scans your website for any malware or virus and if any of them is detected, it is immediately removed.
• Email Service: Setup a professional business email id and use the browser based Webmail to access emails from anywhere. It offers support to the POP3/IMAP email accounts.
Customer Reviews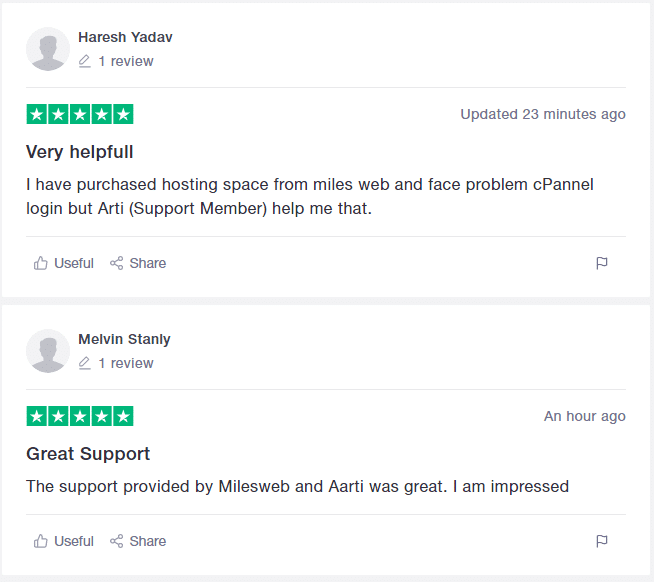 Conclusion
After seeing the above review, you might have got an idea about how MilesWeb helps to start your hosting business.
You can also earn extra by selling domains and web hosting addons offered by them. This will increase your customers' happiness and your profit.