The Many Benefits of Using PayPal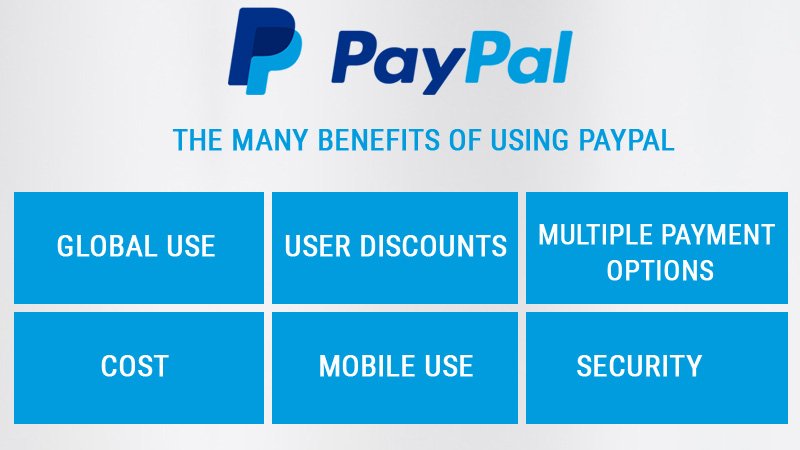 The past few years have seen the emergence of many new online payment systems including Google Checkout, Amazon Payments, Dwolla, Stripe, Braintree, WePay, 2Checkout and many more. None, however, seem to have become quite as successful as PayPal, a platform that has transformed the world of the money service business.
Currently, the platform has over 203 million active users all over the world, from businesses to individuals. There have been over 1.7 billion payment transactions with over 16 million merchant accounts. Overall 768,745 websites worldwide use PayPal, and that number shows no sign of stopping as the platform becomes ever more popular. The only rival to PayPal that has managed to appear in recent years is Apple Pay, which has over half a billion users.
Why is PayPal so popular?
Global Use

One of the main factors that make PayPal stand out against some of its competitors is the fact that it can be used all around the world, currently available in 202 countries. Users are able to withdraw funds in 56 currencies and can hold balances in 25 currencies, however, users can receive money in more than 100 currencies. In a world ruled by the internet, this is especially important as more and more businesses are offering their goods and services worldwide, rather than just in their founding country.

Cost

Another main reason that people chose to use PayPal over other payment systems is the cost. It is free to use with no annual membership fees. Shoppers can use PayPal to make payments when shopping online without having to pay a penny to the company.

User Discounts

Not only is it free to use, the platform also offers discounts to its users for those that shop using PayPal at selected retailers. Shopping.paypal.com offers some of the latest discounts from many large retailers that can include the likes of HP, Nike, and many others. In order to benefit from the discounts, all the user has to do is copy the promo code of off PayPal's shopping page and paste it at the merchant's site when paying with PayPal

Mobile Use

PayPal is easy to use as users don't have to go online in order to use the system, the iPhone application makes it easy to both transfer money and shop online The app is secure as it will ask the user to enter their unique PIN, alternatively you can simply bump phones with the person you need to make a transfer with when they are out and about.

Multiple Payment Options

Paypal gives its customer the opportunity to input multiple cards or bank accounts, with the money withdrawn from the order of sources that the user has previously defined. Therefore the user can rest assured that the transaction will always go through first time, taking away any hassle.

Security

Another main reason that many people choose to use PayPal when they are on the checkout of a site is the fact that it is a safe way to shop online. A shopper can purchase goods without providing any of their financial information, with no financial information shared with the merchant. PayPal prides itself in its security and protects its customer's financial information using industry leading fraud prevention systems. Users only need to type in your credit card and bank account information once, following this they no longer have to disclose any other information online.
Although there are many other online payment systems out there, they seem to have a lot of work to do if they want to catch up with the success of PayPal. Playnpay.co.uk offers some of the main reasons that PayPal has become so successful, outlining the company's story from its founding to where it is today.