Make Your Website Distinct From Competitors With These 7 Tips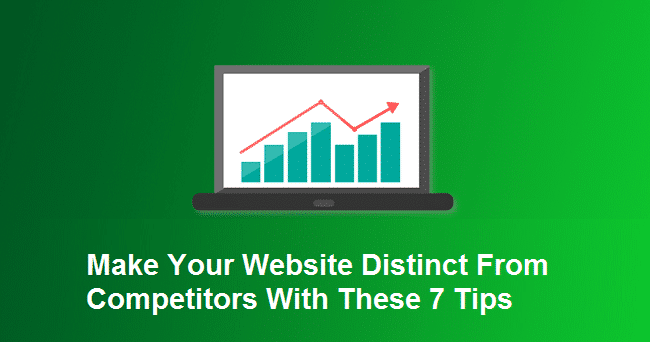 Your website is your main ecommerce tool, so it is essential that you keep it in shape for your visitors to convert to customers effectively.
If you know this, then everyone else know this, so keep in mind that the competition is strong and you need to do your best to keep your site updated with quality content, eye-candy aesthetics, and of course, proper functionality. Here are 7 tips how you can make your website stand out.
Entice with images

You should know that your website visitors remember about 80% of what they see and only about 20% of what they read. This is why you need to pay special attention to your images.

Avoid using generic stock photography, as visitors are good at recognizing it, so it is bound to leave a bad impression. You should use quality photographs that present your own services and products in a sincere fashion, in order to gain your customers' trust and increase their loyalty.

Some of the tips for implementing product photos include:using an all-white background for them to stand out, using big photos that allow zooming in for details, and presenting your product from all angles.

Optimize landing pages

Your landing pages are your main source of traffic, and they convert that traffic into desired actions, like buying, downloading or signing up. They need to serve a proper message so that your target audience can easily find the information that they are looking for.

You need to develop a good landing page strategy. You can analyze which of your landing pages receive the most traffic, and then improve on others. You do this by creating a number of versions of the same page which are based on different criteria.

Then you split traffic to each and observe how conversions shape over a period of time. Once you have a significant statistic, you can tell which pages work the best, so you can use this to improve the rest.

Write blogs

Having a blog attached to your website is important because it can help you increase the number of visitors by up to 50%. Write blog content that is valuable and informative for your visitors.

A good example is writing Q&As on your industry's influences. It is recommended that you write about three times a week, 500 to 750 words per post. You can write about current events in your industry from the perspective of your business expertise.

Another suggestion is to write up case studies. Ask someone in your industry who is doing something interesting for an interview. This way you'll be able to cross-promote which is a good marketing tactic.

Optimize for mobile

Today browsing and purchasing on mobile phones has eclipsed desktop users, so it is essential that your website is optimized for different platforms and screen sizes. Have in mind that customers will always choose the website that is better optimized and offers a better user experience to them.

If your mobile page is hard to navigate, it creates a negative experience, and your customers will surely look for what they need elsewhere. You can create a separate mobile version of your website, use mobile plugins, or convert your website to Responsive Web Design.

Choose a good CMS

Picking a quality and user-friendly CMS is vital to your website's performance. Graphic and logo design experts from Sydney suggest WordPress to power your website, because it offers a great user experience and comes along with a large number of plugins that can help you improve your website's performance, functionality and aesthetics. Y

ou can find almost anything: caching plugins that improve your website's speed, security plugins that protect it from harmful outside influences, plugins that help you incorporate social icons, broken link checkers, subscription form creation plugins, etc.

Improve your shopping cart

Your shopping cart needs to provide a good experience for your customers, or otherwise they will leave. There are various strategies that you can use.

You can have your customers be able to check out as guests, which saves them from spending time registering and speeds up the purchase. You can design your shopping cart process in a way that it tells your customers how many steps they have to go through until they pay.

Keep your shopping cart simple, with as little shopping fields as possible. Have your checkout page display your best offers so that your undecided customers might make up their mind.

Analyze links

In order to achieve the best results, you need to monitor your competition, and this means you should monitor their links. Use link analysis tools to learn where your competitor's links come from and the time they were placed.

Learn how many links there are to your competitor's pages, and use this to know how many links you need to rank better than them. Relevancy over quantity is an important thing to keep in mind, and relevant backlinks are your most valuable asset.

There are various modern solutions that you can apply to your website to keep it fresh. Implement these tips to stay ahead of your competition and attract customers to buy your products.

Keeping your website above the water is a dynamic game, and you always need to analyze, test and improve on it to remain among the best players.