Make Technical Analysis Easier With These SEO Audit Tools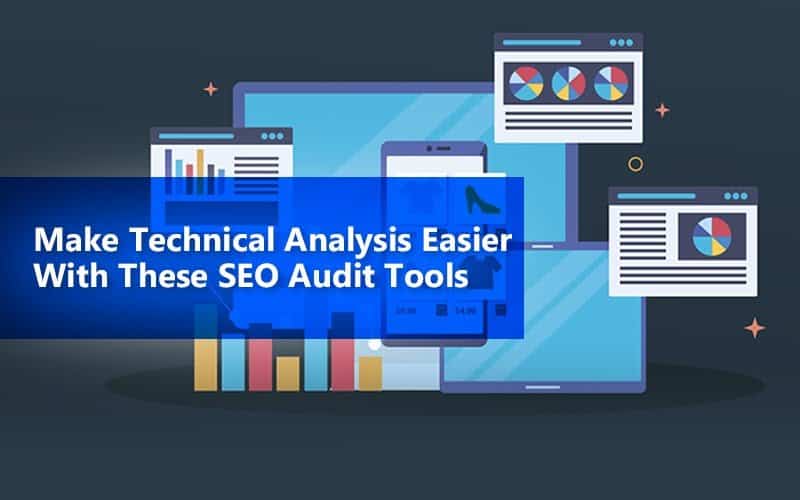 Thinking of a website audit without SEO audit tools? Well, think again.
No matter how much or how fast you can search online, there's no minus-the-audit-tools recipe that'll get this job done for you.
If you're a marketer, you know where we're coming from. Website auditing is no joke. The sudden shifts (updates) in Google algorithms are enough to make you scratch your head now and then. Just when everything starts to fall into place, Google pumps up another update, pushing you back to level 1.
Sure, the tweaking algorithm means serving the searchers better and each update is an opportunity to make Google treat your website better, but what goes in the background is still a mystery for digital marketers as well as Google employees.
So, if you're worried that you're doing something wrong in Google's eyes, there are plenty of, some free and some paid tools out there to help you see your site through Google's lens.
These tools, if used correctly can make your organic search tactics a hit! With these tools and a reliable internet connection such as Mediacom internet service having your back, you'll one by one tick all SEO checklist boxes that Google deems important.
Want to know how to bounce back stronger after every update and run a site analysis like a pro? Here are 10 trusted SEO Audit tools that can up your audit game in 2020:
Screaming Frog's SEO Spider
Charges: The free version comes with limitations and the paid plan is $189/license/year
What it does: Website Analysis
The Screaming Frog SEO Spider is every search marketer's go-to tool! This pro-SEO program crawls through every page on the assigned URL and checks every nook and cranny to detect any loopholes in SEO.
If time is money for you, you'll love this hassle-free program to the core as it not only simplifies complicated information but also saves tons of processing time, particularly for content-heavy sites.
No matter how big or small the website, Screaming Frog is a true winner when it comes to technical SEO audit and can be tailored to provide optimum technical and On-Page SEO information.
Here's how you can use Screaming Frog for technical SEO audits:
This tool with help you get in-depth information on HTTP status, spot forged content, dig out broken links, 404s, redirect errors, and issues with blocked resources.
Outline link locations to optimize site content and spot deep linking prospects.
Resort to Log File Analyzer to see what pages were or weren't crawled on your site, including the GoogleBot ones.
Detect large image files to fix site latency.
While doing site migration, see if old URLs are being redirected or not by re-crawling the site in the List mode to see their status code.
HubSpot's Website Grader
Charges: Free
What it does: Website Audit
Why run the number yourself when you have a grading tool to save the day? Especially when it's FREE and the only thing you need to do is to plug-in the URL to see what it has to say about your site. You can get actionable information and that too in seconds!
But, the question is— where would you find such a tool? Well, don't fret as the shiny and new HubSpot site grader will sift through all the inner workings of your website in a jiffy!
This super-handy site grader generates tailored reports based on the following criteria:
Performance: It goes through your site's page size, security, performance, and other SEO metrics.
Mobile Readiness: It tells if your website's viewport is configured to mobile devices.
SEO: It finds out if both bots and users can easily locate your site through title tags and Meta descriptions.
Security: It seems that your site has a Secure Sockets Layer or SSL certificate to ensure visitors that it's safe to visit the site.
So, what are you waiting for? You only need an email and a URL to kick things off! Just plug-in your information and see how strong your website on the scale of 1 to 100 is in a snap!
Google Search Console
Charges: Free
What it does: Website Audit
Looking to optimize your site for better conversions and that too without spending a dime? Thanks to Google we have free tools that can help detect what is or isn't working for your website. Google Search Console is an excellent SEO audit tool that makes a diagnosis on your site from Google's eye to maintain good standing.
You can also find tons of details on web traffic, redirect issues, crawl data, results, indexed links, search rankings, and so on. The best part, you only need a Google account to get started. If you haven't already set up the Search Console, just follow these simple steps:
Go to Google Search Console's homepage
Plug-in your website's URL into the bar
Next, click on "Add a Property" to confirm it
Now verify the URL and link it to your Google email account to view your site reports
WooRank
Charges: Free trial, then $59.99/month for a Pro Plan or $179.99/month for a Premium Plan
What it does: Website Audit
At first, WooRank might come across as "just another" site audit tool, but it is quite nifty when it comes to not-so-visible stuff. From On-Page and Off-page SEO initiatives, social media, broken or backlinks to locating thin content, WooRank has all the ingredients to help you skyrocket your rankings.
WooRank provides eight audit areas organized into three segments:
Optimize (SEO, Mobile, Usability, Technologies)
Promote (Backlinks, Social, Local)
Measure (Visitors)
Here are some key features of the audit area:
SEO: Gives you an insight about title tag, Meta description, keyword consistency, Google Preview, the number of H headings, and so on.
Mobile: Shows mobile visits, compatibility, viewport, speed and friendliness
Usability: Does URL analysis, favicon, email privacy, custom 404 page, domain availability.
Technologies: Here you get server uptime, server IP, analytics, and technologies like Apache, SSL certificate, and speed tips too.
Backlinks: This lets you see backlink scores, backlink counter, traffic and quality
Social: This feature gives an overview of your social media engagement
Local: If your website is added to local directories, they're shown in this area.
Visitors: Here traffic estimation and comparisons, page-views, traffic source, and ranks and source domains are displayed.
Ahrefs
Charges: $99 for Lite Plan, $179 for Standard, $399 for Advanced and $999 for Agency plan.
What it does: Keyword Research & Website Audit
Ahrefs is hands-down one of the best SEO and content marketing tools. It provides a detailed backlink for your site and produces keyword and ranking profiles to see if your SEO efforts are making a dent.
Four of its key tools are:
Site Explorer – shows you how different pages on your website are performing.
Content Explorer – Allows you to look for top-performing content in your niche. Just type a keyword and hit 'search' to see the most popular webpages.
Keywords Explorer – It produces reports on search volume and 'click' metric of the keyword(s). Plus, you'll never run out of keyword ideas.
Site Audit – If gives an in-depth insight into your website's On-Page SEO performance to reveal what technical issues are affecting its ranking.
Note: While looking up for your intended keywords on Keyword Explorer, Ahrefs will also produce the "Parent Topic". This is another great feature as it tells you how to map and target keywords you aim to rank into different pages of your site.
Found's SEO Audit Tool
Charges: Free
Purpose: Website Analysis
Want to beat all your competitors and top the search engine result pages? Well, who doesn't want that?
This user-friendly SEO Audit Tool by Found will help you do just that. It gives an in-depth insight and tracks down SEO errors on website issues and how they can be fixed.
All you need is to put your URL in this tool to get a detailed SEO audit of your site in seconds. Also, you can easily download a PDF of the report for future reference.
Found's SEO Audit Tool reports are split into three main parts:
Technical issues – Scans for factors like domain canonicalization and XML sitemaps.
Content issues – Reports on keywords found on the page and metadata.
External link analysis – Focuses on the number and quality of external links.
Takeaway
If you want to stand out in today's high-tech environment, you should use the right SEO tools to make Google think that your business is what the searchers are looking for.
One of the biggest benefits of SEO is that if the rank goes up, conversions skyrocket too! The only way out in the SEO world is through hard work, dedication, and using your own wit!
Your brain is the biggest power-packed tool you can use to take your technical SEO work on the next level! Sure, the tools above can make your job easier by finding all the nitty-gritty and doing bulk checks, but it's you who should be controlling the steering wheel!
No software can fix with a manual review but be careful. The view from the burrow is sure amazing but the technical SEO rabbit hole runs much deeper!