Locked Out of WordPress Admin? Here's What You Should Do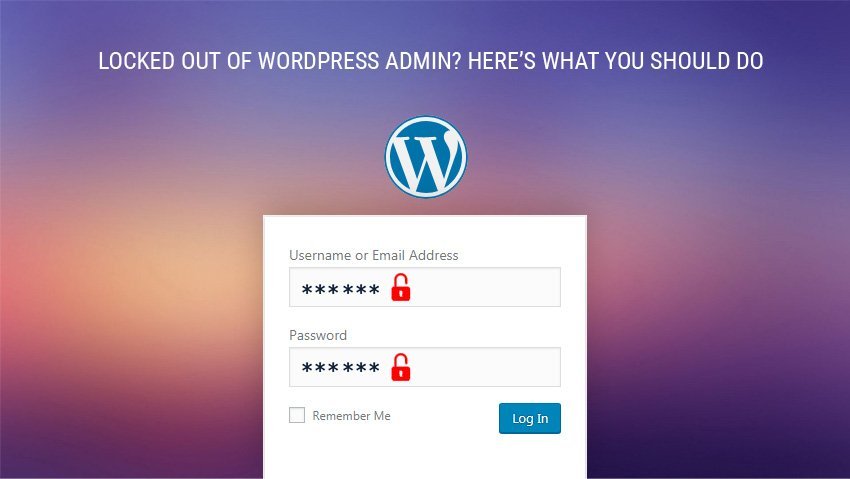 Imagine waking up in the morning to an amazing new idea for your WordPress blog. You start rushing to your computer screen, get it logged in your wp-admin and detect the horror of getting locked out of the WordPress admin account.
Well, this can be troublesome as you can feel frustrating over WordPress issues for figuring out the error that stops you from accessing the dashboard.
Your mind starts to think about all those dreadful thoughts which start to swirl around your way – Did someone hacks your site? Did you do something which caused break down? Can this error be resolved?
Well, the answer to all these questions lies in the article as you go ahead. You will learn how to fix locked out of your WordPress admin issues and gain back the access.
Why you get locked out of your wp-admin?
There are plenty of reasons why this can be happening with your website. It might occur if you made any recent changes in your WordPress code and installed any new plugin or theme which might lead you to meet this error.
If you have made any recent changes that lead to this error then you can be sure how to correct this issue in a true way. Whatever the case may be, there are multiple reasons to detect the locked out scene on the WordPress dashboard. There are simple hacks to try yourself if you encounter the locked out scenes.
If you catch "This has been disabled' phrase – Try to disable login or security plugin.
When your passcode does not work or passcode recovery fails – Begin by resetting your password with phpMyAdmin.
Lost all the administrator privileges – Create a new username and then assign privileges to it.
Got too many login attempts – Try to disable the security plugin.
White screen of death – Troubleshoot common issues to resolve it.
'error establishing database connection' – Fix up your database connection problems.
'parse error:syntax error' – Search for any recent code updates.
Database Connection Error

Have you experienced this error on your site? The reason why you get it is the cause of the WordPress is unable to establish a secure database connection. This can seem to happen because of many variant reasons.

It can occur if your database has got corrupted due to some reason or your web hosting server is facing some problems.

If this is really concerning you then you can check out the ultimate guide to fix the error while establishing a database connection in WordPress.

A bad database connection can probably encounter the Error establishing a secure database connection view on every single page of your WordPress website. You will see this error on your entire site as WordPress is unable to establish a stable connection with your database.

Fix up the White Screen

Have you ever noticed that white screen on your WordPress admin? The issue is often referred to as the WordPress white screen of death because it can exhaust your memory limit. It can be caused by a poorly coded plugin or a theme which is affected by unreliable web hosting.

This is a very known issue with WordPress and hence another reason for it can be inefficient plugins which can occur in this type of problem.

Incorrect Username or Password

We assume you enter proper details of your username and password when working with the WordPress admin account. But even though if you figure out an error, you can try to resolve it by resetting your passcode but if you fail to receive any email updates related to the issue.

This sounds very familiar as you have chances that WordPress is also failing to send emails. There is nothing to get panic out of it as all you need to do is reset your WordPress admin passcode with the help of phpMyAdmin. Thus, by resetting the password will allow you to get back in your WordPress dashboard.

Multiple Login Attempts

We are aware of how some WordPress security plugins limit their login attempts to prevent your website from hack attacks. This can be a very useful security feature but it can also lock you out.

The simplest solution to resolve this error is to disable the security plugin and get back the access to your website by preventing lockout if you still wish to use that security plugin.

Firstly, you need to access your website files using FTP or SFTP for disabling the plugin. After this, you can again recheck if you can access your WordPress dashboard.

Now, if you can log in successfully then try to take some precaution measures from reoccurring. You can reactivate that specific plugin and remove yourself from the locked out list or wishlist your IP address to make those functions available.

Incorrect WordPress URLs and Account Backups

Sometimes when you try to migrate your site over a new domain name you can get locked out of the wp-admin screen.

This occurs due to an inconsistency between the SQL database and new URL as the WordPress uses MySQL for storing all of your posts, profiles and configurations.

Hence, it becomes necessary to make sure that the MySQL database has your new domain name when you replace the old URL with the new one.

No matter what type of WordPress you are depending on, it is mandatory to see that a quicker and a simpler backup plan is a must.

This backup plan can actually save you in the future from hefty attacks and hazardous situations which can harm your WordPress site. You can go for automatic backups which will restore your WordPress website with a single click and the same goes up automatically by daily backups using a WordPress backup plugin.
Wrapping Up
We have figured out some of the most important tips and tricks to get back into your WordPress dashboard or wp-admin mode.
You can try this hacks in order to stay out of the locked situations with some appropriate web development techniques to ensure a smoother experience with your site. Keep Learning!