Key Ways of Using Mobile Apps to Increase Your Sales
5 Ways Having a Mobile App Can Increase Your Sales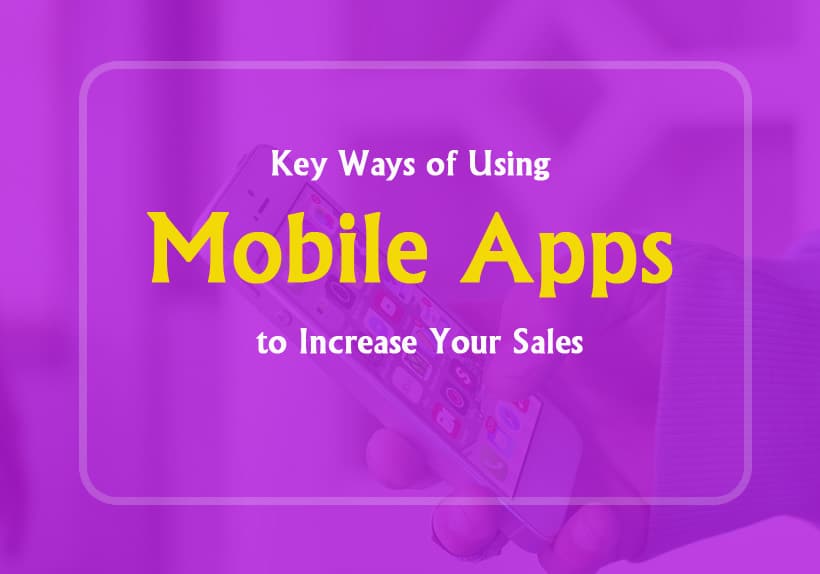 Modern customers have already used cutting-edge technologies and the exceptional convenience of up-to-date devices. They prefer making their shopping more tolerant with the available modern software. The old-fashioned ways of shopping are no longer efficient. Even online shopping at numerous websites becomes a tiresome routine. Modern users prefer using their phones and gadgets to order any interesting item or goods online.
It makes mobile app sales a really significant issue these days. For instance, customers prefer buying their chosen items by using their phones. It brings added convenience and ensures higher sales. The modern era allows operating with various progressive tools. You can easily learn about real estate software development services or any other essential application. Using mobile app strategies to boost your sales can be a very clever idea as well. It is already proven by dozens of surveys that outline the effectiveness and prosperity of mobile sales for modern businesses.
Definition and Significance of Mobile App Sales
Before starting using the mobile app for sales, it is a clever move to learn what is the purpose of mobile application creation for businesses. For young and technologically savvy people, this is a simple question. Once the company creates an app, it allows users to gain all the offered services via the application. Thus, the created application brings better user engagement. Moreover, you can boost your sales greatly once deciding on the most efficient sales strategy.
The top businesses have already created their advanced applications. You can name hundreds of brands that offer original apps. The applications can be built on key platforms like Android or iOS. Many businesses make their apps available on both established platforms. It allows gathering the biggest client base.
Once you have an app, you can start your efficient advertising and sales campaign. In fact, the availability of an advanced app is already the first step to your boosted sales and better online visibility. Sure, you can use some efficient ways of increasing your sales once using a created mobile app. The key ideas on how to improve online sales with mobile apps are presented below.
Increase the Number of Clients with Push Notifications

It can be quite a standard but very effective way of growing the clientele's number. Clients prefer staying aware of everything that happens with their favorite brand. Thus, if you send them constant notifications with updates, you will get more loyal followers in the end. You can send notifications about various promotions, discounts, special offers, etc. It is great to work on your content making it more personalized. It helps gain the clients' attention and respect. Also, proper research is required to learn the customer's preferences. It helps deliver a client the exact information we may be interested to check.

Improve the Selling Process with New Software

The mobile apps help improve the selling process. The advanced app uses progressive software and connects to the top payment platforms. Thus, you can offer multiple convenient payment methods to your clients. Convenience is an extreme issue these days. With numerous innovations, the customers have become quite spoiled. If they do not get the wanted services or proper user experience, they will drop your brand in seconds. Thus, to expand apps sales, you must ensure fast and secure payment methods and fitting order procedures, in general.

Prepare Decent Rewards for Loyal Customers

The mobile platform is a great place to proceed with your special promotions and offers. Every client that purchases your items constantly should be properly rewarded. Such a tactic turns your customers into loyal ones. Thus, you always take care of your target audience once you offer loyalty rewards. You can provide regulars with pleasant bonuses or special offers on chosen items. Also, you can notify your loyal clients about the recently released products first and provide them with an opportunity to buy offered items first. This helps increase sales mobile apps significantly as well.

Use Available Benefits of Innovative AI Technology

Artificial Intelligence is the technology that is about to become a prominent sales increasing tool. In fact, AI can be used to improve the selling process and user experience at the same time. The progressive technology is aimed at offering the best products for customers based on customers' preferences. AI allows researching the named preferences through identification and segmentation of customer's arrangements. It brings great instruments for personalization and advanced automation as well. In fact, Artificial Intelligence is one of the key ways to ensure increased mobile apps business for sale.

Use Improved Communication Channels with Clients

With an advanced application that has impressive design and navigation, clients will learn fast to order products via the app. Besides, the specialized application allows for keeping open communication with clients. You can keep them constantly informed about new products or great offers. Also, the personification of messages and notifications makes the client more interested in cooperating with your company. If the client feels important and respected, he keeps coming back to order more new items.
Final Thoughts
The possibilities offered by the use of modern mobile applications are quite impressive. Firstly, you get an exceptional chance to reach your customers directly. You can create personalized offers for clients based on prior research of their preferences. Secondly, you can use mobile apps to inform clients about every new offer. Next, mobile platforms ensure a very fast and convenient ordering procedure. They bring secure and opportune payment methods as well. Besides, once you offer a great app with advanced navigation and design, clients will tend to stay longer checking the application and offered services. Mobile apps bring tons of benefits to modern businesses. With the tools and possibilities they offer, you can expect to get your sales increased very easily.