Keeping on top of your WordPress security is of paramount importance!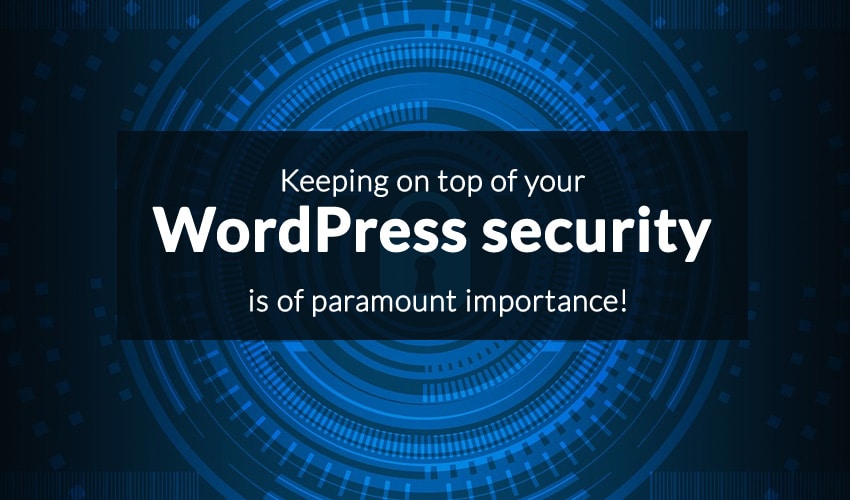 WordPress is the most popular Content Management System (CMS) in the world and if you use it wisely, you can reap the benefits. However, now more than ever, having the appropriate security in place is critical if you want your site to stay live without and complications. We'll cover the security features that you must ensure you have in order to keep a stable website on WordPress.
Is website security important?
In a one-word answer – yes. According to WP Beginner, "Google reported that more than 50 million website users have been warned about a website they're visiting may contain malware or steal information".
This shows the scale of infected websites out there. If Google believes your website contains malware or a virus, your site will be penalised in their rankings. This would be a double catastrophe because your site is both infected and flagged by Google.
Install your updates
To keep a secure site, you will need to regularly check that your website is up to date. This will include updating your WordPress theme, updating plugins and perhaps most importantly, making sure your WordPress version is the latest. Outdated websites are easier to hack and this is because as malware and robots develop, they prey on WordPress weaknesses.
This is of course why WordPress roll-out updates so frequently – to tighten security and to make websites more difficult to hack.
Make sure your passwords are hack-proof
This may sound like an old-fashioned piece of advice, but it is very important that you choose complex passwords that are almost impossible to guess. Make sure you store these securely for your reference and that you change them regularly (every month is suggested).
Ensure your site is frequently backed-up
Backing up your website is critical if you are taking WordPress security seriously. This will allow you to simply install your site should the worst-case scenario happen – your site is hacked and beyond repair.
According to the Editorial Team at Isit WP, the three best plugins for backing up your WordPress website are UpDraft, Backup Buddy and Vault Press (Jetpack).
Take advantage of WordPress security plugins
There are plugins available (plenty for free) that will help you take care of a majority of factors listed in the article. iTheme security, for example, will scan your WordPress website and make sure it is clear from Malware – allowing you to schedule this for the future as well.
It will also allow you to hide the backend, allow two-factor authorisation, easily set up an SSL certificate and automatically block out users it believes are harmful.
Web Application Firewall (WAF)
A firewall, in simple terms, acts as a barrier between your website's viewers and the website itself. Using a reliable firewall will help block users that the software suspects may be harmful for your site (e.g. a robot). There are many WAF plugins out there, but according to Chandan Kumar (Geekflare), the best four plugins are Sucuri, Wordfence, Malcare and Cloudflare.
Get an SSL Certificate
An SSL certificate will ensure there is a prominent padlock at the top of your website (next to your domain). This will tell website users that your site is secure and any information that is uploaded will be encrypted and protected from third parties. This is the sign of a reliable website.
Don't ever make payments to a site without an SSL certificate, in case hackers gain access to your card details. Clear Vertical further discusses the importance of SSL certificates as part of WordPress security.
Hide your login page
Masking your login page is an excellent way to keep your site secure and away from the wandering eyes of robots and malware hackers.
All this means is instead of login to your site at yourdomain.com/wp-admin, you change this URL to something more complex and unpredictable, such as yourdomain.com/acc-site-sec-12. What does acc site sec 12 mean? Nothing! That is the point – it is not easy to guess. Masking your login page is not difficult and can be done easily with the help of your WordPress security plugin.
Stop hackers from reaching your file editor
File editor is where all of the "complicated" and major changes are made to the appearance of your website (CSS). Therefore, you want to hide this part in case hackers gain access to your website.
In the past, we have witnessed websites that have been hacked and inappropriate spam has been added to the back-end of the website. This will not only look terrible for your clients but will also result in your website being punished by Google.
Don't allow multiple incorrect login attempts
Robots are often programmed to continually attempt to login to a website until they get the password correctly, or move on to the next.
Therefore, you must introduce a maximum number of login attempts that will block your site from the IP addresses that are trying to gain access. However, this is the important part – do not login incorrectly multiple-times yourself! This will block your own IP from the site and you'll need to access the database and make amendments.
Work with a professional
You may find that you want to outsource your website security to a professional. From only £50 per month, you can find experts around the globe who will take care of updates, security and threats caused by robots and malware. However, you may have the skills to do this yourself in-house, and this will help you keep your costs down.
Don't worry – keep on top of your WordPress security and your website will flourish
WordPress security may sound complicated because there are so many aspects to cover. However, there are tools out there that are designed to make this easier for you and a large number of these are free of charge.
Make sure you follow the basics that are outlined in this article and your website will remain secure against threats around the world – most commonly from robots. Good luck with your next WordPress project and if you are interested to learn more about check out this WordPress Training