Kajabi is the WordPress Alternative for Building Online Courses
When you look at the internet today, more than a third of the sites on the internet are running off the powerful WordPress platform.
Not only is it free and easy to use, it's also helped pave the way for content creation and site building, for individuals who may have never considered creating a site of their own.
As great as WordPress is, there are some times when its advanced capabilities and plugins or features are still slightly too overwhelming for your average side hustler, professional, or even an online expert. We actually aren't the only ones to notice this as well.
WordPress is great for content creation, themes and simple plugins, but when you want to create something a bit more robust and business-oriented, without having to shell out for custom development and integrations, there are better solutions out there – especially for anyone looking to get started with their own online course, membership, or video site.
That is exactly what we will be discussing on the blog today.
Kajabi: a better alternative to WordPress for course creation?
If you were to search Google for "WordPress membership plugins" to try and find a viable solution, you would find a wide range of plugins to choose from.
Some are well-branded, higher in price, and require custom coding… while others are more simple and straightforward to use. However, in nearly all cases, you are still going to need to mess around with plugins, server settings, file/video uploading and much more.
After going through a wide range of options to choose from, we ultimately found that Kajabi was the best solution out there in comparison to what WordPress offers, while also catering to what most people are looking for when building a site of their own.
Kajabi is great for a number of reasons. Not only is the platform easy to use, it's also super easy and accessible to people who are less tech savvy – there's zero need for programming and software installation.
After all, this is why WordPress has found so much success of the years… in that it's extremely easy to use out of the box.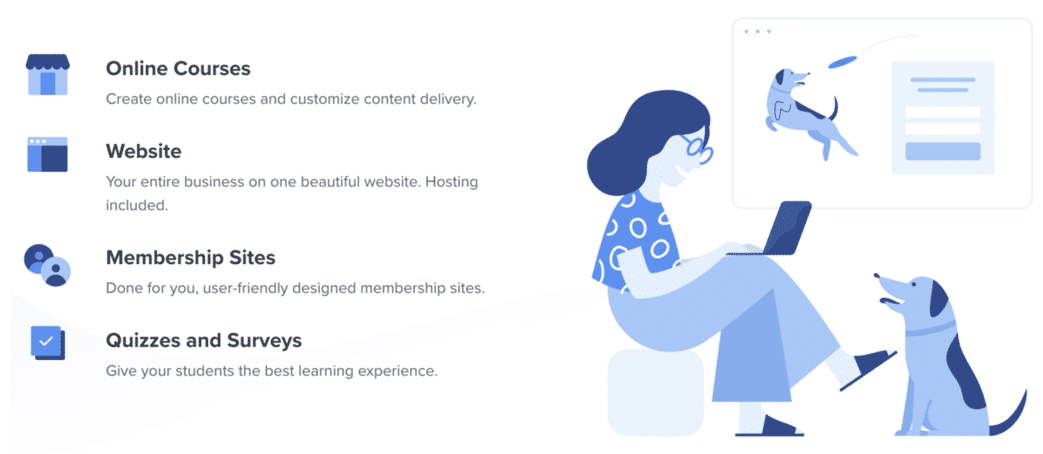 Where WordPress lacks in online course and membership site creation, Kajabi thrives.
Let's now take a look at a few more reasons why Kajabi has spent the past several years changing the way site owners, bloggers, and professionals create and monetize their content online.
How Kajabi Makes Creating and Selling Content Easy
With so many different options on the internet for site creation, web hosting, design, billing, email, landing pages, webinars and everything in between, it can be tough to decide on what option is best for you and your business.
In the case of online courses and selling your expertise, there really is no better option out there than Kajabi.
The basis of the platform is simple. Kajabi makes it easy for individuals and professionals to create online courses and membership sites, without ever needing to touch a line of code of become a site designer or admin. Its "blueprints" feature even walks you through the entire process of product setup.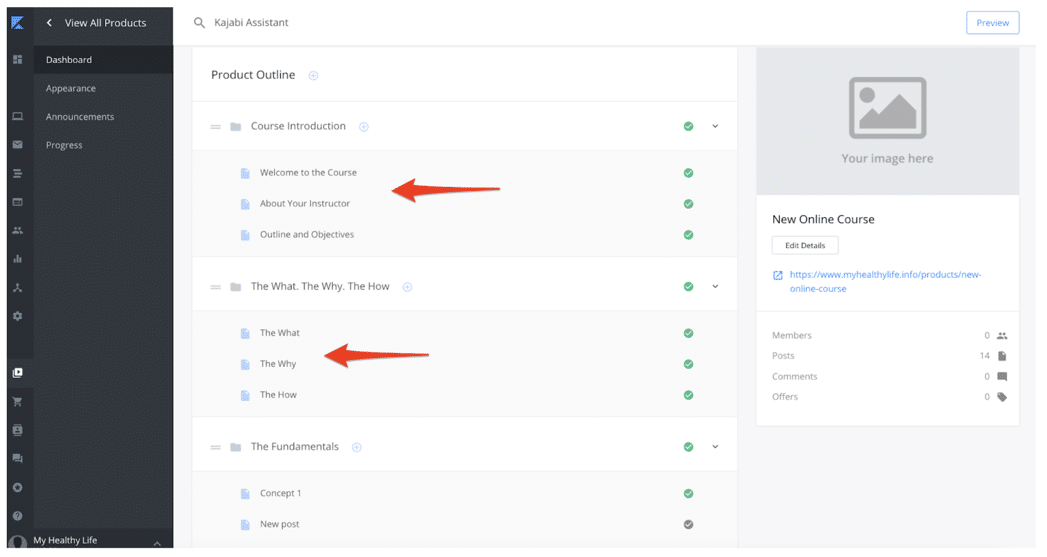 Users of the platform can take advantage of the following, while also being able to set up and their eCourse in just a moment's time.
Complete online site hosting with site themes and blog
Upsells for customers with a customizable checkout
Email marketing campaigns build right in
Automated marketing to promote your course
The benefit to choosing a solution like Kajabi, is that they've done all of the dirty work and programming for you. Just like how we pointed out that WordPress is great for content creation and anyone who wants to get started with their first site, Kajabitook all of those same great features and principles, and then implemented them into their own platform.
Just like WordPress also has plenty of plugins and themes to choose from, Kajabi has been rolling out their own set of tools and features as well. Again, all of which make it easy for anyone to go live with a complete online course or membership site of their own.
For the average person or entrepreneur that is trying to sell services or products online for the first time, it can be an extremely daunting and tasking process.
Kajabi has worked with thousands of these individuals to not only make their dreams of selling online possible, but also learning from each of them in the process.
By using a platform like Kajabi, there are no design, programming, or technical skills required. Just use their drag and drop editor, and create the site and business tools you've been waiting for.
Using Kajabi for Sales, Upsales and Member Management
Using Kajabi, anyone can start selling online courses or subscription access to premium content right away. This is where the real monetization and value of a platform like this comes in handy.
However, once you start throwing around the idea of upsells and how to make the most of each customer, then you really have some huge revenue generation options in place.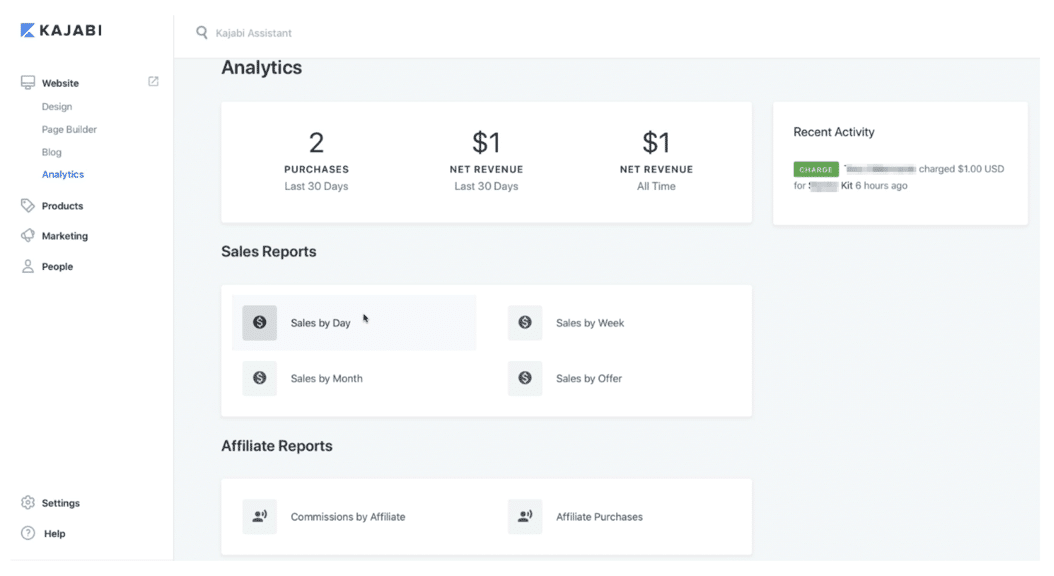 Kajabi provides users with the tools to create, deliver, and distribute course material to a target audience. From inside the members area, users can also chart the progress of their marketing through their unique easy-to-use platform, and see how many new students and signups are coming through daily.
Some of the most popular features of Kajabi, are the built-in marketing tools, which consist of the ability to create landing pages, sales funnels, custom events, and even email automations.
All of these tools work seamlessly together, making sure all new visits, views, attendees, subscribers, and customers are all ultimately in a process to generate more money for your business.


Once upsells are added into the process, revenue numbers can quickly double, or even triple over time. After all, why make money off just one course or sale, when people are more than willing to pay for additional courses or access for a huge discount as well.
The difference between upselling through Kajabi and other platforms, is how seamless and interactive they make the whole process. Take a look at some of the most recommended uses for Kajabi and how to best run your site and online business.
Using the Power of Webinars to Increase Sales
As noted throughout this writeup, Kajabi has all of the tools and solutions in place to make selling online easy. One of the most effective ways to engage with an audience and getting them to take action right away, is through the use of online webinars.
If you were to run webinars with a WordPress site, you would need to find a whole new solution. For example, at the very least you would need to set up a domain and web hosting for your site, install WordPress, purchase a webinar/video hosting platform, and then connect it to a mailing or list hosting platform. This would not only make the process more complicated and time-consuming. It would also require more of an upfront investment as well.
The good news is that Kajabi has all of this built right into their platform, and once again, it's a simple drag-and-drop solution. Users will never have to mess around with coding or get lost in any process.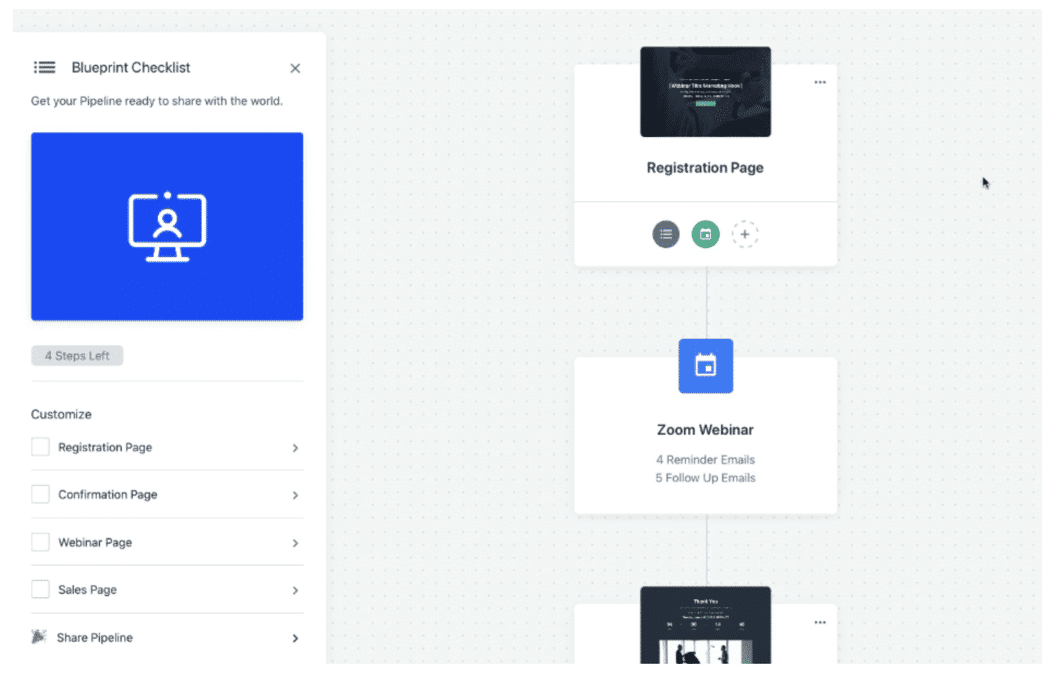 As simple as it is to get up and running with a webinar of your own within Kajabi, it's even easier to understand when watching someone do it.
In this video, Adrian Salisbury walks through the process of setting up a webinar and lead generation funnel from right within his account. It's one of the best and most authentic follow-along videos out there.
After watching the video, be sure to watch it again, while also following along within your own account. It's really easy to set up, and is one of the most effective ways to drive sales to your business.
This was just one of the many marketing methods that are being used by top seven-figure bloggers, mentors, and coaches to help grow their businesses and brands into what they are today. Some of which you will likely recognize in the screenshot below.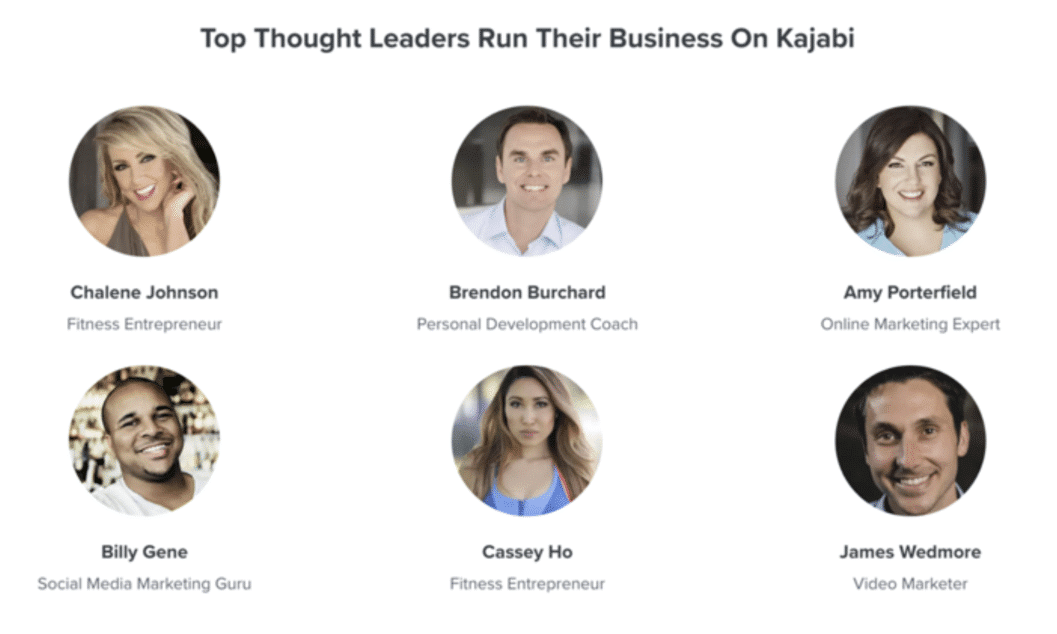 Kajabi Pricing and How to Get Started
Whenever starting any type of business or website online, you are going to have some operating and startup costs.
WordPress is free, but when you add in all of the plugins, hosting, and other costs associated with setting up membership functionality, you could easily be looking at a few thousand dollars.
Throw in any additional programming and design fees, and that could add in even more.
Kajabi is straightforward with their pricing, as well as what's required to get up and running. For around $100 a month, users will have access to the following:
Support for five eCourses
25,000 emails per month
1,000 active members
Professional website with themes
25 pipelines to increase your marketing results
All users also have 24/7 customer service support, should they ever have a question on how to set something up, or even if they are just looking for some feedback.
No matter if you are just getting started with your first site, or looking to take your brand and business to that next level, Kajabi just might be the answer you've been looking for.
You've likely tried your luck with WordPress and building the foundation for your brand and showing off your expertise. Now take it to the next level and see what Kajabi has to offer!