Is it possible for SEO to be predictable?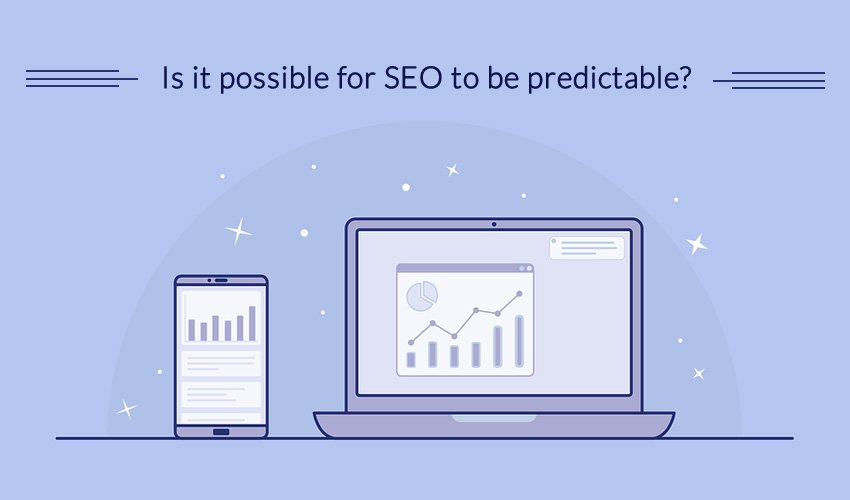 There's nothing more complex than the search domain! The moment a user makes a search query, search engines use its robust algorithm for listing out the pages which best match the query. It helps to fulfill the user's requirement for data.
It is essential to know the way search engines decide the pages that it must show for a query? Also, you need to determine the order as well? It is essential to know all the work that happens behind the algorithms which determine your search ranks.
If SEOs could take a look at Google's algorithm, then each search result for questions could have been predicted. This sure sounds too good to be true! But you can attain this by applying the advanced data science to your SEO strategy.
For this is it is essential to join hands with an expert SEO agency in your region. For instance, if you stay in NYC, then you can search for the best SEO expert in NYC and get the necessary guidance.
You must understand the complications of search algorithms
Regardless of the questions, the search algorithms score and consider various attributes in various parameters. It helps to come at a specific rank. If you wish to generate a meaningful search outcome and correctly rank your web pages, then the search engines should assess multiple parameters, which span across:
The query interpretation.
The query intention and what a user is searching for.
Is the web page able to answer the user's question correctly and coherently?
Content depth and quality
The page's user experience
Is it simple to locate the essential data?
The domain or brand reputation.
Is it correct to trust the domain and the information?
Can the page load fast and provide a hassle-free experience?
Can you consider the domain, subdomain, and webpage as an expert about the relevant topic?
All these are relevant questions that SEO needs to address and answer. It is because it ultimately helps in maximizing the SEO ranks. When it comes to practice, SEO helps in adding more value to your web content. It improves the search friendliness through technical enhancements.
Over the years, the SEO professionals in NYC have realized that SEO is less of a precise science. It is a guessing game!
SEO and its predictability
The best part is you can make SEO predictable. However, for this, you need to have keen know-how of the challenges that are present in reporting and evaluating SEO. Let's consider a few essential problems:
The data environment is siloed

Today you can come across many SEO tools as well as browser extensions, which are both paid and free. It works well for reporting the SEO performance metrics, for instance, backlinks, traffic, and rank. For example:

Google Analytics for technical SEO
Google Keyword Planner for keyword research
Aherfs for link research
SEMrush for SEO competitive analysis

However, all these tools somewhat fail to blend the main SEO metrics in an overall mix of search performance. When there is not any "point of truth" in terms of SEO, the SEO marketers should collate information from multiple sources.

It gets done to come at a useful analysis as well as recommendations. It requires the necessary skill in managing massive datasets which not every SEO practitioner possess.

Several metrics and lesser insights

Even when someone gets all the data elements in one place, it's challenging to sift through them. You can recognize essential action items objectively. Also, not every attribute assumes equal relevance.

The unintended collateral damage caused at the time of optimization initiatives

One webpage can rank for various keywords. It is challenging to find the required balance between the correct content, the right keywords, as well as the right optimization initiatives. If you are brand or SEO professional in NYC, you will resonate with the following situations:

The website might have several pages that speak of a uniform topical theme. It can have a target keyword and external backlinks disseminated across all these web pages. However, the apt quality link might not get optimized for the correct keywords.
A website comes under the redesign and rebuilds section that can impact the SEO negatively.
There might be interest conflicts that might come up between multiple business units concerning optimization priorities. With no way to recognize the optimization initiatives, there will be an immense effect on the search ranks as well as business results.
Arriving at the core question
Once you have identified such core challenges, it is natural to get back to the same problem with which we started! Is it possible for SEO to become predictable? Will there be any value for a company to invest and try and make SEO predictability true? The obvious answer to this is yes.
Today, science teams that have taken essential initiatives for resolving the issue concerning SEO predictability. There are three steps involved here:
Step one: It is necessary to define those metrics that indicate SEO success. Also, it is essential to incorporate comprehensive information from all the ideal resources to one warehouse. Using a solution like Hightouch enables businesses to save time and money by automating much of the data gathering process that would otherwise require manual effort.
Step two: SEO professionals need to reverse engineer the Google search results. They can do it by merely generating scoring models as well as machine learning algorithms for authority, accessibility, and relevancy signals.
Step three: You might want to make use of outputs right from the algorithm to allow actionable and specific interests in the site or page performance. It is also necessary to develop simulative capacities to enable testing a strategy. For instance, making changes in the content or including a backlink. All these need to get done before you push for production, which will make SEO predictable.
These are some of the guidelines and factors that you need to know when you want to make SEO predictable! However, the essential nature of SEO is ever-changing. So even though you implement all the guidelines discussed above, it is necessary to also keep a tab of the SEO changes and Google updates. You can develop the best SEO strategy that way.