How to Install WordPress On GoDaddy Managed WP Hosting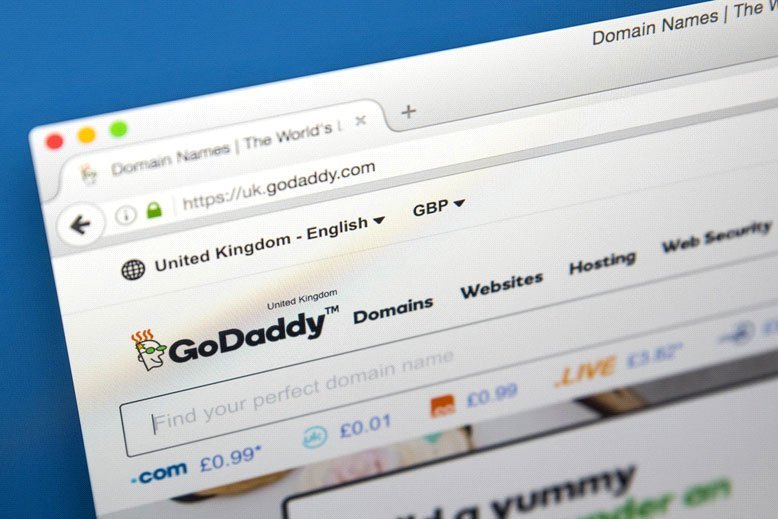 If you're starting out with WordPress, an important choice you'll have to make is whether to go with shared or managed hosting.
WordPress is the most popular website building tool available, with thousands of plugins and free themes that allow you to build your dream website with ease.
Online businesses today have to juggle everything from hosting, digital marketing, content creation, and social media. It can become stressful very quickly if you don't have an efficient system in place to make your workload easier.
Managed hosting gives you an edge. It is suitable for small to medium sized businesses, and blogs that receive a lot of traffic. Managed sites offer better performance, because they're optimised for it.
Why should you choose managed WordPress hosting?
Speed converts

One factor that contributes to search rankings is the speed of a site's loading time. Visitors appreciate speedy sites because they contribute to user experience, which results in more engaged visitors and higher search engine rankings. Managed WordPress sites help to avoid the issues that make a WordPress site slow for any reason. Even under a heavy load, your WordPress site remains fast.

High performance

Managed hosting environments are designed to work with WordPress. You don't have to optimise speed or install any software. You can enjoy features such as full page caching, the latest architecture, and technologies like MariaDB, NGINX, and PHP 7.

Security

Armies of robots sent by hackers and criminals are crawling the web looking for poorly-secured websites to break into.

They look for outdated plugins, themes, core codes and will try different passwords. Managed WordPress sites are heavily secured, and look for vulnerabilities on your behalf. For a website like https://synapsesearch.nz/ for instance, the "https" shows how secure the site is as against "http" – and often displays a lock icon.

Support

Many web host companies only provide support for their server hardware. The responsibility is yours if something goes wrong. When you use Managed WordPress hosting, you have access to support run by WordPress experts, who can help you solve any issues.

Global Reach

Managed WordPress hosting providers have a more robust infrastructure to help take your site global. With Google Cloud Platform strategically placed in different countries, your site is closer to local visitors.
Features of GoDaddy Managed WordPress Hosting
GoDaddy arrived in the Managed WordPress hosting industry in 2013, and their plans included firewalls, DDoS protection, s one-click migration tool, and automatic updates.
Plans start at $6.29 and give you features such as speed boosting and caching, phpMyAdmin access, sFTP and plugin blacklist. You also receive a free domain name when you buy the annual plan.
Another feature is the in-dashboard support where you can read through ideas for updates, access the knowledge base, and submit support tickets. With build-in-caching, your website is faster than ever, and you don't need added plans or plugins.
Backend and Usability
A major hurdle for new website creators is learning how to run their website efficiently. GoDaddy offers features like usability, backend design, and onboard help with the problem. They also make it easy to shop and purchase items.
Nightly backup
A frequently asked question is, "how do I backup my site?" Managed WordPress Hosting covers this problem with automatic backup whilst you sleep at night.
It restores your site to the most recent backup if anything goes wrong. When WordPress releases a new update, they automatically update your site to ensure your data is secure 24/7.
One-click staging environments
Testing is a part of growth. You test plugins, update to new developments, and change things on a staging site.
For some managed WordPress hosting providers, the process is complex because you have to copy your site locally and upload changes when it's complete. Managed hosting provides one-click staging environments, to make the process easier.
Ultimately, you're not a web developer and your focus is on running a business blog or websites that achieve your set goals and objectives. This helps you access otherwise complex features with ease.
The complete guide to installing WordPress on GoDaddy Managed WordPress Hosting
One: choose a package
GoDaddy offers several plans. They include:
Basic, starting from $3.99 a month. Includes a free domain with an annual plan, 10GB storage, one website, 25,000 monthly visitors, and an SFTP account
Deluxe, starting from $4.99 a month. Includes 2 websites, 30GB storage, 400,000 monthly visitors, a one-click staging environment, SSH/SFTP access, and two websites.
Developer: Starting at 13.99 a month. Includes 5 websites, 800,000 monthly visitors, and 50GB storage.
After you make a choice, proceed to checkout and setup your account. When you've made payment, there is a button, "Managed WordPress". Click it to install WordPress. GoDaddy does all the hard work so you don't have to use FTP to install a blog.
Step two: Set up your WordPress site
You have two options, you can either migrate an existing WordPress site or create a new site. if you bought a domain from GoDaddy Domains, simply select the domain where you want to install the blog and enter the details as seen below.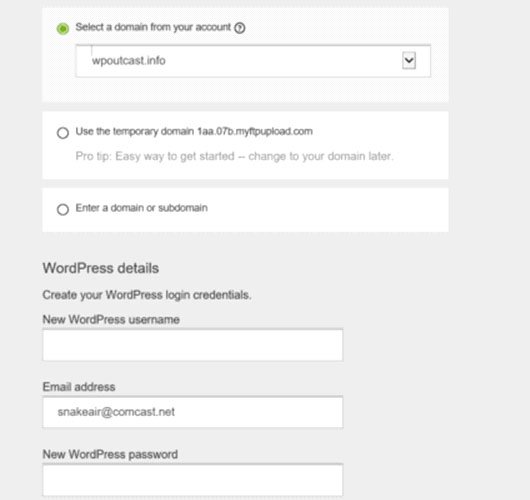 Within a few minutes, GoDaddy has set up your account and you can log in.
During the installation process, you can choose a category that best describes your website and interests. Is it a sports blog, professional business website, or a portfolio of your work? Under the tools option, you choose the option that fits best.
Your option determines the WordPress themes that will be displayed. There are thousands of free themes to choose from, but if you don't like any of the options, you can buy a premium theme later.
GoDaddy shows you content options from the theme you picked, and you can then enter your first blog post.
In the about section, enter information about your business, or add custom pages such as a mission statement and staff page. After making changes, click the publish website button.
Conclusion
GoDaddy offers some of the cheapest plans in the globe, with a managed hosting plan that offers so many features.
If you want a website builder and WordPress managed hosting that allows you to focus on creating content and managing your site with basic knowledge, GoDaddy managed hosting accomplishes all of that.
New users who've never developed or designed a website before can run a managed hosting site. You can also go to sleep at night knowing your website is safe from hackers and malware.