How to Install Google Analytics in WordPress for Beginners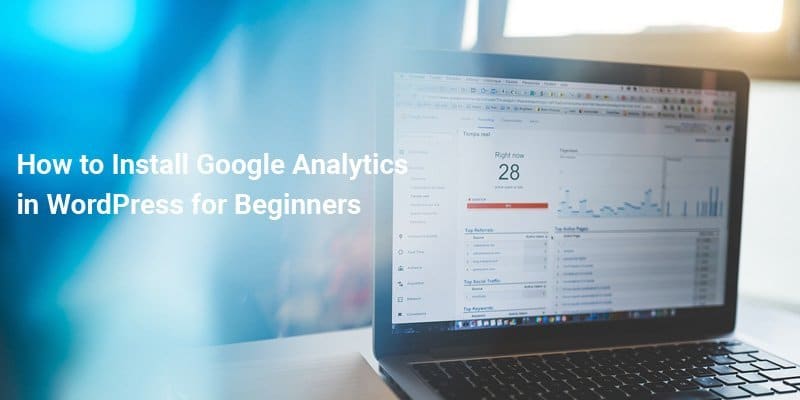 How to add Google Analytics to a WordPress blog
If you submit data to learn the readership of a blog, then fun is reduced in blogging. In the beginning, just seeing the number of blog visitors, the heart becomes happy.
But be sure, the statistics of a blog are not just for the heartbeat. There are many such secrets that can ensure your success in the world of blogging.
If you have started a blog from now on or have been blogging for many years, you need an analytics tool on the blog that can show the analysis of the Blog Traffic and analyze it as well.
Today there are lots of Analytics Tools, but it's Google Analytics which can be the best bet for you. In this post, you will learn to apply Google Analytics tracking ID in WordPress site.
It is very easy to find Google Analytics on the WordPress site. A non-technical blogger can also do this work very easily.
How to create a Google Analytics account
Let's discuss setting up Google Analytics for WordPress blog. You will also be able to use the same method on other websites.
If you have not yet added your site to Google Analytics, then you have to start from here. Your Google Email and Password work for this If you do not have a Google Account, you can create it in Free.
Login to Google Analytics account by creating a Google Account. The beginning is to do with the "ADMIN" tab at the bottom left. After this, select "ACCOUNT" and then click on "Create New Property".
On the next page, you will be asked for information about the website. After you fill up, you will be given the tracking code.
By clicking on the "Get Tracking ID" button below, you will get analytics tracking code.
Now in this post, you will find the information that you have come to read. This means that you can find information about adding Google Analytics code to the WordPress site. Let's move forward.
Ways to Connect to Google Analytics in WordPress
In many ways, the Google Analytics code can be added to WordPress. Whatever method is easy for you, you use the same.
WordPress Theme Option
First of all, you should check if the WordPress theme you are using has the option of adding the Google Analytics code. You are using many bloggers premium WordPress themes.
TagDiv's Newspaper, Better-Studio's Publisher, and Tie Lab's Jannah etc. are some of the most popular themes. Apart from this, some bloggers use the Free WordPress Theme IonMag of TagDiv.
I have just given the name of some popular themes, besides this, there are many great WordPress themes.
In all the WordPress themes you have mentioned, you have the option to add analytics code. All you have to do is go to the theme panel and see the option to insert analytics code.
While the analytics code entry box appears, paste the Analytics tracking code and save the settings while pasting the Analytics code.
Apart from this, it gives the option to add custom code to the Theme Header and Footer. Just search for your theme panel. After this, you will be able to easily add WordPress to Google Analytics Code.
Google Tag Manager
It's absolutely free and you can manage all the tags from your blog in one place. Those who want to proceed to blogging should use it.
It is very easy to set up and the worry of managing the tag in the future also ends. In this work, you will only take 5 to 6 minutes.
WordPress Analytics Plugin
On the WordPress Dashboard, you go to the option of installing new plugins. There you have to search "Google Analytics" in the search bar. Many Analytics plugins will be found.
But the plugin named "Google Analytics Dashboard for WP (GADWP)" is very good. You have to install it only. It is free and seeing its dashboard you will also request it to others. It's easy to see the blog's stats in comparison to the many other WordPress analytics plugins.
Activate this plugin by installing it and feel free to add analytics account to you.
After this on the WordPress Dashboard, you will see analytics widget in which you will see the blog's stats. A drop-down will appear, by which option you will be able to analyze a lot of data.