How Should You Increase Followers on Your Instagram Brand Profile? Here's What You Should Know!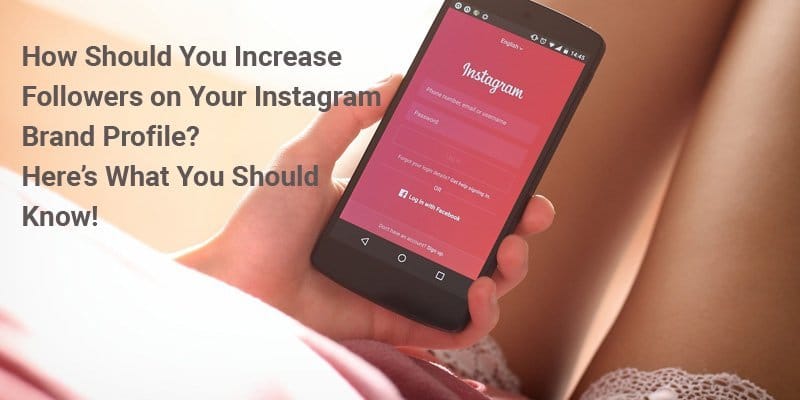 Several business owners sign up for Instagram, however, when they are looking for Instagram followers they do not get the desired number of followers as their competitors in the market.
This causes them a lot of disappointment, and to survive in the market; they contemplate buying Instagram likes and followers for their business.
Yes, some companies will take money from you to find your Instagram likes and followers however if you wish to set up a brand loyalty with a decent number of followers for your Instagram, it is prudent to work on it yourself.
Reach out to your niche targeted audience across the world
Having an Instagram account means you will be able to reach out to over 700 million registered users on the portal daily.
However, to build trust and credibility in your Instagram followers, it is essential for you to ensure that you have a decent number of followers for your business as well.
Now, the question that hits you Is it possible for you to get real Instagram followers for your business? Here are what online digital marketing experts say-
Free and easy Ways to get real Instagram followers for your business
Now, if you have thought about generating real Instagram followers for your account, this is indeed a very good thought.
To increase the number of followers you have, it is prudent for you to be creative as much as you can. The task might sound daunting however it is not as hard as you feel.
4 Simple ways to get real Instagram followers for your brand
With the help of hashtags, content, theme, and engagement, you can generate traffic and get more followers for your Instagram account.
The above four factors will influence your brand and help you find followers easily online. Experts say that when it comes to Instagram, you must be regular with your posts and creative as well.
This will give you an added advantage when it comes to reaching out to the targeted audience and getting better returns on investment for your brand.
The following are an insight into the above four factors and how they can increase the number of followers to your Instagram account-
Hashtags– Hashtags should be used to distribute your content on the Internet. You may have a brilliant piece of content however if you do not have the correct hashtags, your piece will never reach the desired targeted audience, and the Instagram followersfor your account will stay right where it is!
Engagement- In this regard, you should ask yourself these two questions- are you likely to follow someone you know or someone who is a complete stranger to you? Digital online experts say that 99% web visitors do not follow posts of strangers they do not know.

The same principle will also apply to you. You should engage with people and interact with them in the Instagram community. It is prudent for you to leave comments that are thoughtful and ask them engaging queries.

You may also reach out to them via Instagram messages. If you do not have time, you may follow and like the posts of others.

Though most experts say that these efforts do seem to be less sincere, they are definitely worth the effort for an ongoing relationship between you and your followers on Instagram or simply use Social Growr.

Content- This is the 3rd point that should not surprise you at all. The key to getting more followers on Instagram is, of course, brilliant content. This content is such a post that your followers will look forward to every day. Here, you may do some competitor analysis and check their content. The time they post, the type, the style and more. Work on your content and make it better. This will surely increase your number of Instagram followers to your account. Focus on three things- photos, description and of course hashtags when you are posting.
Theme- Last but not the least, if you are looking for consistent followers work on your profile picture, bio, theme, channel, photos and more. You need to create such a channel of information and pictures that if anyone is not familiar with your business niche or specialty, they will get a defined and clear understanding as to what you do and whether they should follow you or not.
The above are the four easy and unique ways via which you can get real Instagram followers for your business niche. You do not have to buy Instagram followers from anyone at all.
Focus on the above four factors and gradually watch your follower count rising with success. Be consistent in your efforts and creative enough to convert visitors into loyal customers- all the best!