Importance of WordPress CMS in SEO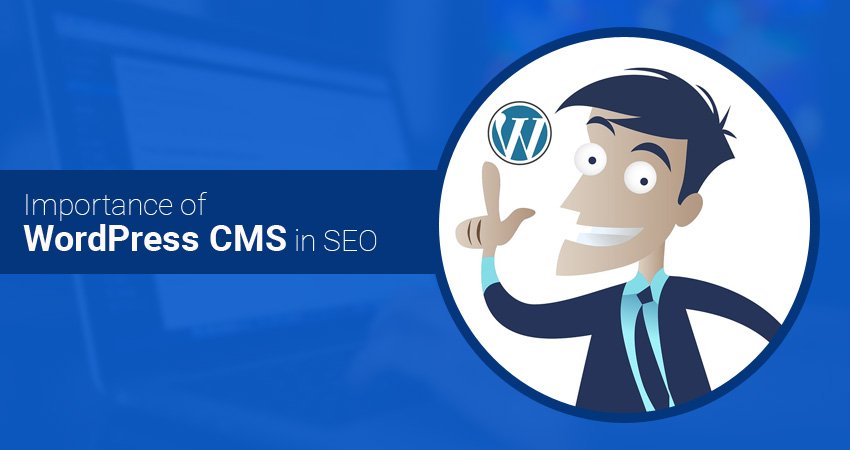 What is WordPress?
WordPress is most popular tool for creating a free and open-source content management system based on PHP & MySQL.
In common way, we can define WordPress as most simplest and easy way to create website and blog without having knowledge of programming.
WordPress not only create website and blog but it is also popular way to create eCommerce. For example- Business websites, eCommerce stores, memberships, portfolios, forum etc.
WordPress run online there is nothing to install on computer and don't required any special tools. It can be updated from anywhere only internet connection is required. There is even free app for WordPress for IOS and android phones.
Using WordPress as it is gives you multiple advantages in the SEO game. Especially in on-page SEO, the platform allows you take care of so many important elements.
What is CMS?
Content management system is a software application that used to manage the creation and moderation of digital content. It technically supports multiple users in a collective environment and most of CMSs include Web-based publishing, history editing, format management and version control, search, indexing and retrieval.
CMS are used for ECM (enterprise management content) and WCM (web content management).
An ECM makes easy collaboration in the workplace by integrating document management, digital asset management and records retention functionalities. A WCM makes collaborative authoring for websites.
Some of well‐known companies that run their websites on WordPress:
The Walt Disney Company
Mercedes Benz
TechCrunch
BBC America
SEO Friendly PERMALINKS in WordPress
SEO friendly permalinks contain words that clearly explain the content of the page, you can edit that and they're easy to read.
Some examples of SEO permalinks are:
https://www.mysite.com/how-to-write-article/
https://www.mysite.com/top-10-worpress-plugins/
Permalinks are easy to read and a user can guess what they will see on the website just by looking at the URL.
This is how a default URL look like without friendly permalink?
https://www.mysite.com/?p=78954
http://mysite.com/BDFbasdx/1454
These URLs showing numbers and a user can not guess the website's content by the numbers. But as you can see permalinks can be customize.
Permalink structure boosts your chances of getting superior positions in search results.
Here is how you can edit your WordPress site's permalink.
Go the Settings » Permalinks page. Select the post name than option and then click on the 'Save Changes' button to save your settings.
SEO optimized Themes
WordPress comes with a lot of supplementary elements that can improve the search engine optimization of your website. One of them is themes. Your wrong theme choice can unquestionably damage your website. Choosing a high-quality theme will help shield your website. However, a well-designed theme will also make your site look skilled and esthetically appealing, which might influence whether or not users can stick around on your website (or click the back button) and how long they'll stay.
You can use WordPress to build almost any website. Whatever your goal is to build a business site, portfolio webpage, online e-commerce store — there is a particular theme for your particular niche, industry and requirement. You can install WordPress themes for free, which are also compatible on mobile devices. So, you don't need to worry about optimizing your website for various devices.
Most theme descriptions will tell you whether they're forth-coming and mobile‐friendly. But to be sure, run the theme demo through Google's Mobile‐friendly test tool.
Image optimization
If you want your site to drive more web traffic towards, then you can't ignore image optimization. It is one of the key aspects of good SEO. They provide visual context, and they break up text and make it more readable and thoughtful.
The ranking factor is, quality and quantity of your images can affect your page's loading speed. Search engines ranking and website's loading speed are corresponded. If you use image flatten services or plug-ins that allows you to compress the image without losing quality, you can save your disk space and can boost the loading time of your page.
WordPress add titles and alternative texts to your images when you upload images to WordPress CMS, These are very important to make your site approachable to unaware users.
Related post plug-in
It is one of the best plug-in given by WordPress that can help you to add a link to your related content within new post, thereby increasing your SEO potentiality with effortlessly. They add the flow to page-rank around your site and navigate visitors towards to your top‐notch content.
You'll have to use this strategy carefully. If you fill too many links into your post or use a lot of links that point to useless or unnecessary pages or exist only to promote your company or products, your search engine rankings will need to pay for this.
Social Media Support
Google is not the only source for visitors, social media also gives you an access to get connect with audience worldwide. Having social sharing in to your website will be a great decision for you to get notified to audience. WordPress offers many of solutions for this like Jetpack sharing, SumoMe, and more.
Search engines take social media signals into account when ranking your site. That means the more people share your content on social media platforms, the higher it will appear in Google.
Not only these, there are too many reasons to consider WordPress CMS is important in SEO:
Multi-User Capability
Blogging Is Built-In
Scalability
Speed and Efficiency
User-friendly Backend
Design Flexibility
Built in RSS feeds
Extensive Application Programming Interfaces (APIs)
Quicker Development Cycle
Free Upgrades
Undoubtedly WordPress is the best CMS (Content management system) you can choose to build your website. From numerous plugins for search engine optimization and endless themes, security, and social media feature, WordPress is a one-stop shop for all your website essentials. If you're aiming to hit Google's front page, the WordPress will be the best platform.