How WordPress Is Useful for Your Industrial Website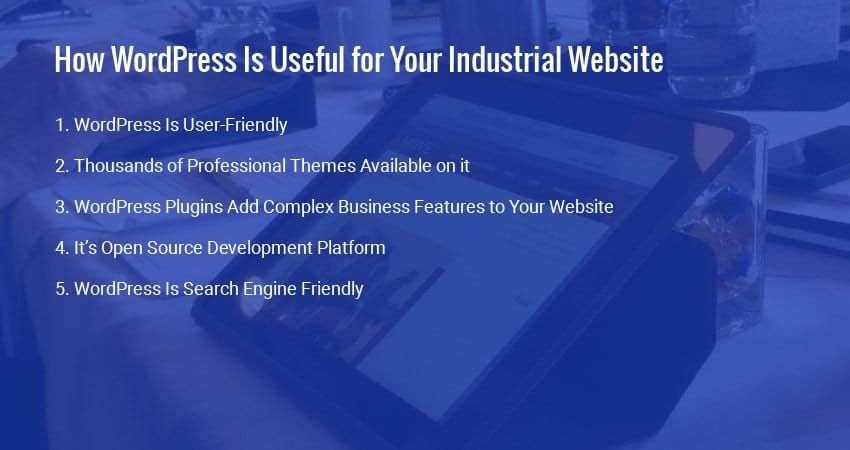 There are many industrialists who know how important and critical it is to have a professional website for their online business, but they choose not to have one because they hadn't had the budget or time to invest in the web design process.
Or maybe, they have a website and want to update or redesign it, but they are always making excuses to no do it: Shortage of money or don't have enough resources.
What they don't realize that they don't require thousands of hundreds of dollars to set up and launch a website, a couple of $100 or even less is enough. How? The answer is WordPress.
That's right! All you need is to do is buy a domain name for your business, website hosting, and compelling theme that aligns perfectly with your content and business goals, and then you are ready to launch your official site in the market. The provision of these things is an accreditation requirement and can be purchased for less than $100.
Now, if you are wondering why you should use WordPress and how it will benefit your industrial website, you've come to the right place.
You might have heard about the popularity of WordPress from a friend or colleague, but could not get a clear picture as to why it's the widely-used and prevalent CMS in the world.
In this blog post, we'd be breaking down the pros of this platform for you also explaining the features in-depth. So let's get started!
WordPress Is User-Friendly

Same as Drupal, WordPress is the most user-friendly platform that not only allows developers but also non-technical users to create a blog or design their website.

The whole of having a CMS for your business is to create an intuitive, beautiful website and execute various operations as easy as possible for you.

It comes with easy-to-install plugins and templates, a customization UI that requires no or very little HTML experience and is very easy for anyone to learn. Whether you need to update your company information or add new content, you can perform a variety of tasks just within a few minutes.

Thousands of Professional Themes Available on it

WordPress is designed in such a way that you don't have to touch any code if you don't have any prior knowledge regarding the programming language. The themes offered by WordPress are designed to work perfectly well with its CMS interface.

This the platform allows you to access and utilize styles, functionality, and code bundled and presented in the form of a theme using your interface, plugins, or page builders.

You can typically find and use a great assortment of responsive and killer themes and plugin, providing you with thousands and thousands of hours of designing and development work, for free. You can also buy premium ones that provide better facets and quality support, which will help you expand and scale up your business better and more effectively.

WordPress Plugins Add Complex Business Features to Your Website

WordPress offers a number of plugins that operate without any user customization and can be added to your website design with just a click of the mouse. Therefore, you don't have to hire a freelancer or somebody else to create and make that functionality available on your site.

A WordPress plugin allows you to not only add new functionality to your website but also extend existing capabilities on your WordPress site. There are plugins to:

Engage directly with your customers (Live Chat Plugin)
Build booking forms and email with ease
Design and include social media share button
Improve your SEO efforts
Get a wide range of security features
Track app growth and other metrics for your site
Turn your site into a fully-functional online store

It's Open Source Development Platform

Whether you want to launch a personal vblog or an e-commerce/commercial website, the fact that WordPress is an open-source the platform is a major incentive for you.

That means you can develop and host real-time, productive sales pages, business website, portfolio, polling site, article library, web soapbox, or even clone websites without any complex protocols or writing any code from scratch.

The original production/source code can be altered, redistributed, built upon, and improved based on your requirements as well as the website's functionality.

In addition to being open-source, this the platform is available for free, meaning that you don't have to pay a penny to get started with WordPress, even if your website or blog starts getting a lot of traffic, WordPress doesn't charge you.

Unlike closed CMS platforms like Wix and Shopify, WordPress is free from lock-ins as well as commercial limitations and allows you to edit and access everything.

WordPress Is Search Engine Friendly

WordPress has built-in search engine optimization functions and plugins that facilitate and manage the overall technical optimization of your content for search engines.

For instance, Yoast SEO is an amazing, all-in-one WordPress plugin that gives users readability advise so they can write creative, engaging content that visitors like to read and find informative.

And, if you forget to create a Meta description for your next blog, don't worry! WordPress automatically generates descriptions and title tags for your posts and pages and lets you create custom keyword-rich URLs.

The framework makes it easy for search bots to crawl the content and rank your website higher on search engines such as Google and Bing.
Takeaway
Being a developer or entrepreneur, you don't want your code and user interface to be a deadlock for your product.
Since WordPress offers endless possibilities for projects without needing to learn multiple programming languages and getting stuck in a non-user-friendly environment, it has a strong winning following all around the world.
As for bloggers, marketers, developers, freelancers with clients, and e-commerce business owners, WordPress is the right choice. Not only do they get full control over their website design and content but also receive a spectrum of constructive advantages including themes, plugins, SEO features, and media support.