How WordPress Has Impacted the Technological World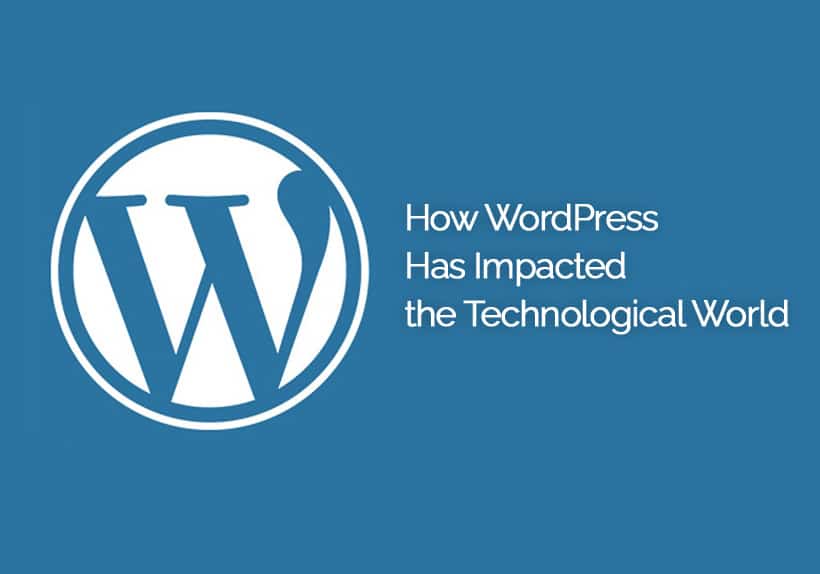 Depending on your demands, you will always need to utilize WordPress, especially if you need a versatile and adaptable platform for your website. It is an excellent pick since it gives a flexible website platform allowing users to create any site.
For example, if you want to establish a blog or construct a company website, WordPress is an excellent alternative to attract new clients to your blog. It is also a perfect choice for newbies because it is far more accessible than creating websites from scratch.
In this article, we will look at how WordPress has changed the technological world, but first, let's look at the foundations of WordPress.
What is WordPress?
WordPress is a free and open-source content management system that you may use to create, edit, and maintain websites. It is free for anyone to download and use as long as they have safe web hosting and a domain name.
WordPress is very adaptable and versatile, with several applications, including blogging. As a result, the official WordPress library and depositories have many theme and plugin possibilities.
The program has grown in popularity since it is comparatively simple to use compared to hand-coding a website from scratch. It requires less technical expertise because you may create a website using only the graphical user interface.
What are the features of WordPress?
Some of the features that make WordPress more functional are as follows:
Admin area

This feature enables administrators and authorized contributors to change and maintain WordPress. All website administration capabilities, including widgets, plugins, a content editor, and a theme customizer, are available in the admin section.

These features enable the user to customize WordPress and quickly access them from the dashboard. Users may customize their site by changing the slug and deactivating comments.

Theme designer

This feature lets users modify their existing theme or design template, allowing them to change the navigation menu, upload a log, or create a custom homepage.

Different themes provide varying degrees of customization, so bear in mind that if you install a free theme, you may have restricted alternatives; consequently, it is preferable to choose premium WordPress themes that provide powerful customization, functionality, and support.

Editor of content

This feature allows users to create, modify, and publish WordPress posts and pages. Users may use the content editor to sign tags, add photos, and add meta descriptions to articles or pages.

Widgets and plugins

Plugins allow users to add capabilities not available in the core WordPress program. Developers build most plugins in the WordPress community, but users can also create them.

When it comes to cost, we provide both free and paid plugins. Free plugins offer essential functions, but premium plugins contain additional features like customer support.
What effects does WordPress have on the technical world?
Let us now examine how WordPress influences the technological world in numerous ways and reasons.
WordPress is completely free

WordPress software is free to download, install, use, and customize to meet the user's demands, and you may use it to construct any website you require. Despite being free, all you need to install is a domain name and web hosting.

WordPress is simple to use

Despite being the most versatile and powerful platform, WordPress is simple to learn. It has a basic dashboard with many menu options presented in the sidebar. You can quickly create articles and pages, change the look of your website, add navigation menus, and more.

Aside from being simple to use and accessible, it offers security capabilities. Following some basic WordPress security best practices can keep your website as safe as possible. It also provides excellent WordPress security backup plugins, most of which are free, that allow you to set up automated backups and save them in a remote location such as Dropbox.

WordPress is adaptable

WordPress themes are simple to edit since many have an options panel that allows you to change colors, upload your logo, change the background, make gorgeous sliders, and ultimately adapt it to your needs without writing any code.

You may also use plugins to add unique functionality to your WordPress site. You may utilize these applications to add features such as analytics, membership sections, and contact forms, allowing you to live chat with your website users automatically through your website.

WordPress is a safe and secure platform

WordPress is a safe and secure website platform. However, you can do a lot to make your website even safer against hackers, viruses, and other threats. As a result, it is a safe and secure platform for running a website.
Conclusion
Despite its origins as a blogging platform, it has developed into a formidable website builder and content management system. The best feature is that it is simple to use and versatile enough to create various websites, allowing WordPress to gain popularity.