How to Use AI in Creating SEO-Friendly Website Content
In today's fast-paced digital world, we can quote that content is king and is a very powerful means through which your target audience can recognize your brand. The introduction and implementation of Artificial Intelligence has been a game changer in different industries and fields.
The field of content writing is no different, as the introduction of various AI tools to create SEO-friendly website content has taken the field by storm and exploded the possibility of enhanced creativity, efficiency, and engagement. As we explore the dynamic realm of AI-assisted content, let's also unravel how HIX.AI, an innovative AI writing tool, can empower you to craft well-written content that not only ranks well but captivates your readers.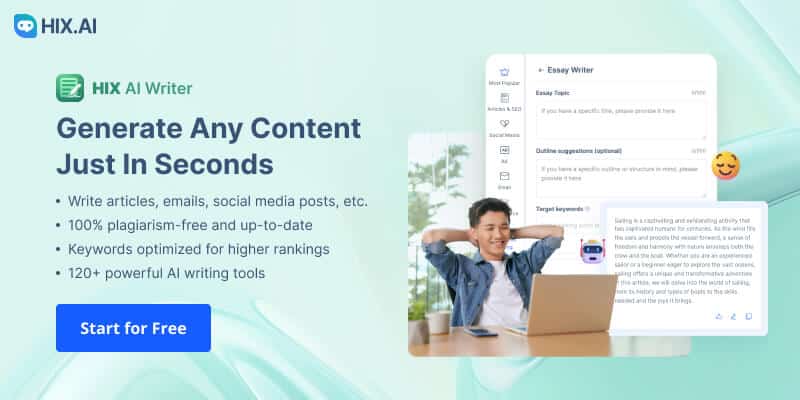 Understanding AI-Powered Content Creation:
There was a time when we labored for hours to write one-page content. Everything from structuring the article to writing paragraphs from start to finish needed to be done manually. Thankfully, with the introduction of AI-powered content creation tools, this has become easier.
Imagine working with an AI-powered tool that can help you weave words that not only engage with your audience well but also adhere to all SEO norms and practices without much of your interference. Though there are many AI tools in the market nowadays, making it a tough pick but choosing the right ones makes a huge difference in the final content quality that you produce. HIX.AI makes the process of creating SEO-friendly long-form blog content a breeze. From keyword integration to structuring your content for optimal readability, HIX.AI's capabilities will leave you impressed.
From crafting an entire blog just from the topic to generating captivating social media post captions, an AI content creation tool can do it all. Its ability to analyze data, understand context, and replicate human-like writing styles is nothing short of astonishing.
Here are a few ways you can use AI writing tools to create SEO-friendly website content.
Conducting Keyword Research:

Keyword research is an important step for SEO content writing. The inclusion of long tail and short tail keywords to the content is a must for effective on-page optimization. There are many software available that help us with our keyword research for the content, but did you know that you can do the same with an AI writing tool but more effectively? AI tools can help generate a list of keywords for your content in seconds. The best part is that you just need to provide inputs like the topic idea, maximum keyword length, demographics, etc., and AI generates a list of keywords that people are searching for.

Composing Catchy Meta Descriptions:

A meta description is a two-line description of what your content is about that is displayed in the SERP. They are concise and impactful and play a significant role in driving click-through rates from search engine result pages (SERPs). With the assistance of AI writing tools, crafting catchy and effective meta descriptions for SEO becomes super simple. You get a list of options you can choose from. You can also instruct the AI tool to add the keyword within the meta description for improved SEO.

Generate Catchy Taglines for Social Media Posts:

When talking about SEO, we need to focus on off-page SEO as well, which includes promoting the content on social media platforms. Creating engaging captions for different social media accounts with catchy headlines, popular hashtags, and tags can be a bit tricky. Thanks to the complex algorithm of AI writing tools, this can be done in seconds. You just need to input the right questions, and the AI writing tool will help generate catchy headlines for social media posts, blog posts, and even advertisements.

Crafting Content with Keywords:

The inclusion of the right keywords in the content a sufficient number of times naturally is a tough task to achieve. If this is not done right, the keyword inclusion will not look organic, and hence your blog may rank lower in the SERP. AI writing tools can identify the right places to insert the keywords within the content, which looks organic. The keywords are infused strategically into your content for maximum impact.

Navigating Content Structure:

When writing content, the first step is to create a proper article structure that becomes the roadmap that guides your readers through your narrative. AI writing tools can easily help you generate headings and subheadings along with a few ideas that will guide you in writing the article and give it a proper direction. The tool's ability to organize headings, subheadings, and paragraphs ensures that your content flows effortlessly. This can help make the content engaging for your audience and also help save a lot of time in the process.

Grammar and Clarity:

You cannot ignore the importance of error-free content in terms of grammar and spelling. AI writing tools can generate flawless blog posts with no errors and also help rectify errors in your existing content with improved user experience. This helps improve the credibility of the site and ensures the readers can focus on your message without being distracted by errors.

Improved Readability:

In the world of SEO, content readability is an essential parameter that cannot be ignored. Writing content that is easy to read will hold the users on the page and act as glue; on the other hand, content that contains many jargons can be a deal breaker. AI writing tools can help write simple and readable content, which is essential for SEO. Its complex algorithms ensure that the content generated has a human touch to it. You can change the tone of the written content based on your requirement, which further refines the written content.
The Bottom Line:
In this ever-evolving field of content creation, AI has to offer powerful tools that enhance the ability of content creators to write SEO-friendly content. As you embrace AI-powered writing tools like HIX.AI, remember that while AI can assist, the human touch remains irreplaceable. Combining AI and human creativity can create exceptional content that appeals to your audience and ranks well in search engines. It does